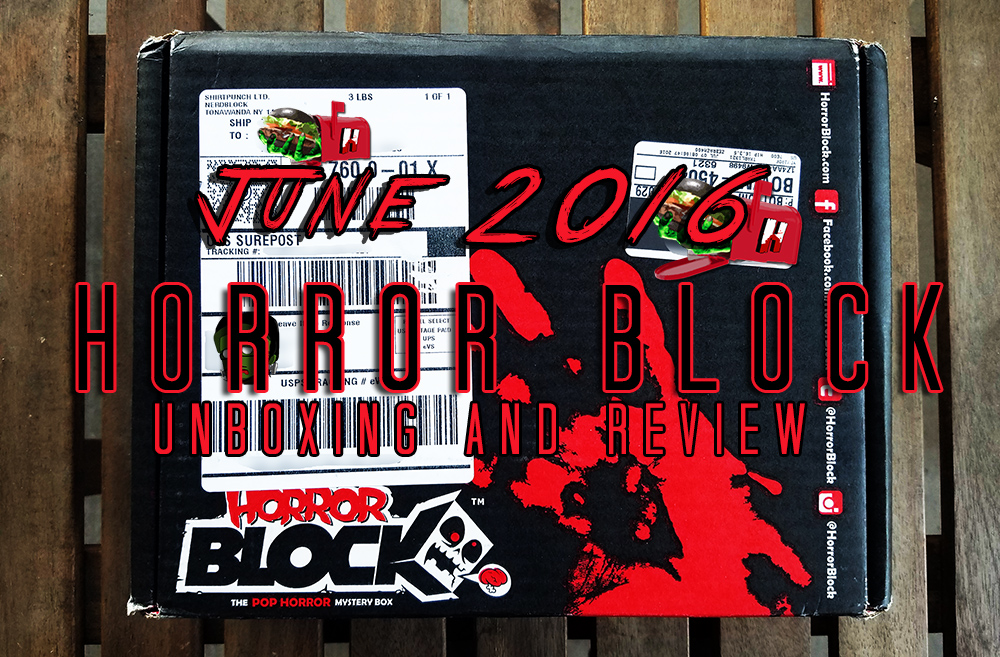 After what felt like ages, my June 2016 Horror Block finally arrived. For those not in the know, Horror Block is a subsidiary of Nerd Block, a blind box subscription box company. Subscription boxes are damn near everywhere at this point and I can definitely understand their appeal. We live in a world where pretty much anything you've ever wanted can be purchased with a couple of clicks via Amazon or the like, so I can certainly appreciate the novelty of a care package tailored to your interests. In this instance, that interest is Horror. Sign me up, literally.
Horror Block bills themselves as follows:
Horror Block contains licensed merchandise, hand-picked by our team of uber-nerds representing all genres from movies, television, video games, internet, and more! Each item is carefully selected and put through a series of in-house testing based on quality, brand association, collectability, and most important – fun factor.

Working with some of the biggest brands in the business, Horror Block not only delivers on value but also rewards members with exclusive items found nowhere else! At Horror Block we live by our motto:

GEEK TESTED
NERD APPROVED
The long and short of it is that every month, a box full of fun, secret spooky shit will show up at your doorstep. That spooky shit is guaranteed to include 4-6 "frighteningly fun" collectibles and one "hauntingly exclusive" t-shirt, and that stuff is guaranteed to be valued at $60, making the $20 asking price of the box seem like a pretty solid purchase. This is my first one, but there are some truisms that I understand you can expect from Horror Block, namely the inclusion of the latest issue of Rue Morgue (my personal favorite print horror magazine) and generally a movie. Lately it looks like those movies have been mostly Blu-rays, which I'm very okay with considering I just recently got into the Blu-ray collecting game and have already filled up two shelves in the last two months.
For me, the cost of the box is pretty much a no brainer because without the box I'd already be buying the $10 Rue Morgue, so the amount I'm spending over what I normally would is a measly $15. Guarantee me some random ass horror shirt and a couple other horror collectibles and I'll definitely give you $15.
This month's box promised to have an item from Jaws, 2 Funko Pop figures and an item from A Nightmare On Elm Street, so I figured I might as well pull the trigger and give it a go. I'm not disappointed at all, though I wish it had arrived in a more timely fashion. The Horror Blocks are intended to ship out on the 25th (I suspect that's so they can have the next month's Rue Morgue) and I just got mine today. That's probably not Horror Block's fault though. I'm just impatient and it had to make it's way from New York.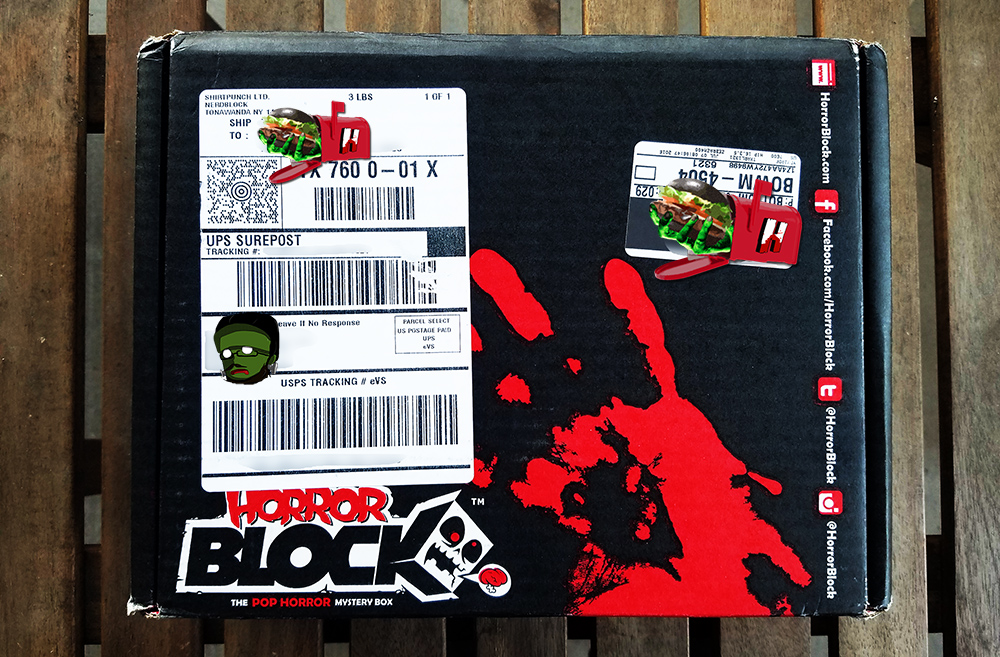 Starting on the outside, you'll note that the box is designed to make sure your neighbors know you're weird.  I'm alright with that though, because my neighbors (who have been inside my apartment) already know it's a goddamn Halloween Funhouse in here all year round. I added the Humanstein iconography because I don't want my numerous enemies to know where I live. If we're buds and you want to exchange care packages, DM me on Twitter or something. I dig the packaging though, and it only gets neater from there.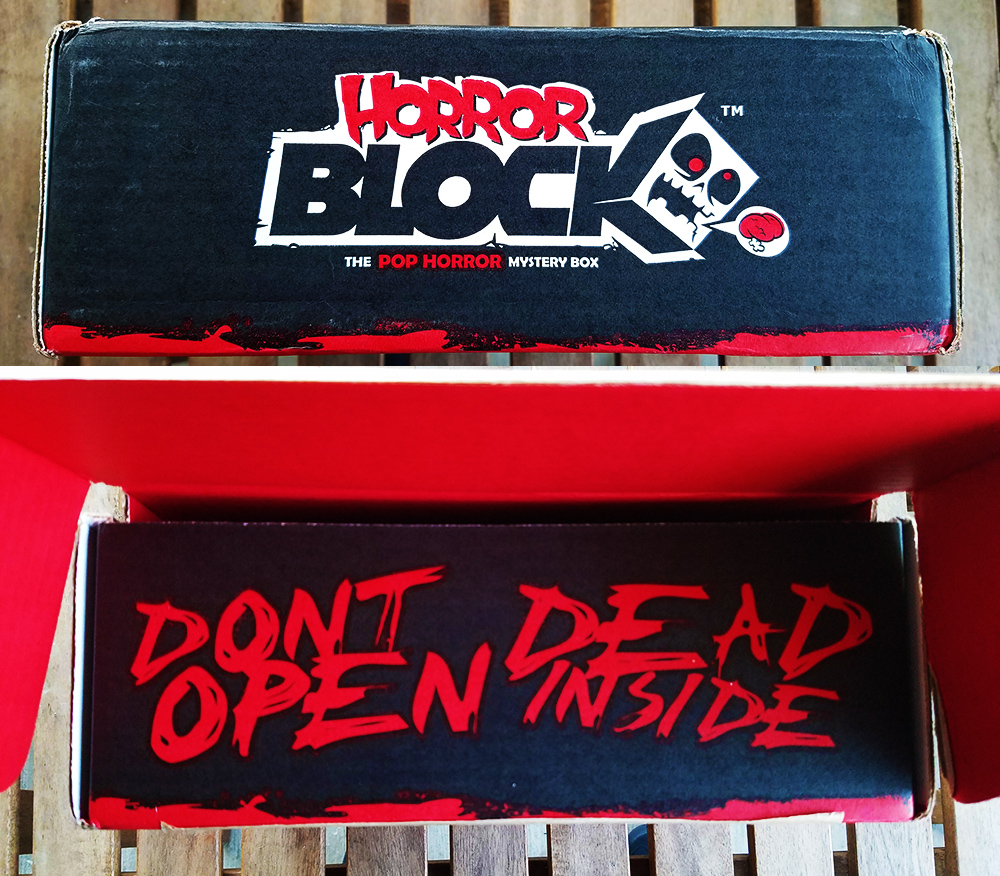 Above you can see the front of the box, the part you open, and what's inside after you lift the flap. I'm not the world's biggest Walking Dead fan, but I appreciate the reference and it's a nice little touch for those that dig those crazy depressed folks and the zombies they stare at mournfully.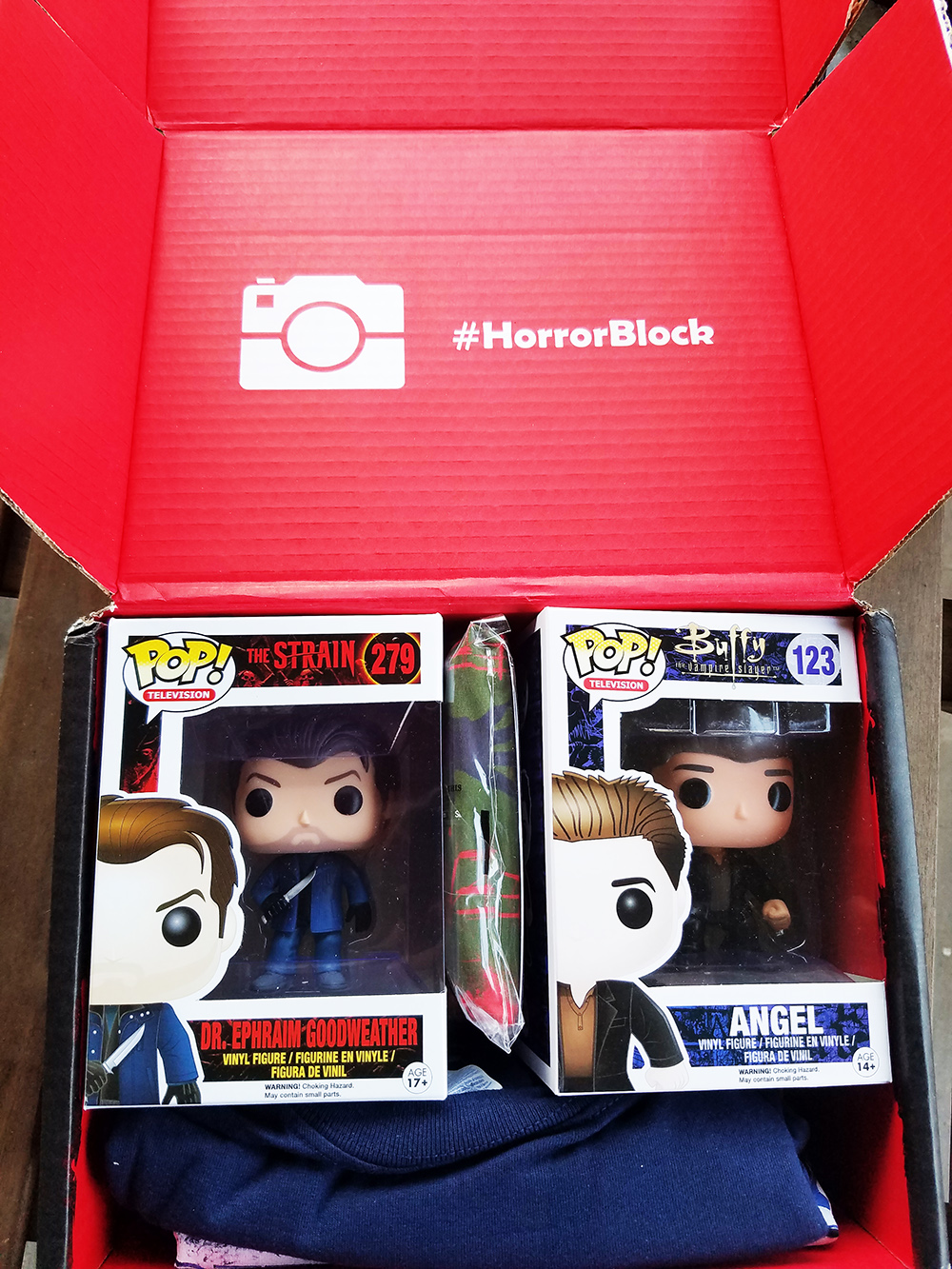 Now we're cookin'. Toys. You can see they've delivered on their "Double Funk Pop" month promise and given me my favorite vampire, Angel from Buffy the Vampire Slayer and Dr. Ephraim Goodweather, a vampire hunter and epidemiologist from FX's The Strain. I'll admit that I'm way, way behind on The Strain but that is still a pretty dang cool Funko pop. Look at that hair (which I know he gets rid of at some point).  It looks like the Funko Pops this month were guaranteed to be from Buffy and The Strain, though which ones you receive seems to be random. It looks like Willow (Buffy) and one of the Strain vamps were also options. I'm satisfied with what I've got here though. You can also see a glimpse of the shirt of the month and our next item…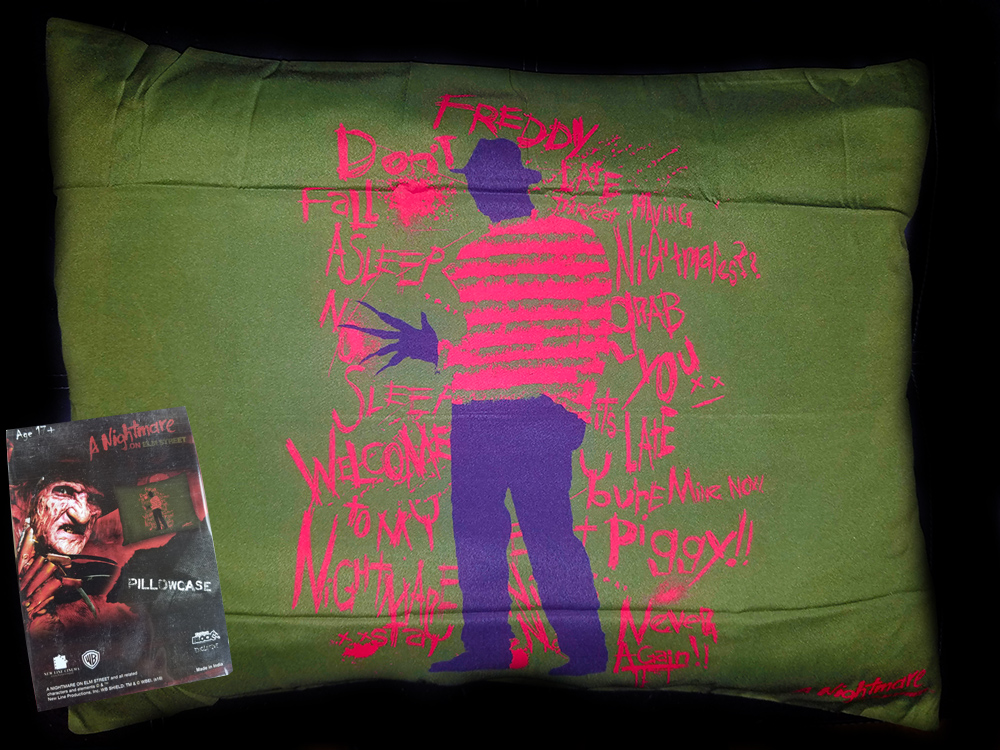 A fiendishly green Freddy Kruger pillowcase! This item is a Horror Block exclusive and it's a pretty fun one. As you can tell, I couldn't resist throwing this on one of my pillows immediately. Outside of the fact that Freddy's just awesome in general, there's a certain cleverness to having the nightmare man on a pillow. Good job, Horror Block. This is pretty neat. As you can probably tell I took this picture on my couch that's been ripped to shreds by my cat, Dr. Gaius Baltar, so I've haphazardly photoshopped it onto a plain black background. The table was occupied, sorry y'all. I'll get a photo box one of these days. This month Horror Block shipped with a Blu-ray and it's…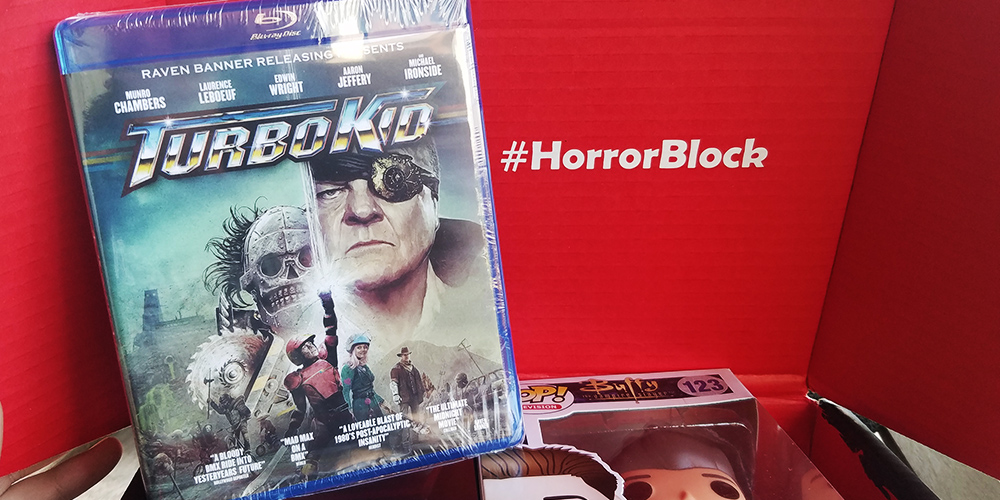 Turbo Kid! Turbo Kid is a post-apocalyptic action-horror-comedy that I personally haven't seen, but it comes highly recommended by numerous folks who's opinion I care about. It's on Netflix right now, but I heard a rumor this was going to be in this month's box, so I held off on watching it so I could see it in Blu-ray glory. I'll be giving this a spin in the very near future.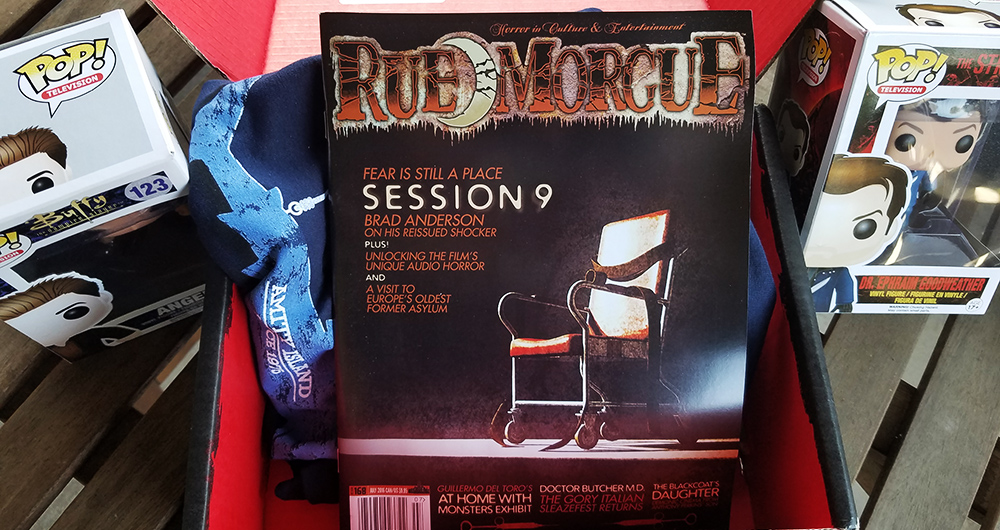 Next up is this month's Rue Morgue. They don't officially list it as a guaranteed item, but every Horror Block I've seen online either or blogs or in unboxing videos has one, so I'm gonna call this one a gimme. I'm a big fan of Rue Morgue and their classier and wider focus on horror than some of their competition and I always make my way to Barnes and Noble to pick it up, so this being in the box saves me a trip to the store which is always nice. Looks like this month's cover story is about Session 9 which is a supremely underwatched horror flick that you should check out. Behind it you can get a little preview of the shirt this month, which is the Jaws item…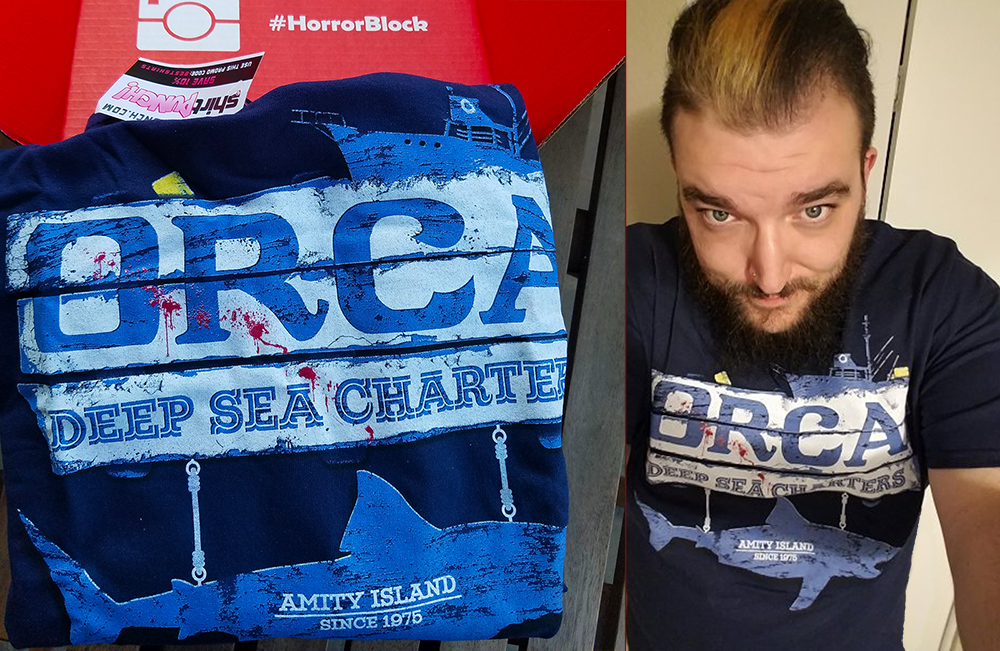 I don't think it's much of a secret that I like
sharks
,
movies about sharks
, or
even just Jaws
in particular, but just in case here is your reminder that I fuckin' love sharks. This is a pretty neat Horror Block exclusive and officially licensed Jaws shirt featuring the Orca, Quint's faithful ship from 1975's classic Jaws. The shirt is a of pretty high quality, and if these are the quality of the shirts in the Horror Block, I'd say that's a boon. It looks like its produced by Shirt Punch, which I believe is Nerd Block's parent company. Makes sense. Also included in each block is a $10 credit for Shirt Punch, so that's pretty cool. I'll be checking them out for sure. Another note is that since this was my first month, I'll be receiving a second bonus shirt at some point in the near future so I've got that to look forward to as well.
That concludes all the fun packed into June's Horror Block, but they've been kind enough to include a card clarifying what each item is and what to expect next month!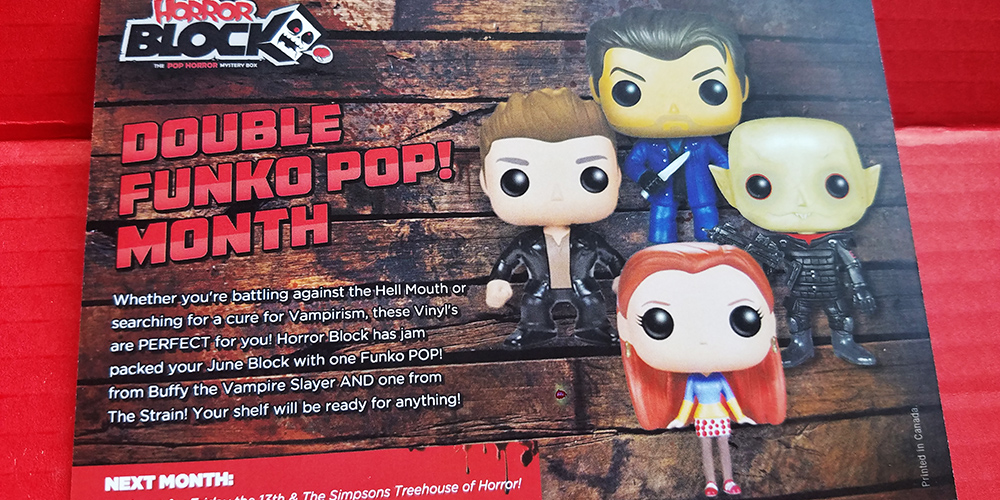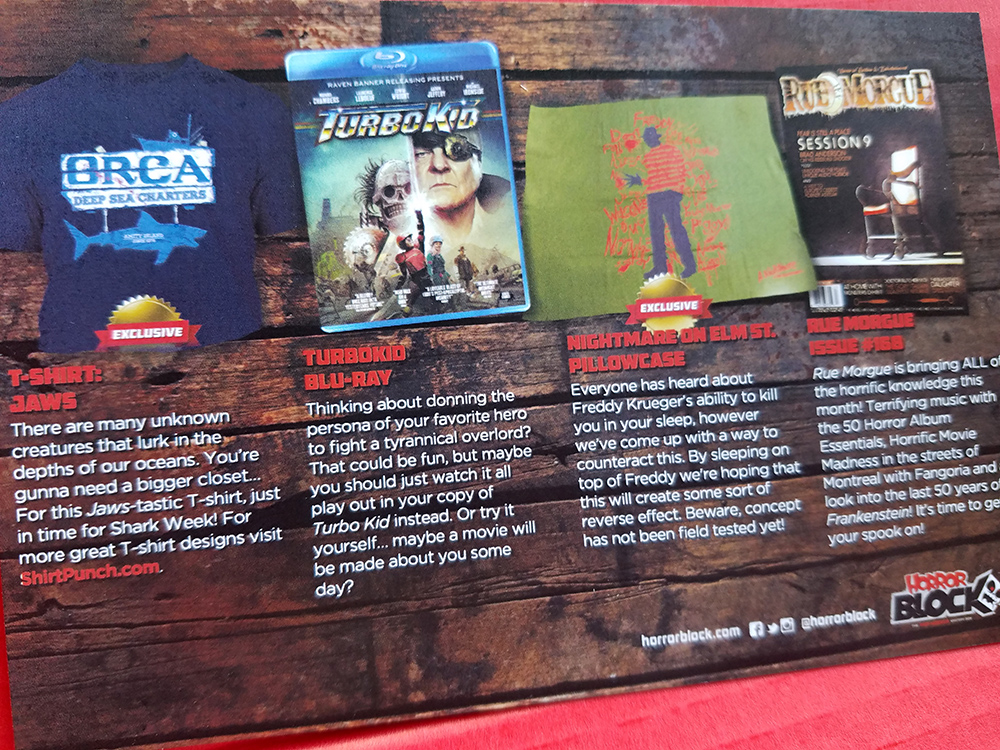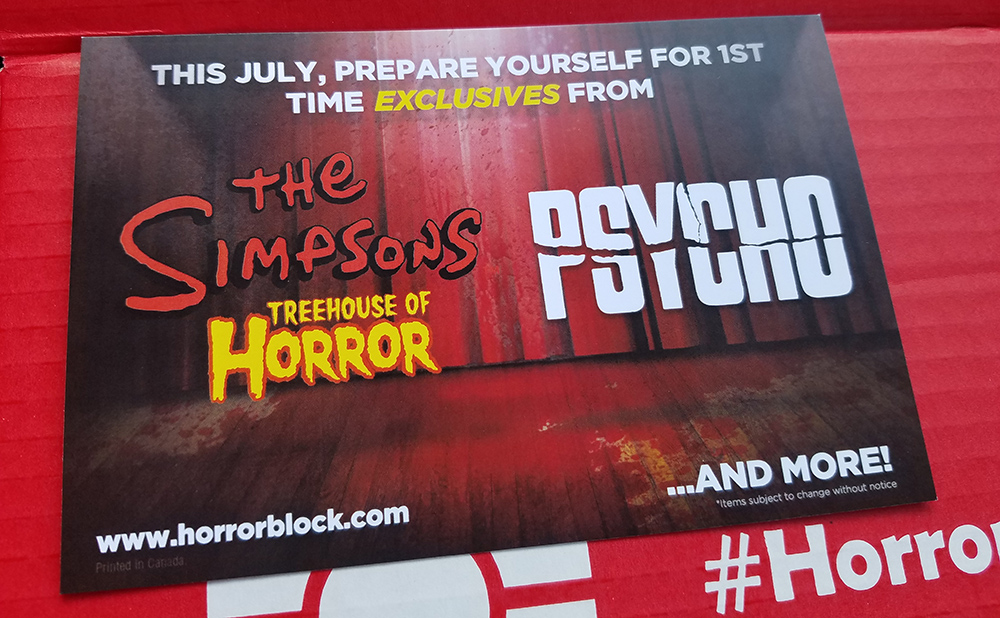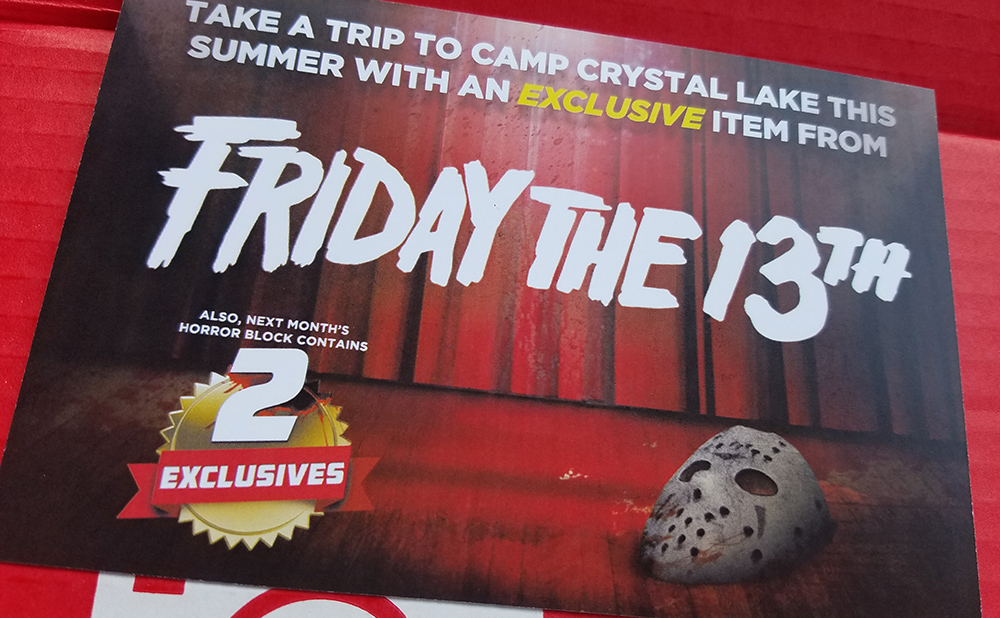 Overall I'm pretty dang satisfied with this month's Horror Block and will definitely be continuing my subscription. Especially because it looks like next month we'll be getting The Simpsons Tree House of Horror, Friday the 13th, and Pscyho goodies. Color me excited.