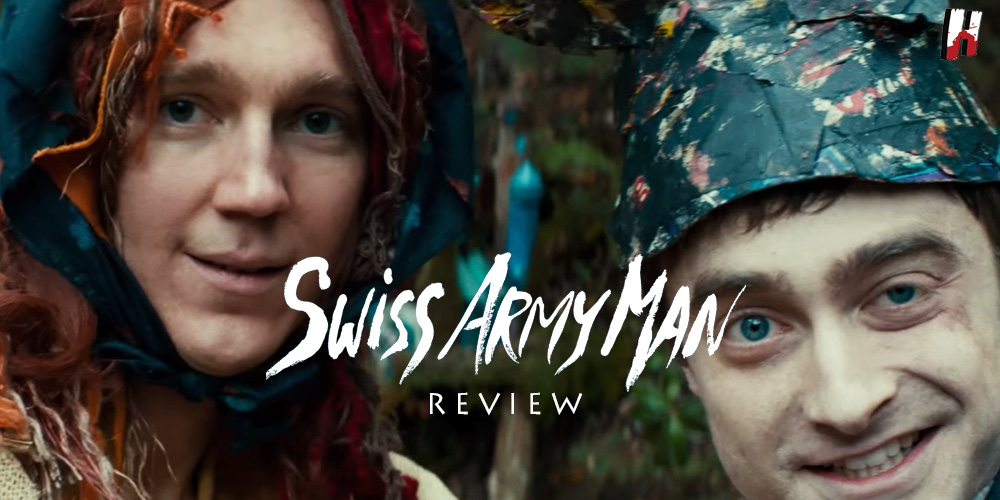 Swiss Army Man is the feature length directorial debut of writing and directing duo Daniels, comprised of Daniel Kwan and Daniel Scheinert. Daniels are arguably best known for directing music videos, including The Shins' "Simple Song" and DJ Snake's "Turn Down For What".
The guys that made the "Turn Down For What" video made a feature film, and it's a humanist masterpiece. It is not an overstatement to say that this is the best film of the year so far. And in a year where we've seen The Witch and Green Room I do believe that is saying something.
From the second I saw the first trailer for Swiss Army Man (above), I was enthralled. Passed around the internet as the Harry Potter Farting Corpse Movie trailer, it came up time and time again in every discussion I had or even simply overheard about what movies we were looking forward to this summer.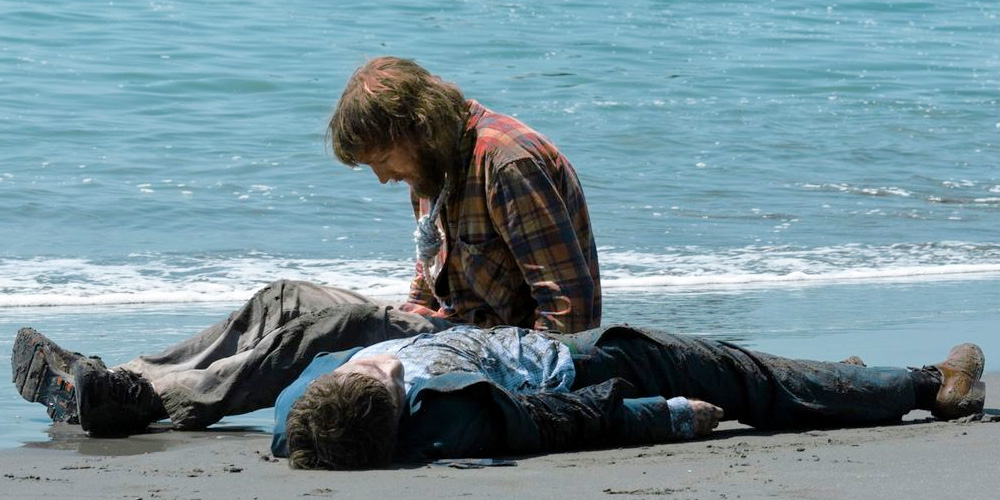 Brilliant ad campaigns that led to me and many others explaining what sex is to a corpse via text messages and hundreds of people around the country taking selfies with a wax facsimile of Daniel Radcliffe kept people talking about a movie with a premise so strange and charming it had to be seen to be believed. The very clever but omnipresent ads might lead you to believe this is just a silly movie with a ludicrous concept but the actual film speaks to the human condition in a way that invites very serious comparisons to Vonnegut and Terrence Malik.
Yes, this is the Corpse Boner Fart Movie and yes, those comparisons are both apt and valid.
The film opens with a series of hypnotizing shots of SOS messages written on garbage floating in the ocean. The messages indicate that a man has taken a boat and got lost in a storm an indeterminate period of time ago and finds himself stranded on a desolate island. We then meet that man, Hank (Paul Dano, There Will Be Blood, Little Miss Sunshine) as he stands atop a cooler with his head in a makeshift noose. As he sings to himself and prepares to end his life, he sees something wash up on the beach. A man (Daniel Radcliffe, Harry Potter, Horns) has washed up on the beach. He gets excited and attempts to get down, hanging himself in the process. He frees himself and makes it to the man on the beach, he discovers that unfortunately the man is dead. He also discovers that his decay has filled him with enough high pressure gas that he can be ridden to salvation like a fart powered jet ski. He then does exactly that. This is Swiss Army Man.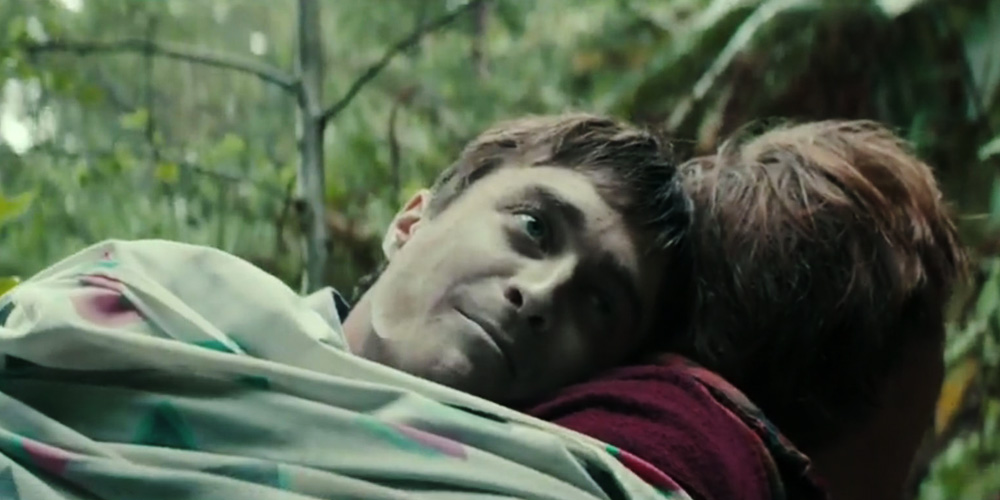 The pair wash up on another beach nearer to civilization and Hank can't bring himself to leave behind the miraculous corpse that saved him. That scene is a perfect snapshot of this film. Human tenderness and sentimentality leads him to drag the corpse with him for no clear reason. Hank is willing to slow his progress because he feels a connection to this unnamed corpse with the magic farts. Soon, the corpse begins to speak, and dispense water. The multipurpose tool corpse, who reveals his name is Manny, is chock full of secrets and surprises, just like the film itself.
Swiss Army Man is a film that goes to great lengths to explore what exactly it means to be human. Hank believes that the more human he is able to make Manny, the easier it will be to reach civilization and safety and this belief leads him to teaching Manny as much as he can about life, humanity, and the world at large. As he teaches Manny and grows closer to him, the pair discover more and more special abilities. He can chop wood with his rigor mortis body. He can start fires with the click of his decaying fingers. Shoot pebbles like a shotgun. Perhaps most importantly however is that Manny is able to provide Hank a lens through which to dissect and examine the life he left behind, as well as the human condition as a whole.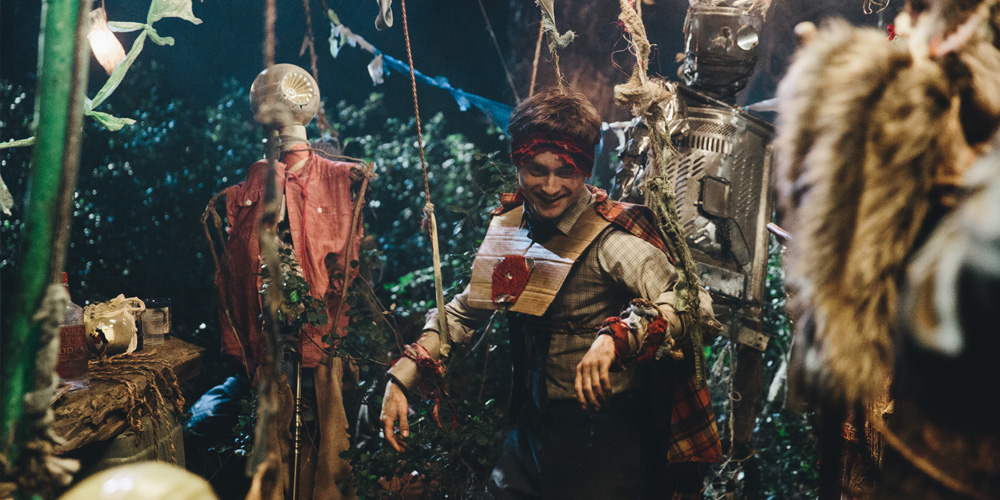 Over the course of the film Hank teaches Manny many things about what it means to be human, from the mundane to the magical. There are lessons given about moms, Halloween parties, swimsuit models, masturbation, poop, social mores, and the sad definition of "normal". The relationship, like all great relationships, is a two-way street even though Manny is a blank slate for much of the film. Through these lessons Manny asks him many questions that lead not only to more lessons, but also to introspection and examination of what exactly it means to be human. The film has more to say about honesty, integrity, and shame than any other film I can think of.
A film like this one (though to be fair very few movies have much in common with it) relies almost solely on the strength of the two leads' performances and the moments shared between them and Dano and Radcliffe are at their best. The film does not shy away from anything over its 95 minutes and Dano does a truly mesmerizing job of straddling all of the weirdness and sincerity the role calls for. Dano is at once both tender and strange as Hank and Radcliffe is able to draw up deep wells of emotion through unmoving lips and the purity and curiosity of a toddler as he begs to learn more about sex, masturbation, and how to talk to girls. In many ways Dano's Hank was deader than the corpse he found on that beach and through sharing the world he left behind he is able to regain his humanity and realize his passion for life. Radcliffe's Manny demands to learn more, and he and the film are full of joy as they both revel in the absurdity and beauty of life that we all too often hide and glaze over through hamfisted attempts to look normal or cool.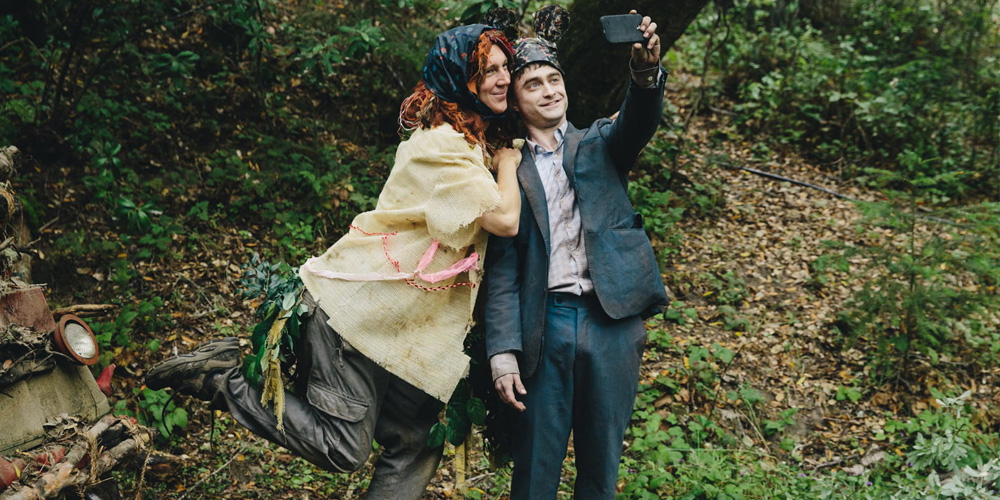 The film has no desire to be normal, but it does manage to be very, very cool. Lush cinematography from Larkin Seiple and beautiful set design work together to create a feast for both the eye and the soul centered around two very different people who grow to be the best of friends. This is a film that begs to be seen on a big screen. It has both a sense of scale that will play better 30 foot tall screens, and an intimacy that feels like magic when surrounded by strangers in the dark experiencing its sublime strangeness together. While the Daniels' music video and short film work already proved that they know how to set up beautiful shots, and that they know how to engage an audience through absurdity, Swiss Army Man is a testament to the first time feature directing duo's ability to tell a beautiful, engaging story that feels more human and moving than any highbrow Cannes entry ever has before it.
Swiss Army Man will make you laugh, it will well up tears in your eyes with its no holds barred exploration of friendship, love, and shame, and it will be leave you thinking about it long after you've left the theater. People throw the term feel-good-movie around a lot, but Swiss Army Man is that in spades. I left the film more in love with humanity and with cinema than at any point before it. Swiss Army Man is life affirming.
Please do yourself a favor and go see Swiss Army Man. You owe it to yourself.