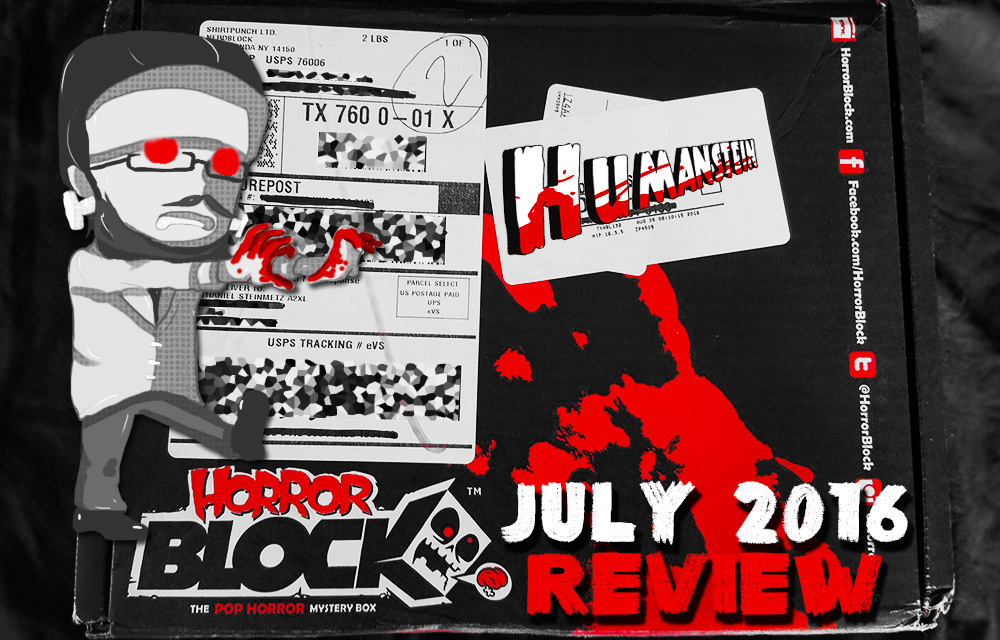 It's that time again: the July 2016 Horror Block has shambled to my home, delivered by a monstrous zombie mailman. This go around I was completely spoiler free outside of the franchises guaranteed to be included on the post card last month. Those were: Psycho, Friday the 13th and The Simpsons Treehouse of Horror. Those three delivered in a big way and there were other fun horror goodies included. Without further ado, let's dive in!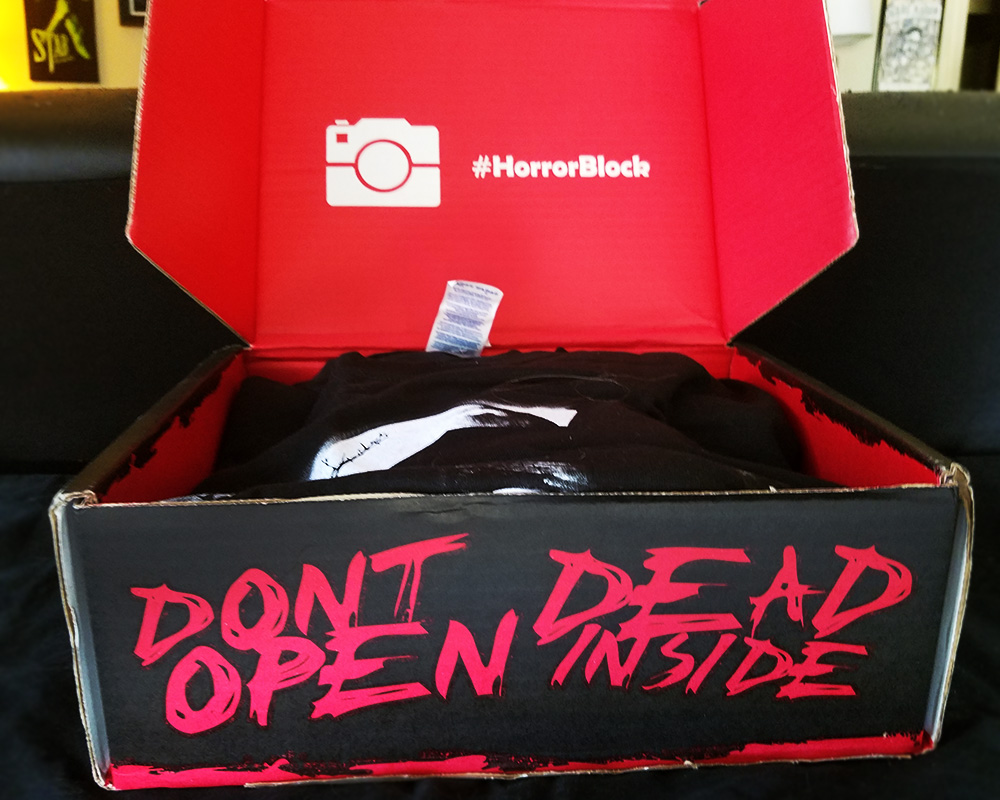 Opening the box, I once again note the neat packaging. I'm still a big fan of this box, man. The Walking Dead reference continues to amuse, especially given it's from the time frame wherein I really dug The Walking Dead. This will come up again. A difference between this box and the previous is that as you can see, the shirt is peeking out of the top right there, hiding the rest of the goodies. Admittedly last month was a "Double Pop" month so that may have been the one out of the ordinary. Either way upon opening the box I'm greeted with the first of the guaranteed franchises…Psycho!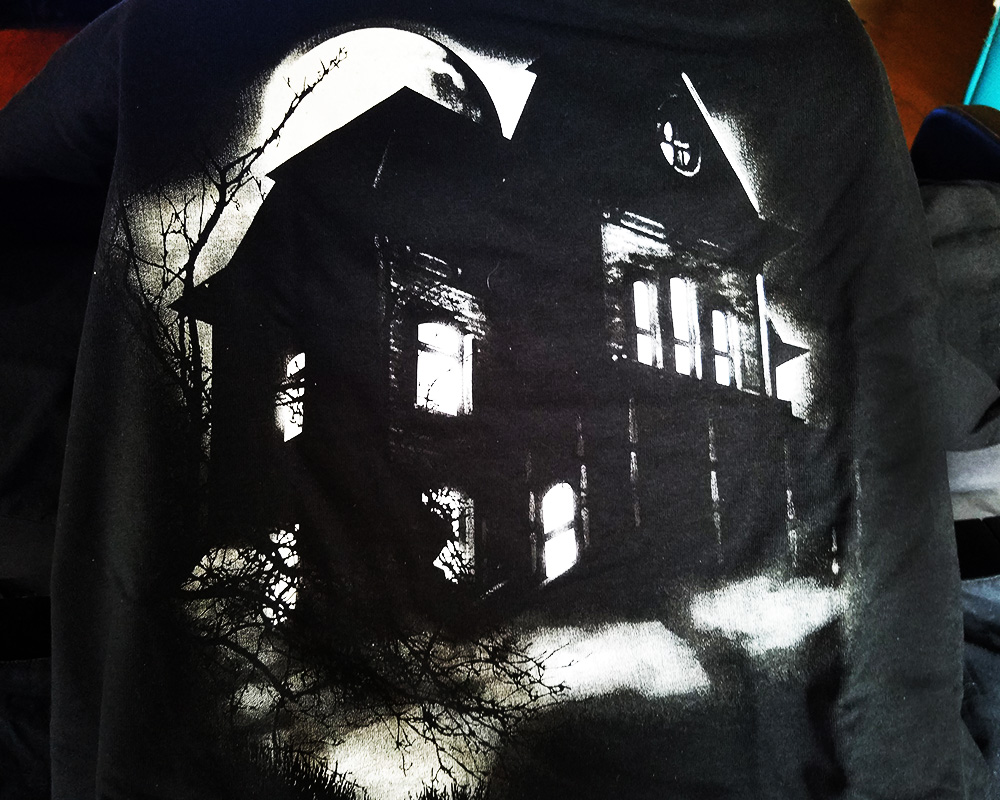 As per always, the Horror Block comes with a mystery shirt from Nerd Block's parent company Shirt Punch. This month they've gone with a sick black metal looking Psycho House shirt. And best of all? It glows in the dark. I love Psycho, I'm no obsessive when it comes to the film, but I thoroughly enjoy it and I'm also a big fan of "subtle" horror wearables. This shirt ticks both of those boxes, and I mean, it glows in the dark.
For reference, the Psycho house as it appears in the film is below.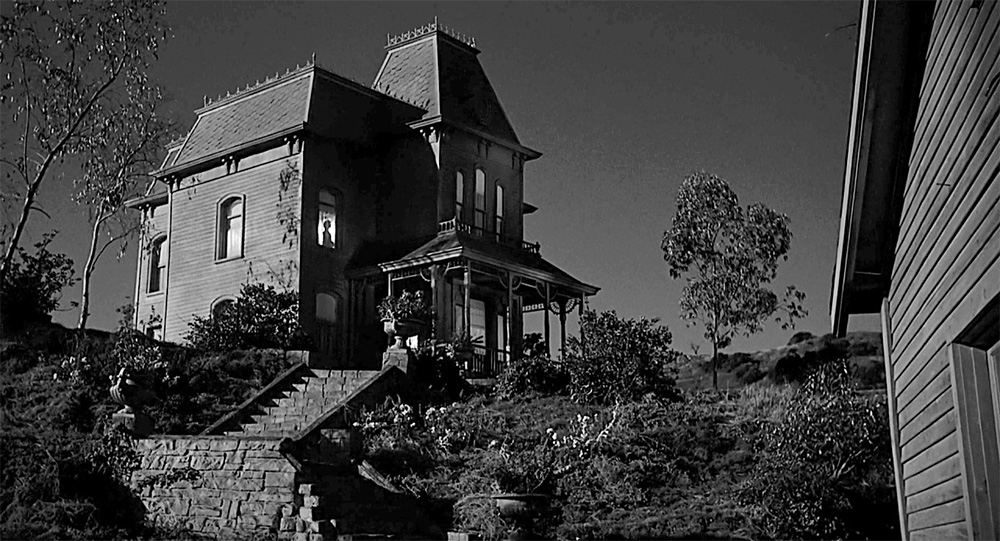 Next up is the item that "wins" the box in my book, from the second guaranteed franchise: Friday the 13th.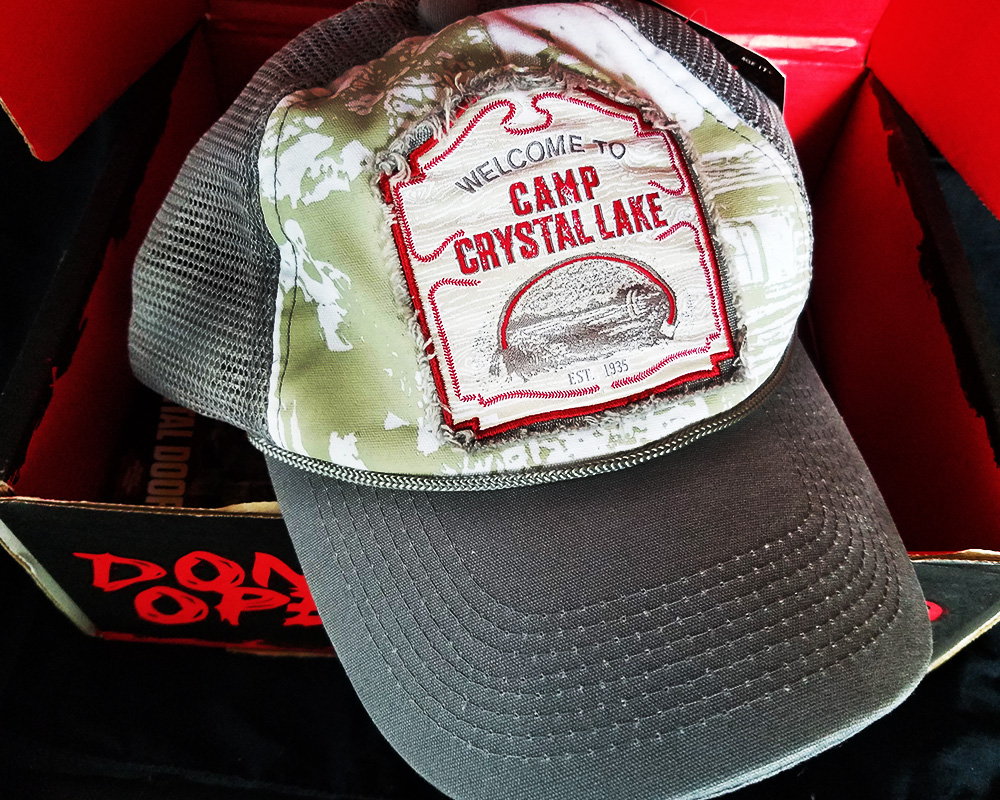 A Friday the 13th hat! I'm a sucker for hats, and this one is pretty swell. This hat is a Horror Block exclusive, meaning it won't be available elsewhere. Featuring a simple, fairly subtle design (subtle for Friday the 13th, at least) the hat has a distressed Camp Crystal Lake patch placed on a background that at first glance appears to be camoflauge but upon closer inspection reveals itself to be Crystal Lake itself, even featuring an outline of Jason Voorhees, machete in hand.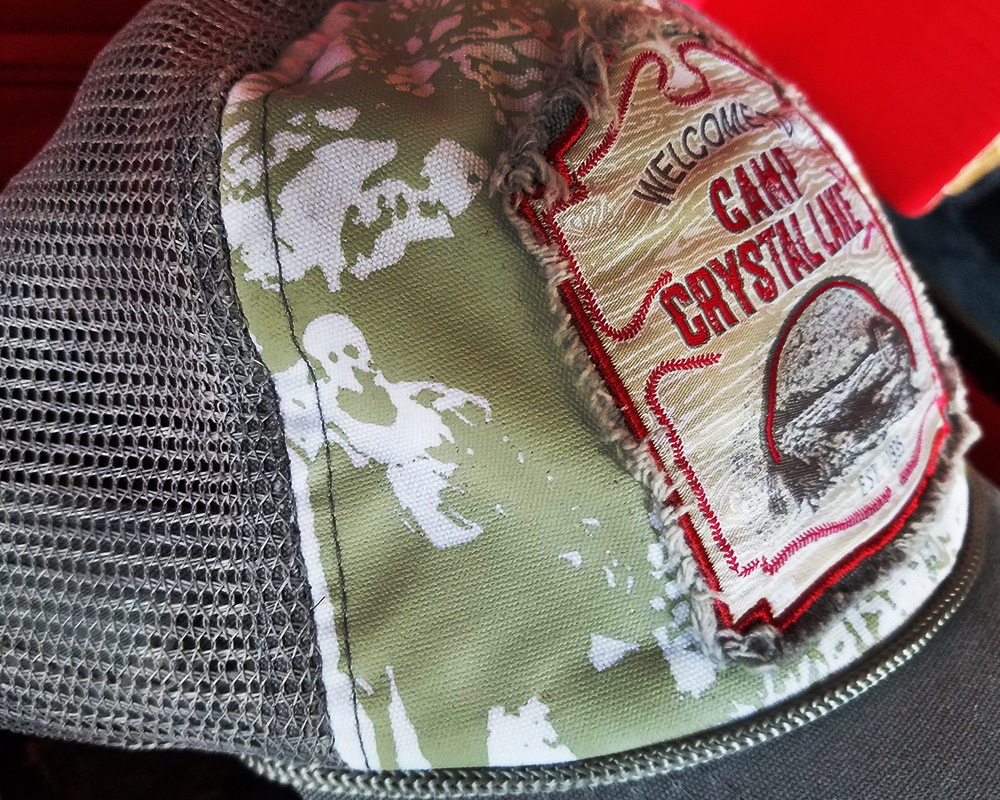 A nice detail I particularly love is the rope along the edge. Ropes on hats, before Donald Trump appropriated them, were as 80's as tiny shorts on men, and I love 'em. Solid touch on a pretty cool hat.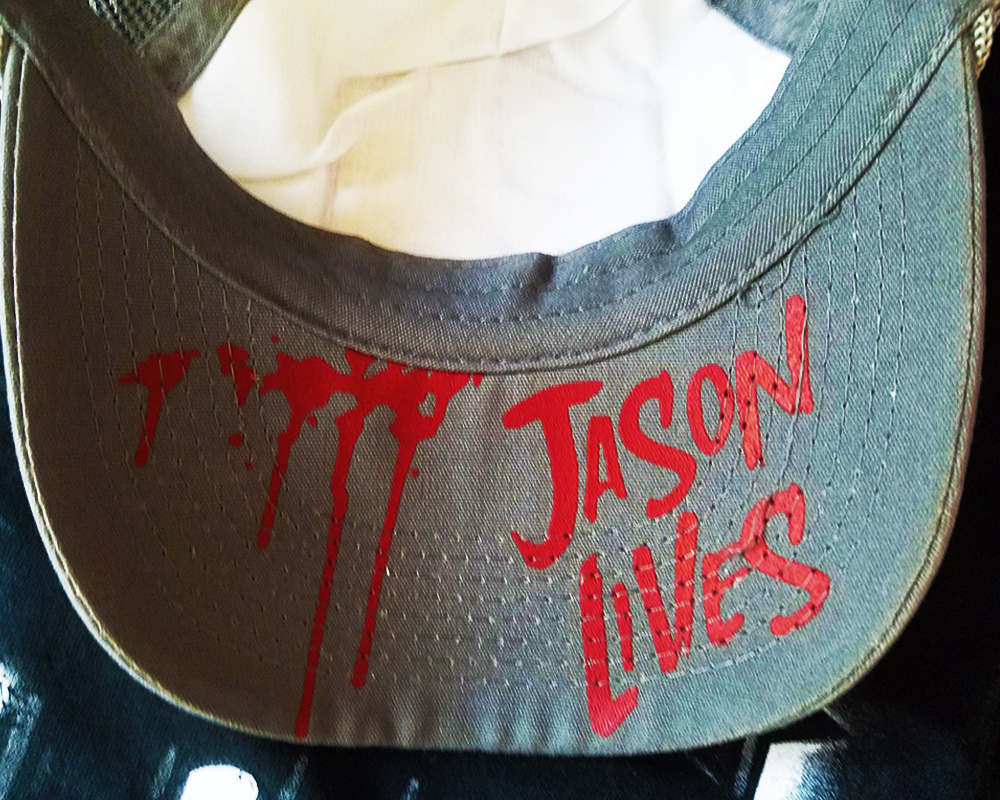 The inside of the brim is a…little less subtle. It's not like anybody's gonna see it though, so it can be as blatant and loud as it wants.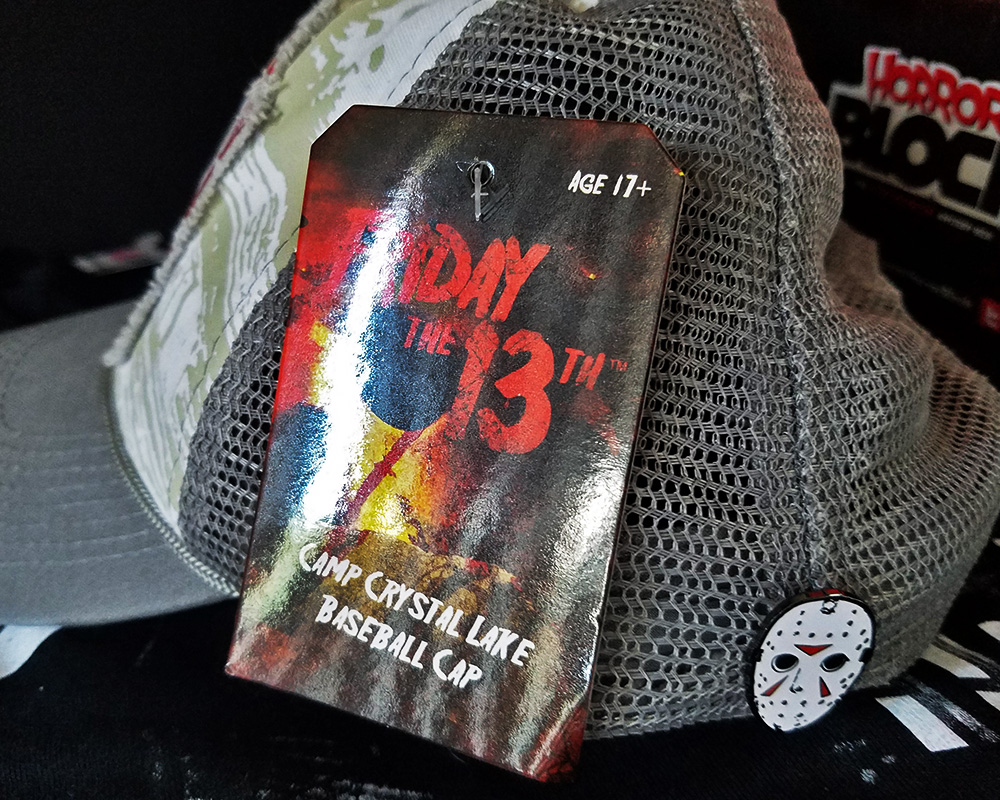 On the back of the left panel is a neat little Jason mask emblem. Another cool little touch on an item I'm pretty pumped about.
Next up is a Blu-ray. The card indicates that this month the box should include an "assorted blu-ray". Looks like some of the options were The Amityville Haunting, Forget Me Not, Abraham Lincoln Vs Zombies, and the film I got, Alien Uprising. Looks like it's a schlocky B-movie month for Horror Block, and though I wish I'd gotten The Amityville Haunting if only to subject myself to it (My bud Brett Galman's review here.), I instead received an alien action flick that looks to feature Jean-Claude Van Damme.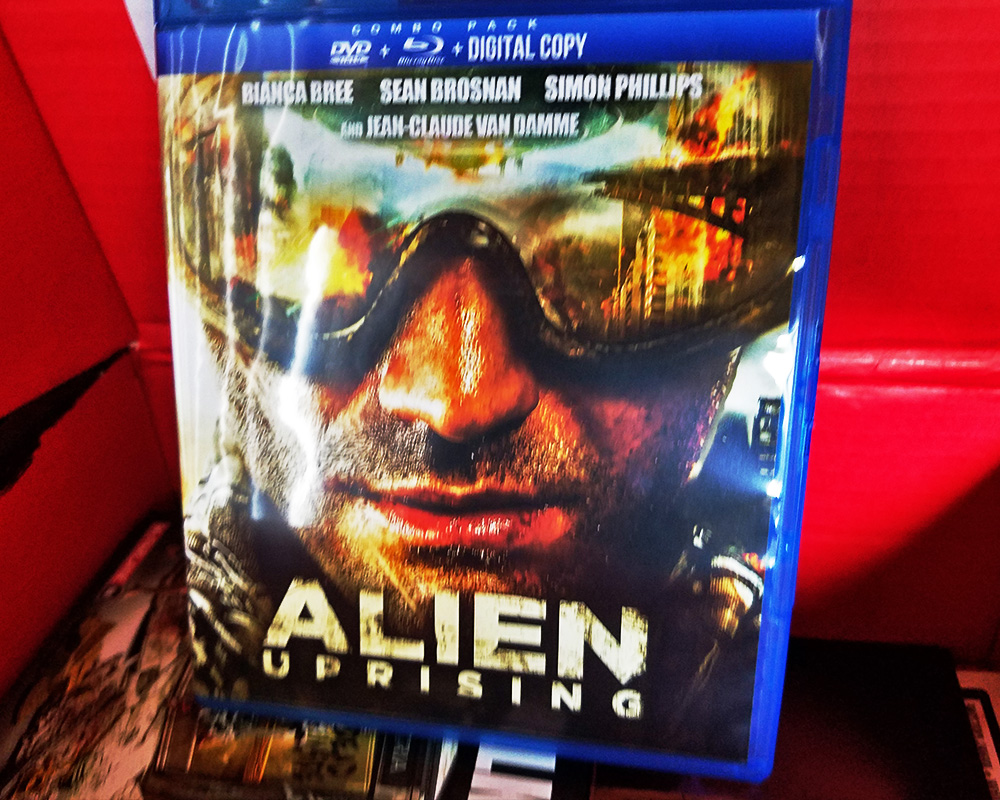 I can live with that. I'm not expecting this to knock my socks off, but I'll give it a go and get back to you on it.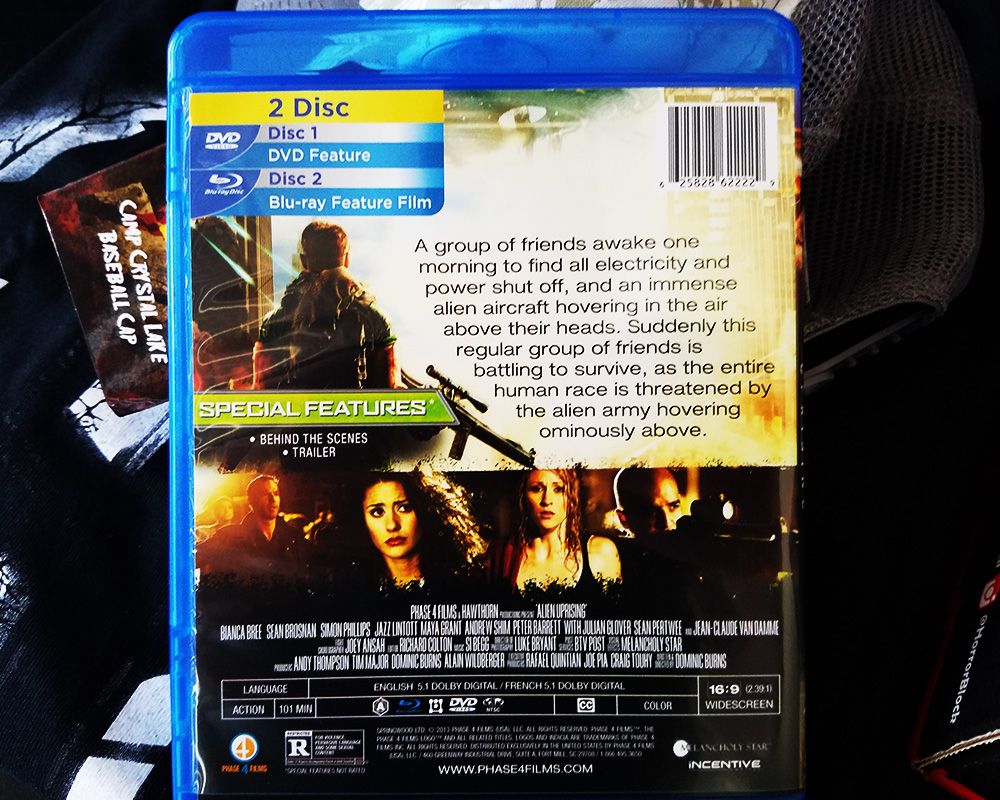 In a nice touch here it's a combo pack, so if you're one of the 8 people who haven't gotten a Blu-ray player yet you can still give this one a go.
Next up what the card refers to as "The Walking Dead Buildable". I'm gonna call it zombie Legos, but either works. If you know me, you probably know that I'm…not the biggest fan of The Walking Dead. The reasons why is a story for another day, but I thoroughly enjoyed the first season. It looks like this is another "various" style item, meaning it was luck of the draw as to which building kit you received, but thankfully I got an early season 1 moment to replicate which I'm pretty excited for, honestly.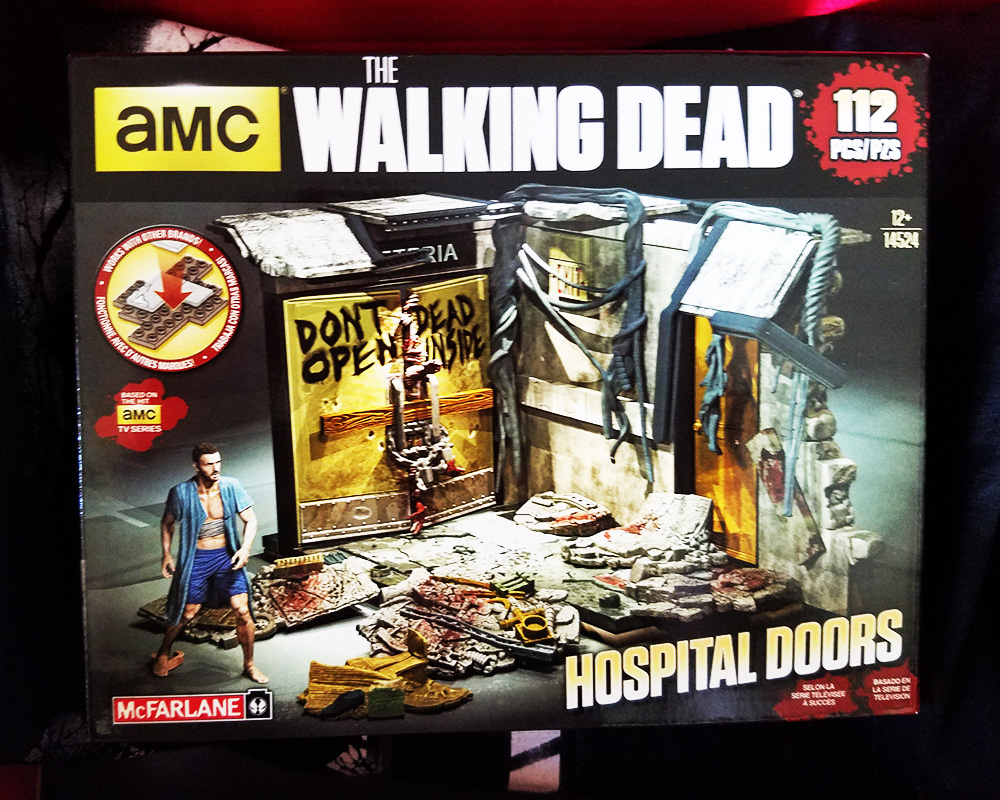 "Don't Open, Dead Inside" The kit boasts 112 pieces and also advertises that it works with other brands, so presumably you can interconnect these kits with Lego kits, which is cool. Other features include an articulated Rick Grimes figure in his hospital gown, hospital doors, locking chains, partial destroyed hallway, ravenous walker hands and customizable debris. I do enjoy customizing debris…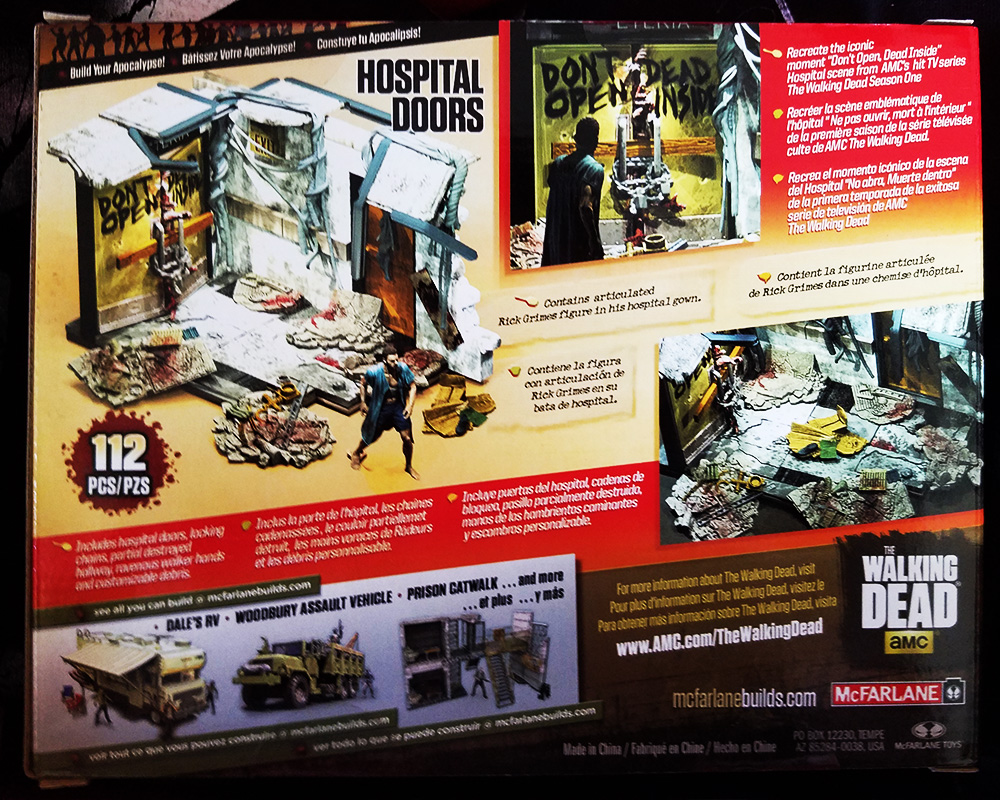 The kit shown on the Horror Block card is from the prison arc, showing "Lower Prison Cell" and showing a walker figure. Luck of the draw.
Next up is a surprisingly deep cut for what it is… The Simpsons Tree House of Horror item!
It's a neat little art print featuring The Simpsons characters recast in an homage to the theatrical poster for 1985's horror comedy classic, The Return of the Living Dead.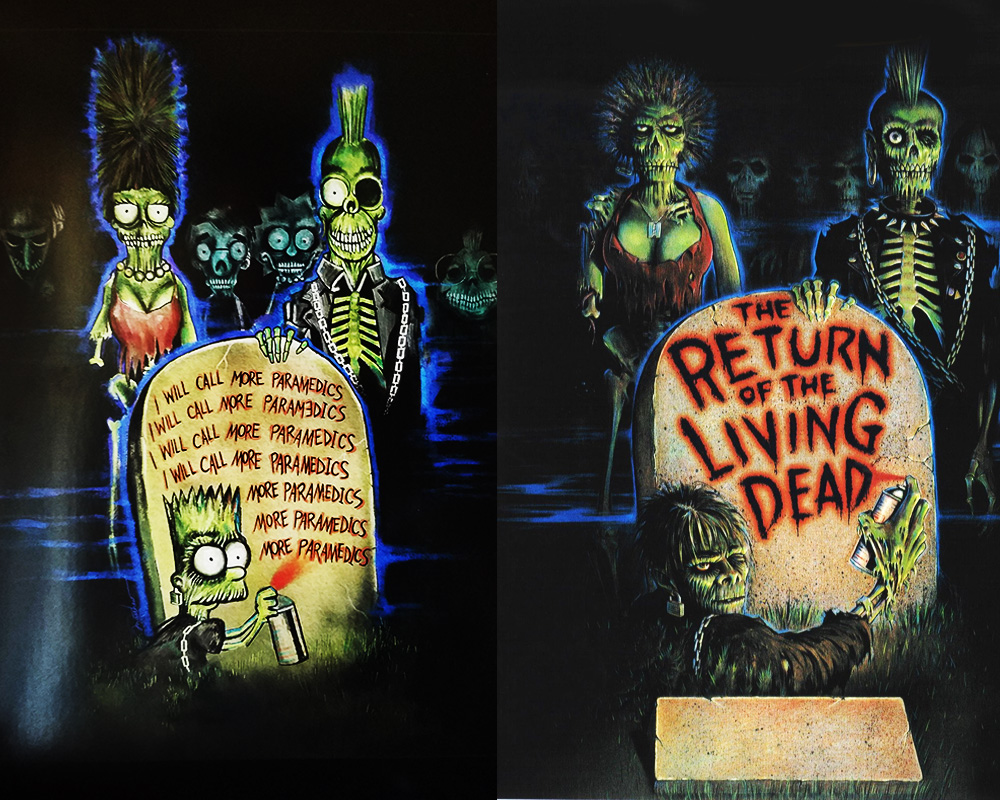 My personal favorite touch is besides including Bart, Homer and Marge as the main zombies you additionally have Mr. Burns, Milhouse, Lisa, and Hans Moleman in the background.
And finally, my secret favorite part of each month's Horror Block, the newest issue of Rue Morgue. This month the cover story covers my buddy Swamp Thing. Featuring interviews with Len Wein, Charles Soule, and Kelley Jones the magazine also looks to feature stories on Alice, Sweet Alice, the upcoming Mind's Eye and a tour of an underground horror museum in France. Color me excited.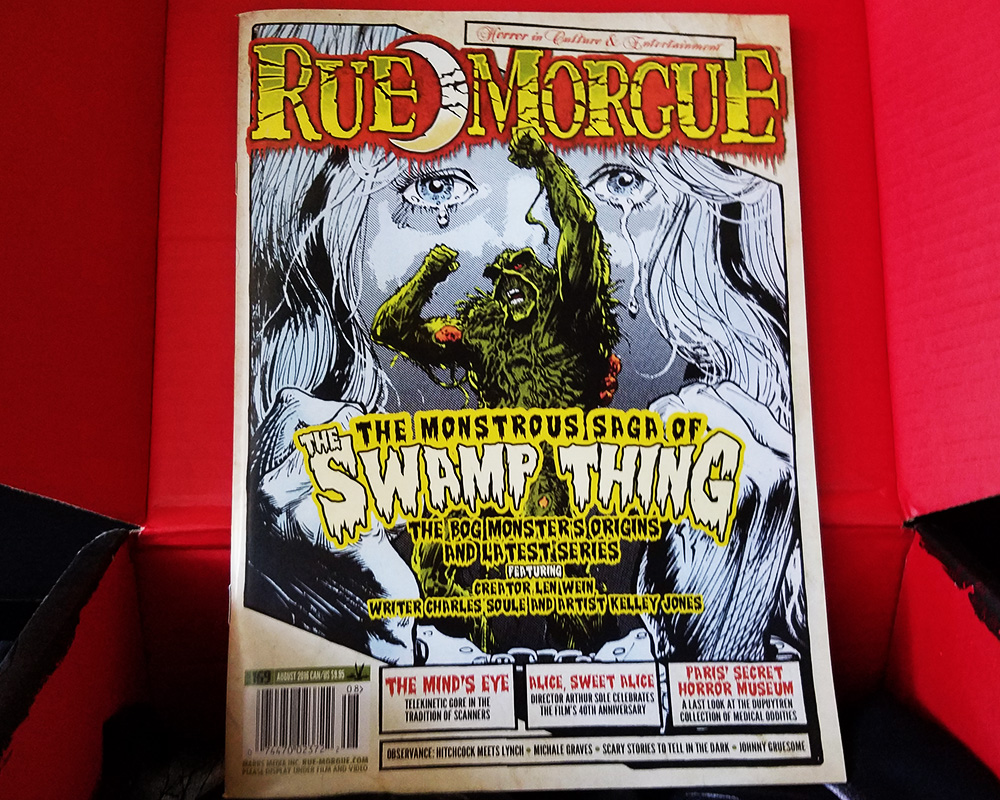 And that's the July 2016 Horror Block! Overall I'm pretty pleased with it. This month gave me something to watch, something to read, two things to wear from two of my favorite horror franchises, a hobby kit to build and display, and an art print that blends my love of The Simpsons and my love of 80's horror comedy.
Next month's box touts Ghostbusters (!) and Supernatural and will feature 4, count 'em 4 Horror Block exclusives. Personally, mystery boxes are something I thoroughly enjoy and thus far Horror Block hasn't disappointed, I'm gonna keep my subscription rolling and I'll see you this time next month for the August 2016 Horror Block Review!
Stay spooky, friends