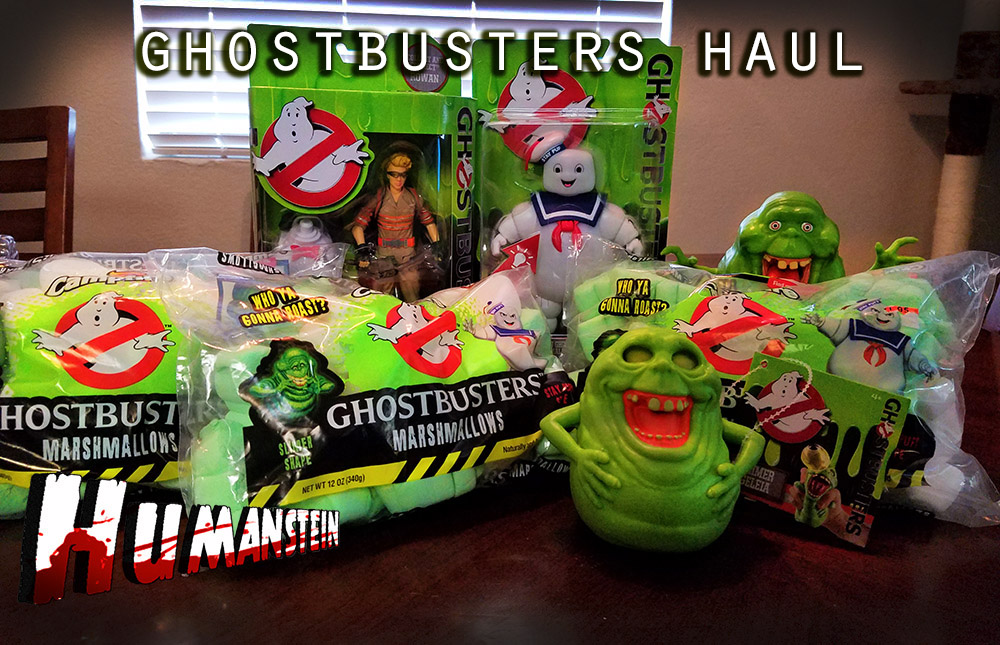 So, it has come to my attention that I may have a problem.
Hi everyone, my name is Nathan and I love Ghostbusters too much.
After my less than fruitful Ghostbusters trip on Mother's Day, I decided to give it a bit before trekking back out into the wilderness in search of Ghostbusters goodies, and yesterday's trip out made all my Ghostbusters dreams come true (well, except Ecto-Cooler. 8 days to go!).
The first Ghosbusters related stop this weekend was a pretty fun adventure to Big Lots on Friday with some of my work crew, including Darius of D Plays Games, Joan (of It's Happyning), Nick and Violet. A trip to Big Lots almost justifies a blog post of it's own because its honestly a white trash geek wonderful full of out of season junk food and bizarre and interesting finds. If you're unfamiliar, I'd liken it to a flea market with a roof. It's amazing.
The reason for the trip was to find Campfire Ghostbusters Marshmallows. I'd been to a couple Big Lots attempting to find them after Dinosaur Dracula pointed out he was able to find his there, but I thus far hadn't had any luck. I'd also used the Campfire Store Locator and not a single one of the 6 stores it listed as being near me had them in stock. But Darius pointed out that there's a Big Lots pretty close to the office and we decided to head there and try our luck. It worked out. I bought 6 bags.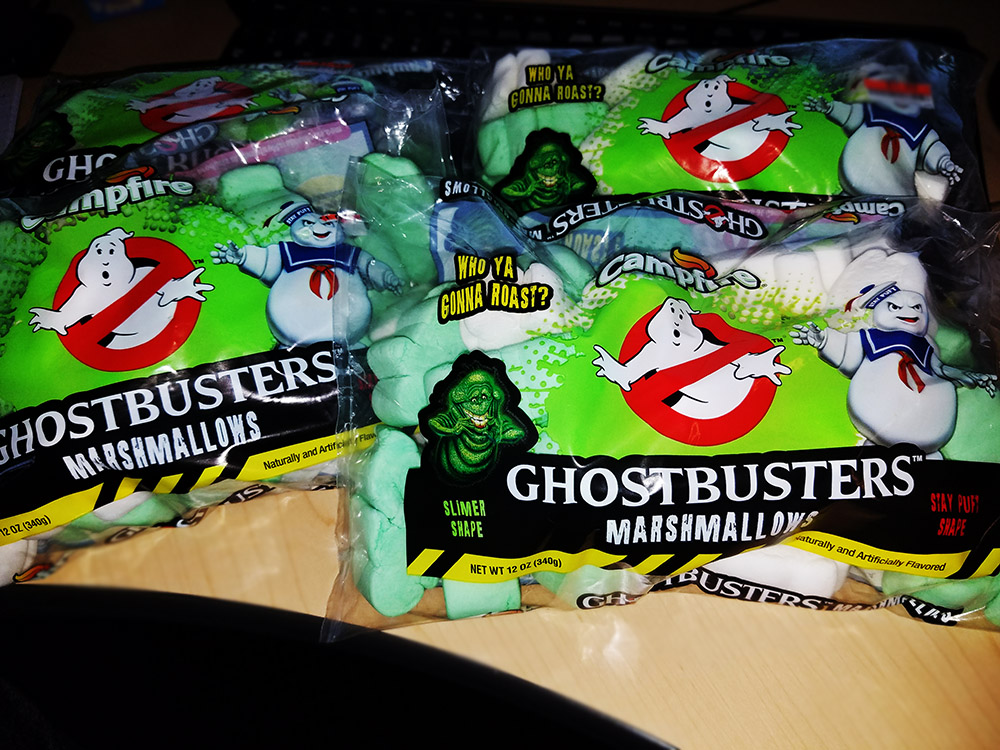 The marshmallows are packaged in pretty neat Ghostbusters packaging. My favorite part is definitely "Who You Gonna Roast?" Grade A.
As far as the actual marshmallows are concerned, I'm pretty dang impressed by Campfire here. These marshmallows are miles ahead of the average marshmallow, especially name brand affairs like Jet-Puffed. The texture is much smoother, and they're not nearly as chalky as I'm used to marshmallows being. And on top of that, of course, they look like Slimer and Stay-Puft marshmallow man. What more can you ask for?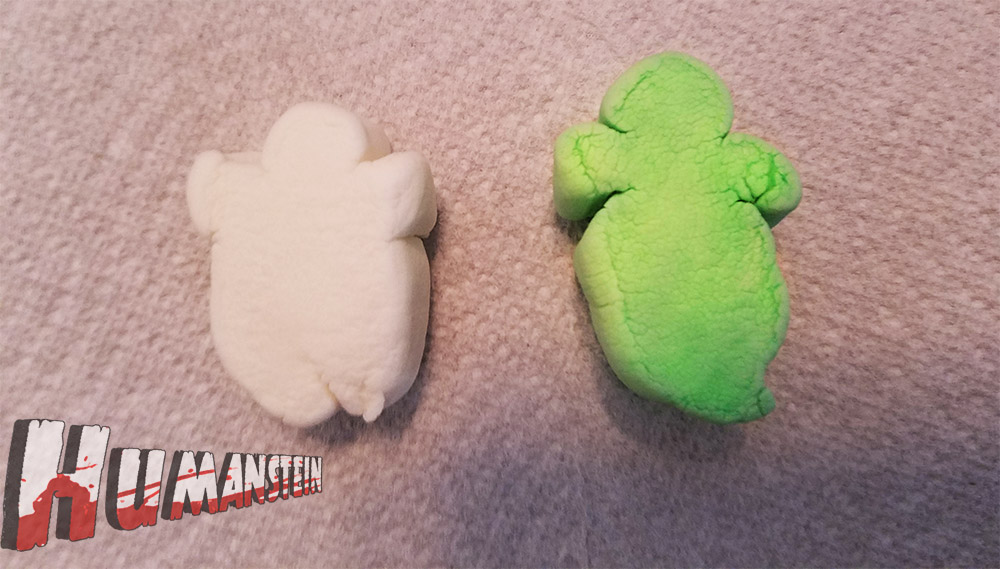 Okay, they look as much like Slimer and Stay-Puft as you can get a dang marshmallow to look. Overall, super satisfied with these. I'm actually going to be giving away a bag and some other goodies to a lucky reader soon, so make sure to follow my twitter or my Facebook fan page for more info.
The second leg this weekend was yesterday when I went to Toys R Us to try and keep my good luck rolling, and lo and behold it did. I was able to get the three Ghostbusters items I had my heart set on. We'll start with the "Stay-Puft Balloon Ghost" figure.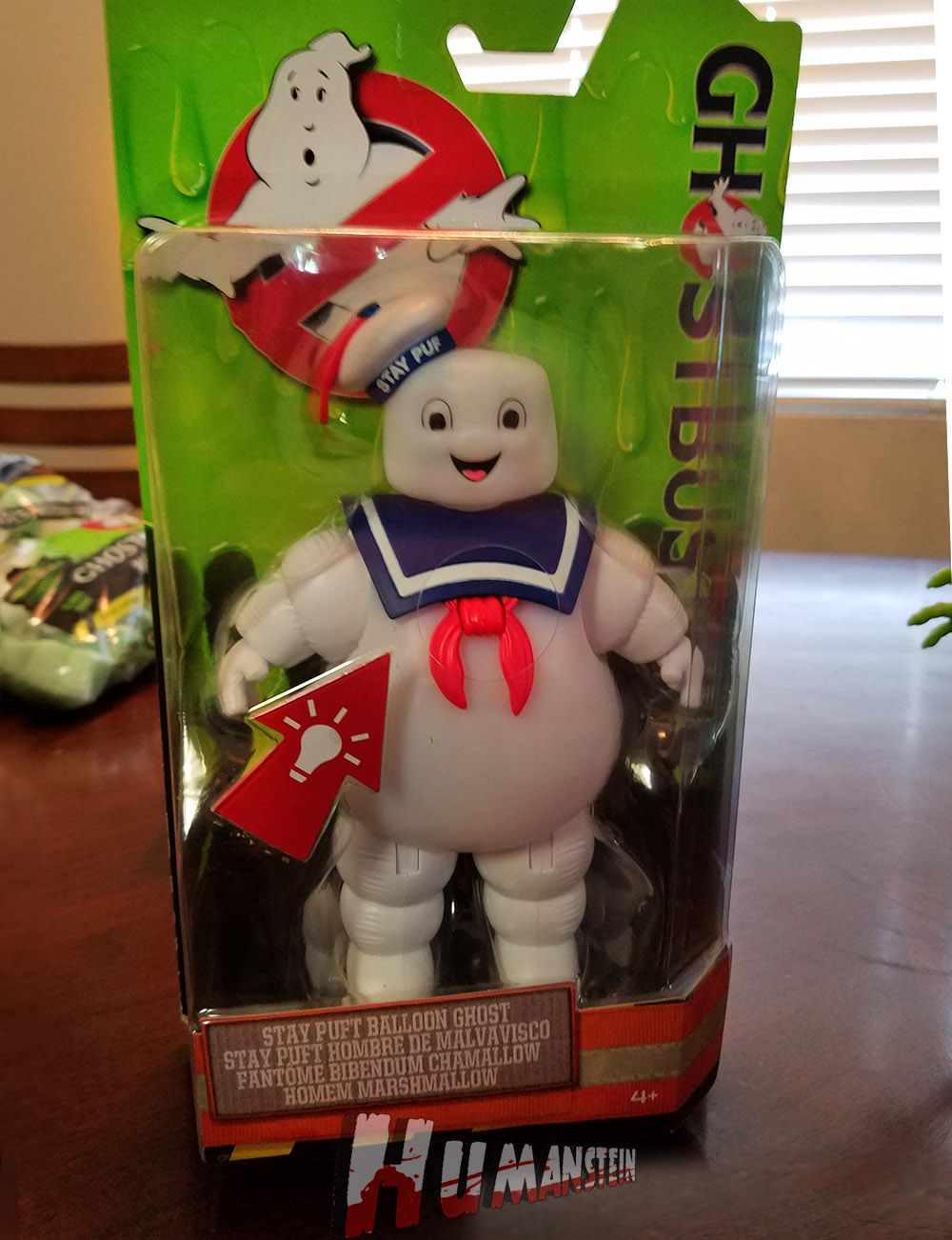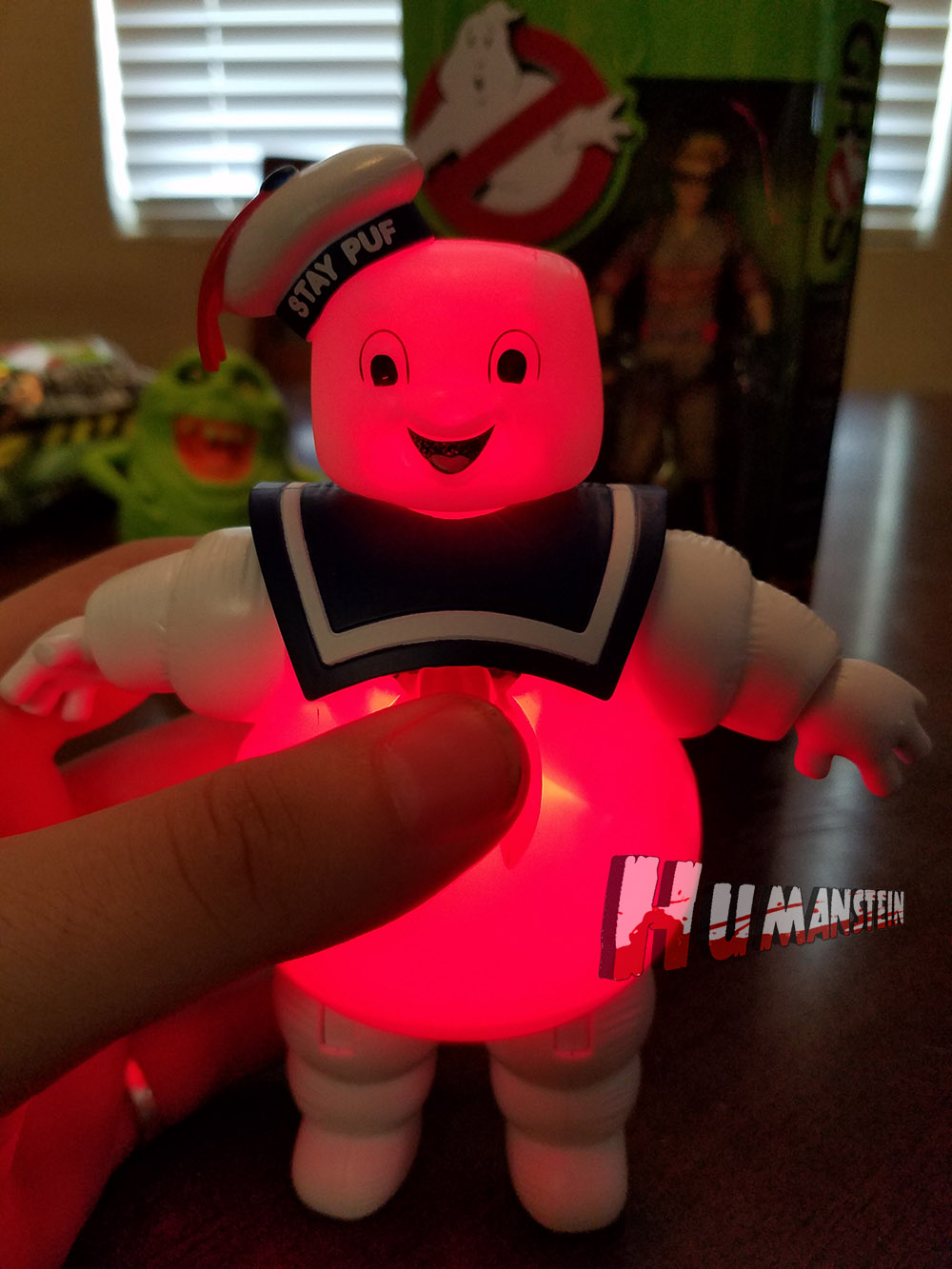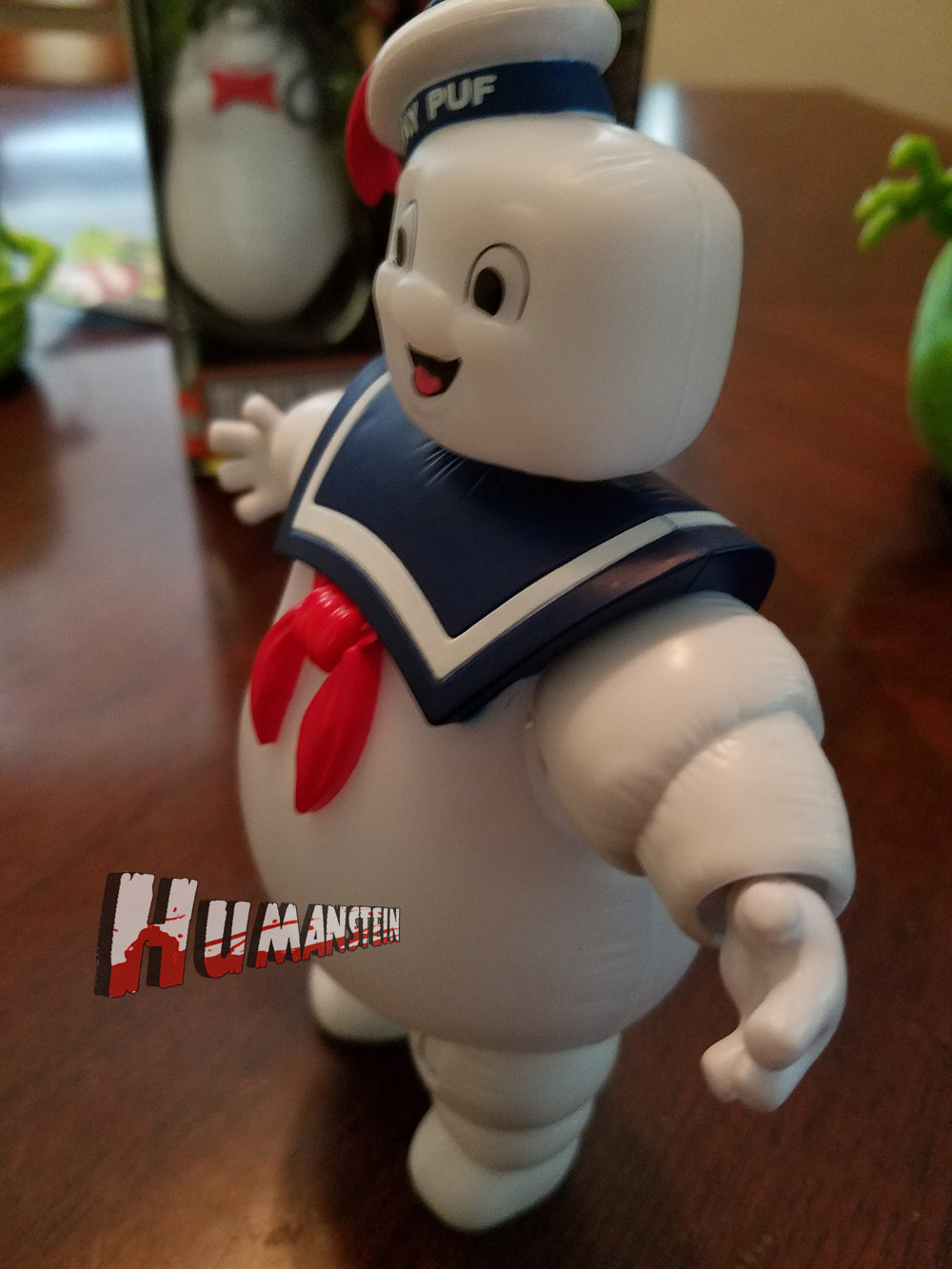 As you can see in the first picture, no, this is NOT The Stay-Puft Marshmallow man from the original Ghostbusters film, but is instead the "Stay-Puft Balloon Ghost", the new trailer gives some answers about what that could mean, but as you can see in the detail shots of the figure, it is indeed meant to be a balloon. The figure has more articulation than one might think a giant balloon man, or a giant marshmallow, or a giant balloon of a giant marshmallow might have. You can move his shoulders, his hands, and his feet. He could maybe stand to have some more articulation, but frankly, he's just going to sit on my desk and stare at me while I eat hundreds of Ghostbusters marshmallows, so maybe he doesn't need any more.
He also glows, which is a nice feature the $11 figure line shares. I went with SPBG for the first one, but I'll probably end up grabbing that Mayhem figure at some point too. This reasonably priced figure is definitely worth the price of admission, and for the price he's pretty great. Definitely one of the most reasonably Stay-Puft figures out there.
The next up for discussion is my brand new figure of seemingly everybody's Ghostbustin' crush, Jillian Holtzmann as portrayed by Kate McKinnon.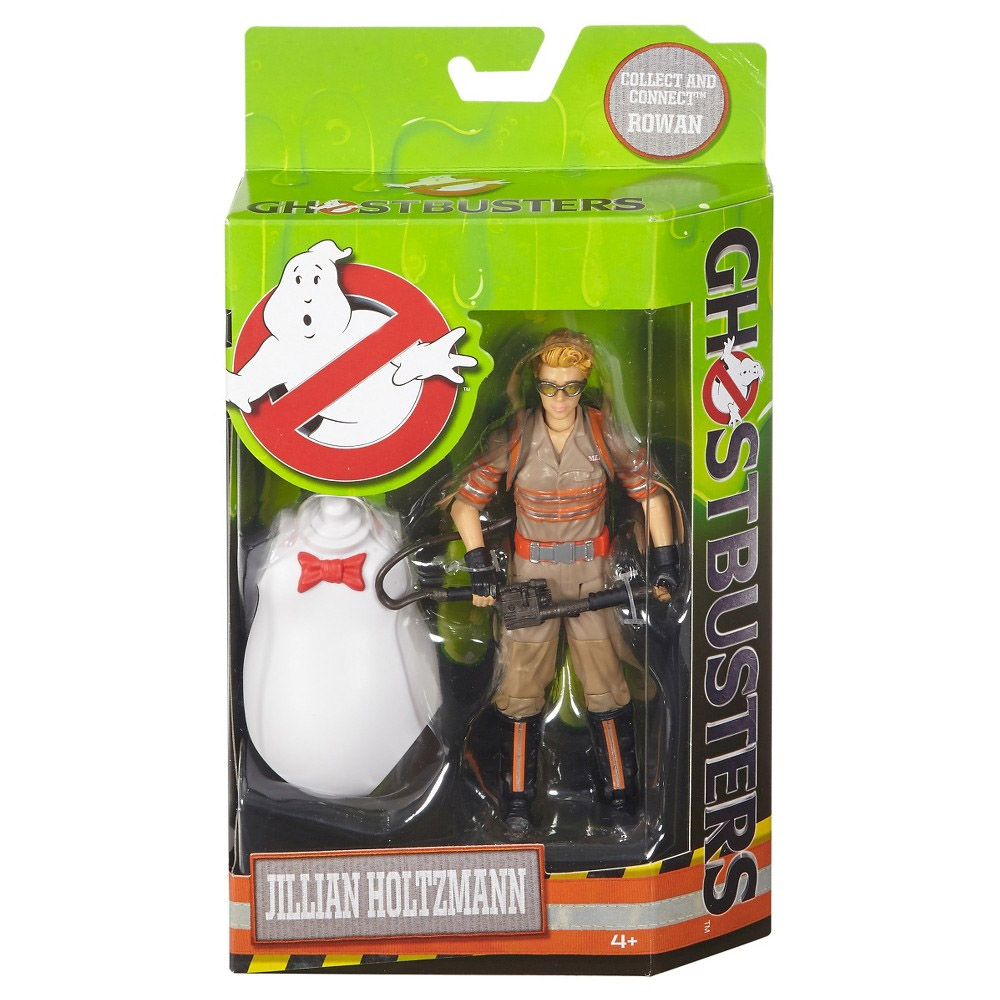 This is one of the four $19.99 figures released thus far, featuring a pretty solid likeness of Kate McKinnon as Holtzmann. The primary gimmick with these $20 figures is a build-a-figure of Rowan, the villain of the film that appears to be the living embodiment of the No-Ghost logo. I've not fallen down the rabbit hole of buying all the figure in order to build him just yet. There's still time for that to happen, but I figured I would start with Holtzmann because I'm a sucker for a lady in goggles.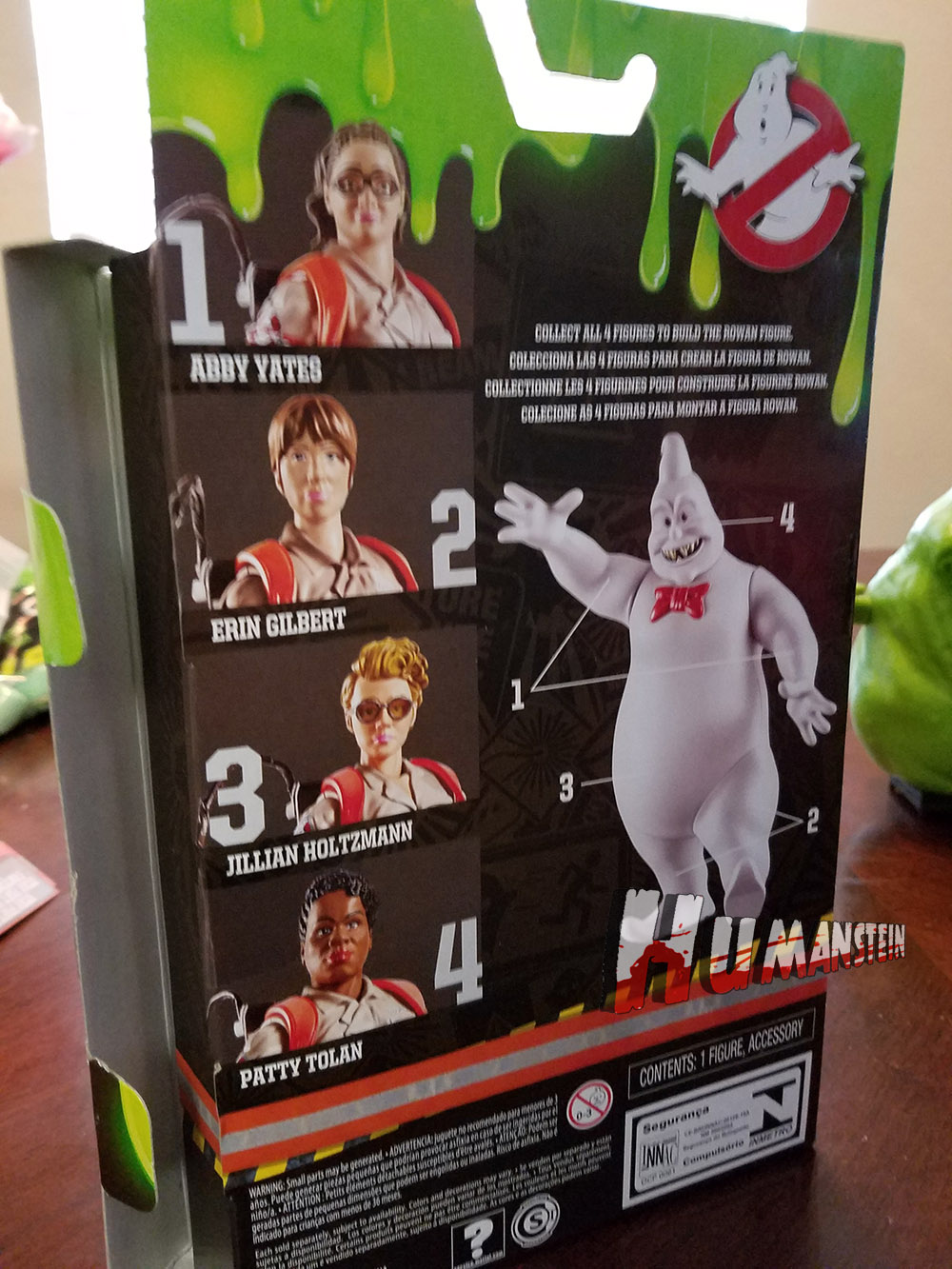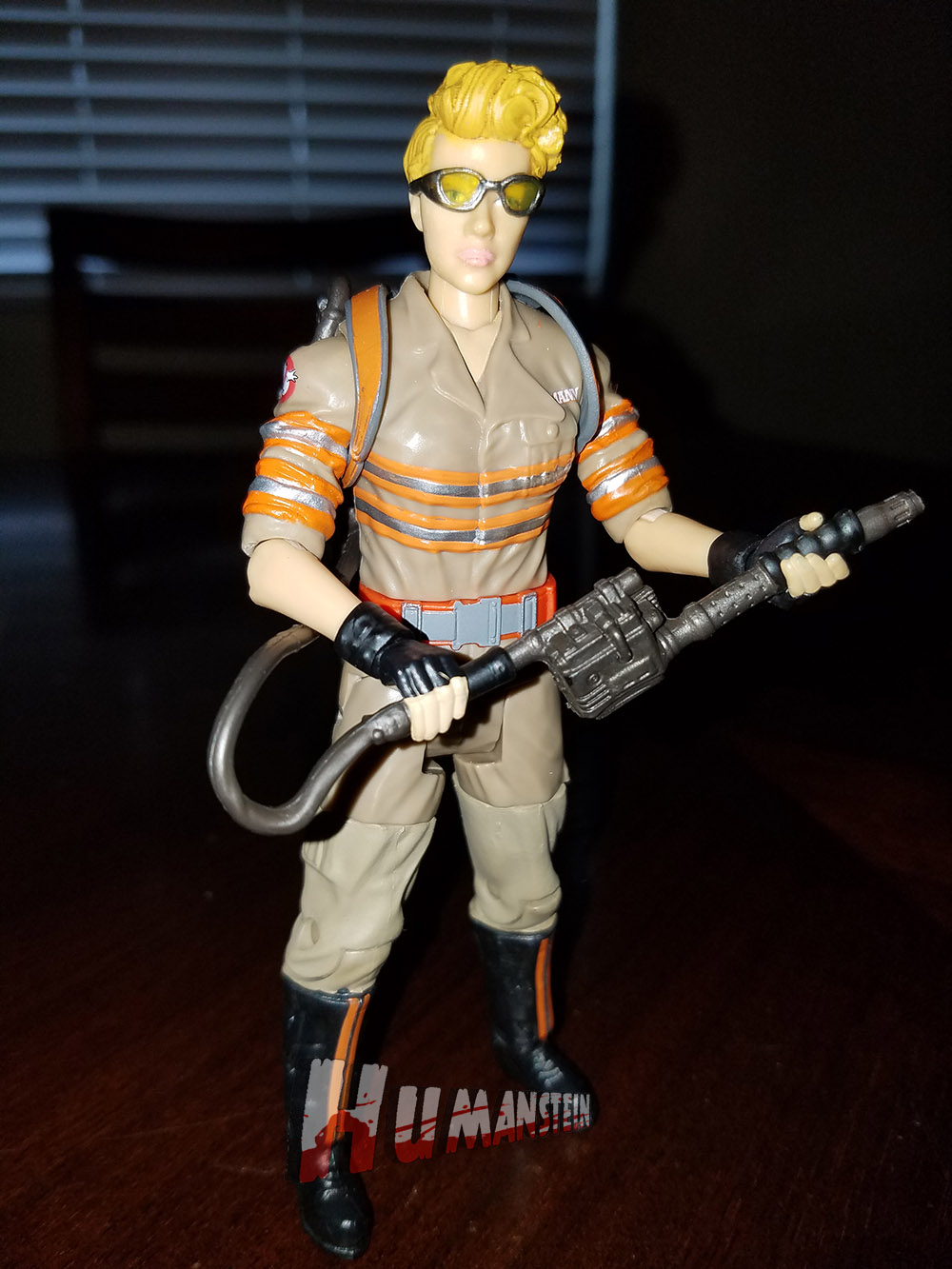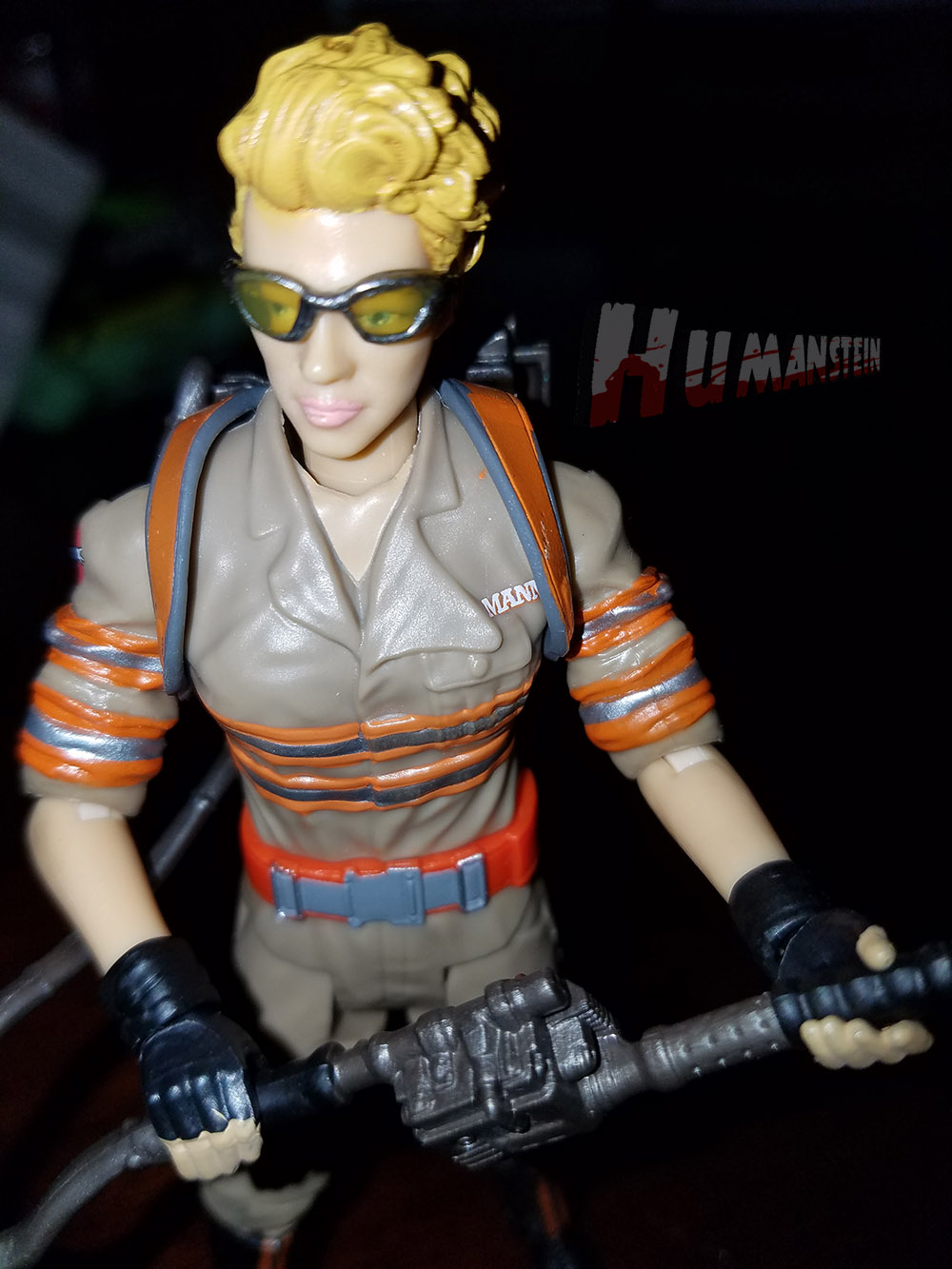 The figure has a solid amount of articulation, about par for the course in the $20 range, and the detailing on the paint job is pretty good as well. There are a few mistakes in the paint job, but nothing that makes me regret having bought the figure. My Holtzmann's goggles are a little wonky but I'm sure if I mess with them enough I can get them to sit the way I'd like.
I think the coolest part of this figure is probably the proton pack. I am probably biased though because I think my favorite part of anything Ghostbusters related happens to be the proton pack…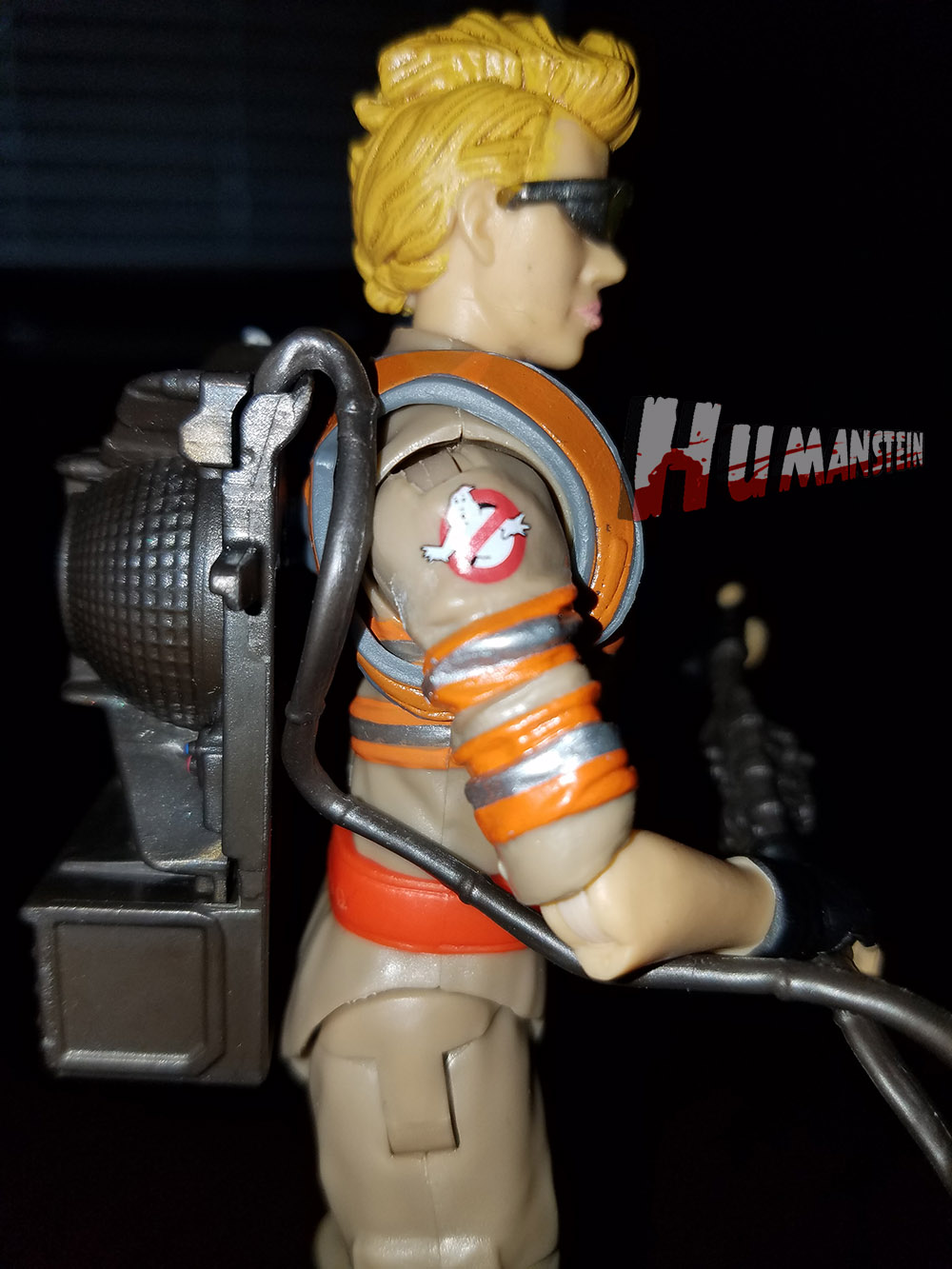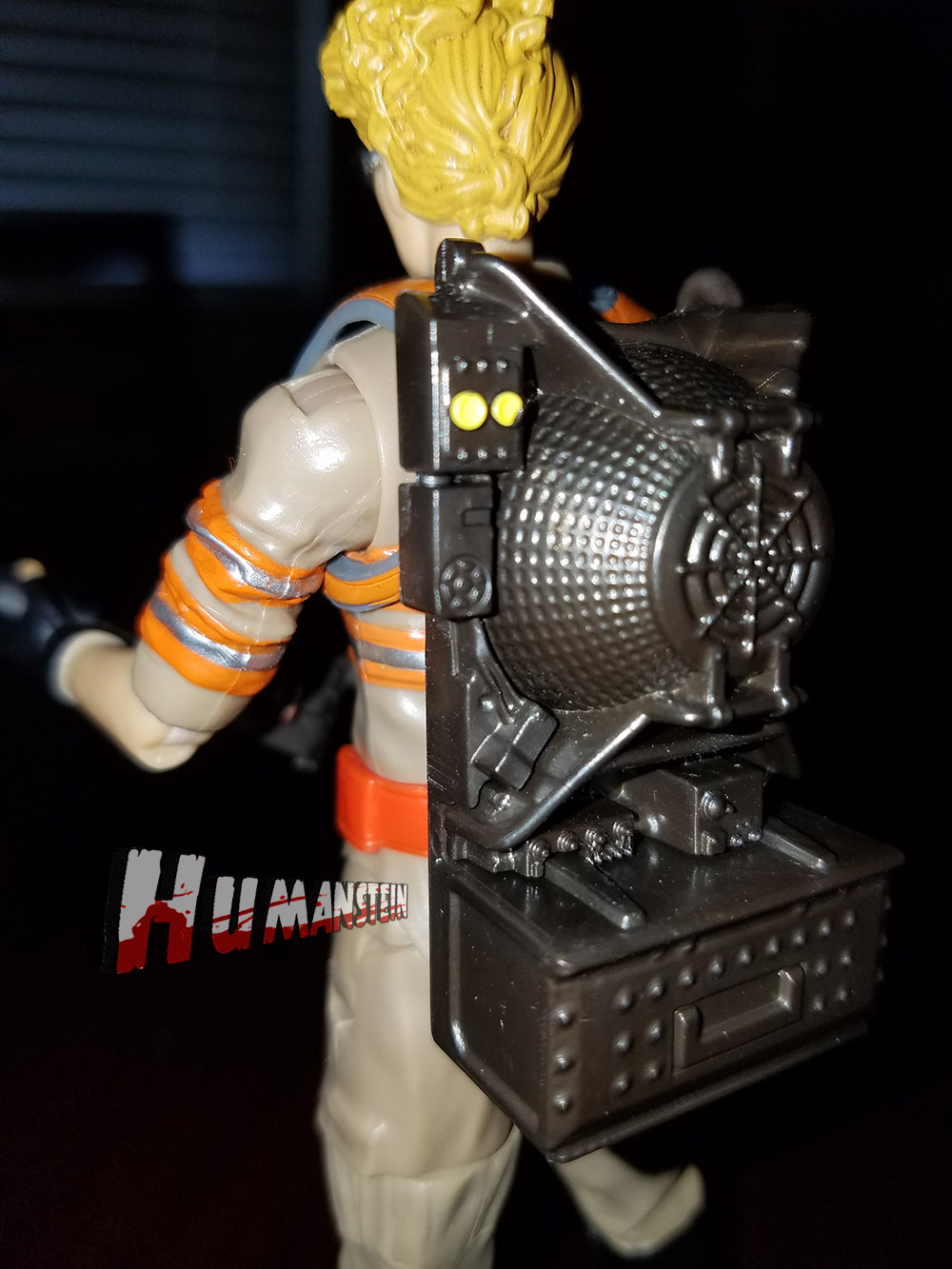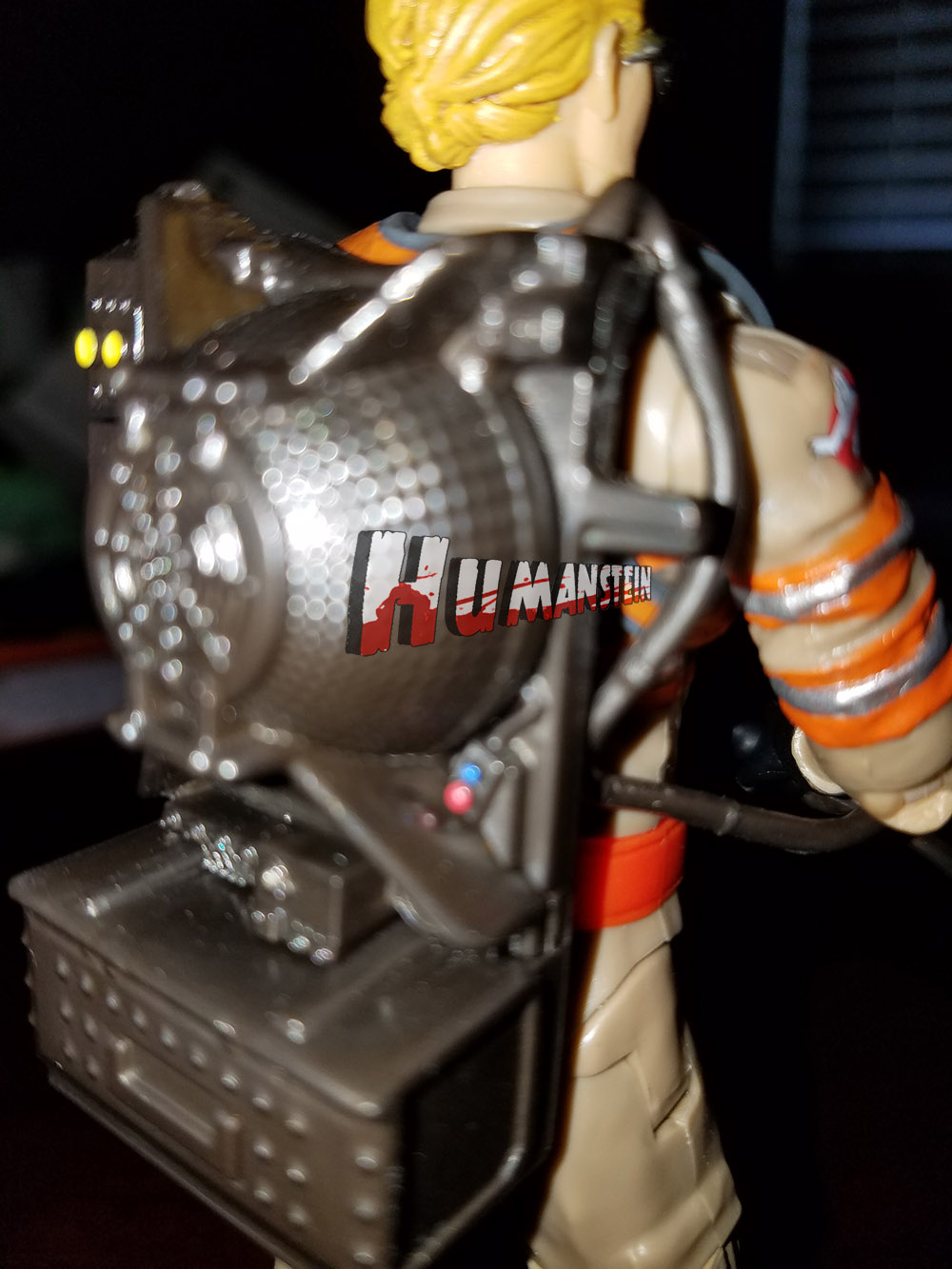 I am very glad to finally have found this figure, but in a way, the real fun was the journey of finding her not at insane eBay markup. She'll be going back in her box, unlike Stay-Puft who will be forced to watch me eat marshmallows and write about marshmallows for all eternity.
The real MVP of the hunt was the "Ecto-Ghost Slimer" though. After his compatriot, blue rat squirrel thing sprayed me in the face on Mother's Day I'd just about given up hope of finding him. But, I found the damn thing.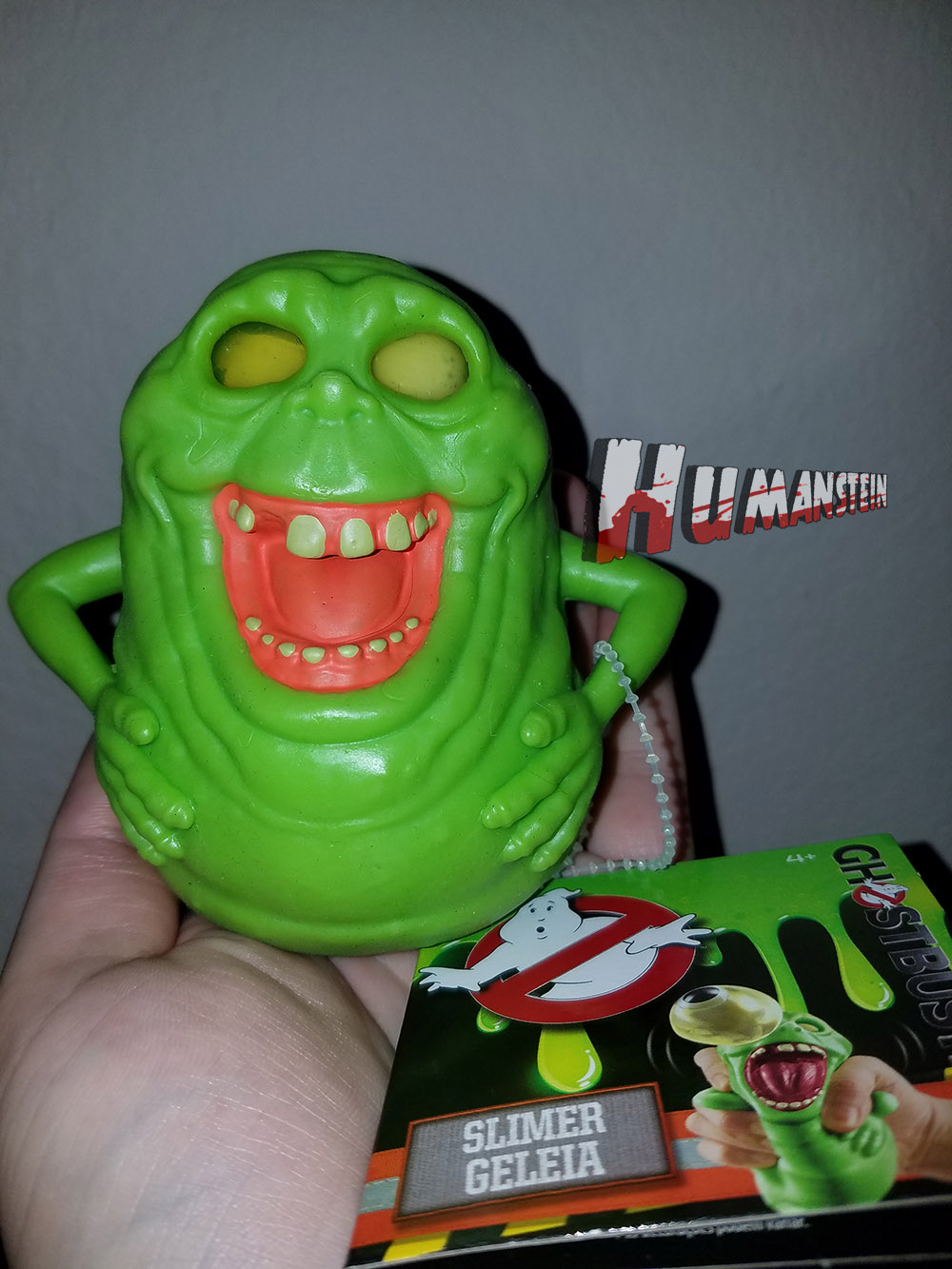 As you can see on his little tag, this fellow is designed to be squeezed until both of his eyeballs explode forth from one of his eye sockets like some sort of Cronenberg nightmare. This is basically a Ghostbusters spin on a fun squeeze toy you might find at dollar stores around the world, but this one is infinitely better obviously because this one's Slimer.
Obviously this is now my favorite thing in the world. I'd like to say I'm sorry to my girlfriend and my child, because this squeeze toy of Slimer is now my entire life.
All in all I think my Ghostbusters grabs this weekend were pretty great and I'm pretty satisfied with all of them. I might need to slow down when it comes to buying Ghostbusters stuff though otherwise some of y'all might need to throw an intervention for me. Just remember to not to cross the streams at the intervention.