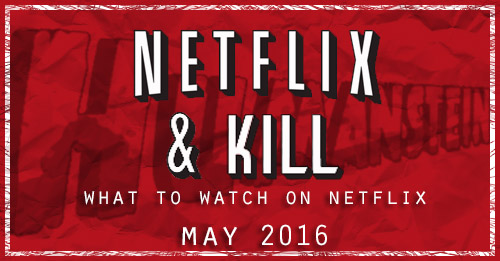 Welcome to the inaugural entry of a brand new column on Humanstein.com, Netflix and Kill.
Each month I'll take a look at genre films currently available to stream on Netflix Instant and give you a couple picks I think you'll dig. Sometimes they'll be horror. Okay, probably the majority of the time, but I'll also throw in some other interesting stuff as it comes up. Maybe I'll even have guests come on and give you a fresh angle every now and again.
For the first entry I've decided to steer clear of the stuff I think you've already heard of and instead dug a little bit deeper and came up with 5 horror films you should watch on Netflix. There are so many films on Netflix it really is pretty extraordinary to have seen the catalog consistently get bigger over time. I still remember the days when they were a mailing service! The Salesforce website will show you more about how they managed to sustain this growth through digital transformation.
This is a pretty eclectic group of movies, ranging from kid friendly spookydoos to pretty heart wrenching serious business horror. Each entry will be accompanied by a short blurb describing what you're getting into, since Netflix has decided it would rather be snarky instead of helpful. If you're looking to stream entertainment in your home, but you're living within a tight budget, you may be interested in some free alternatives like those listed on the Money Talks News website to get your movie and tv fix.
Let's get going!
---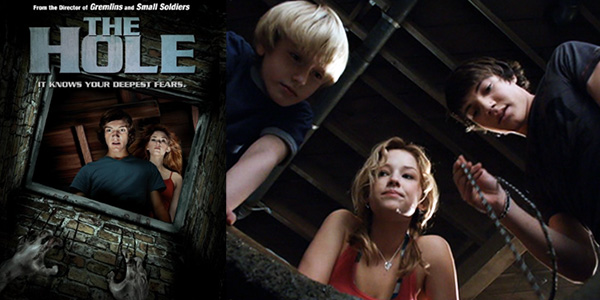 1. The Hole (2009)
The Hole is a fun throwback to the 1980s suburban horror genre helmed by the man who undeniably did it best, Joe Dante (Gremlins, The 'Burbs). Following 17 year old Dane (Chris Massoglia) as his mom uproots he and his little brother Lucas (Nathan Gamble) from New York City and moves them to a quiet little town called Bensonville. The suburbs suck, but of course there's a silver lining in the form of the beautiful girl next door named Julie (Haley Bennett).
Mom's working all the time, so Dane gets left to watch Lucas. Unfortunately Dane is a bit distracted by aforementioned beautiful girl and his patience with his kid brother wears thin pretty quick. Things take a turn for the surreal when Lucas discovers a trapdoor in the basement, and underneath is a mysterious and sinister bottomless pit. Bringing Julie into the mix to try and get some answers, something terrible is unleashed.
Give this one a spin if you're in the mood for a fun, scary movie with likable kids and some interesting twists. Joe Dante rarely misses his mark and he's just as good here as he's ever been.As a plus, this one's a safe for the family and I'm always looking for smooth ways to get kids introduced to horror.
---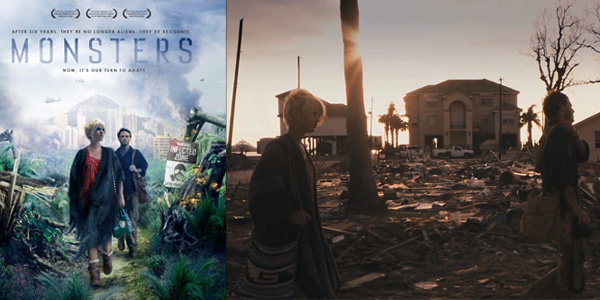 2. Monsters (2010)
Monsters is a tense little slice of sci-fi horror from writer-director Gareth Edwards, who helmed 2014's Godzilla and is currently directing Rogue One: A Star Wars Story. This is an interesting low budget film that gets pretty close to matching it's very interesting premise. The film exists in a world where a few years back a NASA probe crashed in Mexico and somehow led to the arrival of giant tentacled monsters. The film follows Andrew (Scoot McNairy, Argo), a photojournalist from America who gets stuck escorting his boss's daughter Samantha (Whitney Able, All The Boys Love Mandy Lane) back to America by cutting through one of Mexico's "Infected Zones", where the monsters happen to be.
The dialogue (mostly ad libbed) is organic, the relationships between the characters deeply moving, and the overall tension and fear created by the (mostly) unseen creatures lend itself to this being a slick little movie. The effects shots aren't perfect, but considering the director did them himself with off the shelf software, they're still pretty solid.
If you like a little sci-fi with your horror and are looking for a horror flick that's going to leave you feeling something, this is a solid pick for the evening.
---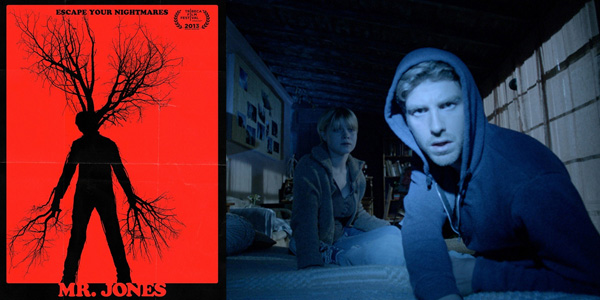 3. Mr. Jones (2013)
Mr Jones isn't for everyone. If you simply followed Rotten Tomatoes' suggestion you'd pass this one over. I'm here to say that Rotten Tomatoes is wrong on this one. The film follows Scott (Jon Foster) and Penny (Sarah Jones) as they decide to move out to the middle of nowhere for a year to work on a nature documentary. Things start off okay, but after a couple weeks tensions begin to flare as they realize maybe they hadn't put as much thought into this project as they thought they did.
The film starts firing on all cylinders when Scott's backpack is stolen and they trace the bag to a run down cabin near theirs. This new cabin is surrounded by ominous wooden sculptures, stick figures, and other strange sights. They explore the cabin and eventually realize this is the home of reclusive folk artist Mr. Jones, a mysterious hermit famous for his surreal and frightening art. The subject of their documentary changes, and things only get more intense and surreal the more they learn about Mr. Jones.
Give this one a go if you're in the mood for a visually striking film that perfectly encapsulates the feeling and visualizations of being in a nightmare. It gets pretty trippy.
---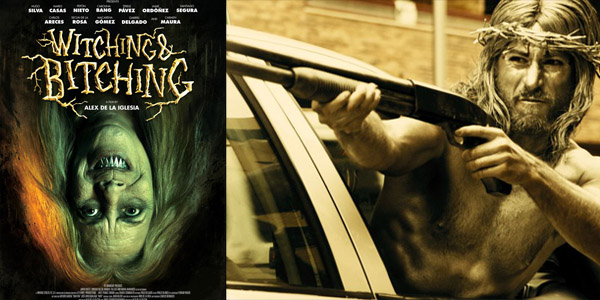 4. Witching & Bitching (2013)
Witching & Bitching is a delightfully batshit Spanish language horror comedy co-written and directed by Álex de la Iglesia. The Spanish title of the film is Las brujas de Zugarramurdi or "The Witches of Zugarramurdi". The film opens with two criminals robbing a pawn shop dressed as a plastic Army Man and a gold Jesus Christ. One of the men brought along his son so he could finish his homework. The men and the boy make off with a duffel bag full of gold jewelry and immediately hijack a taxi, trying to force the driver to help them flee Spain and hopefully make it into France. Little do they know they're being followed not only by the police, but also the young boy's mother.
They all end up in Zugarramurdi, a small town in the Navarre. There, the criminals seek refuge in a spooky castle. That castle is full of witches. Cannibal witches. Evil Dead rubber-faced wall climbing insane cannibal witches. I can't speak highly enough of this film. The comedic sensibility is incredible, the effects work gorgeous, and the scares plentiful. This movie hearkens back to the "splatstick" style of the 80's but is 100% unique. There's nothing out there like this movie.
If you're not turned off by subtitles and are looking for an absolutely amazing horror comedy, look no further than Witching & Bitching.
---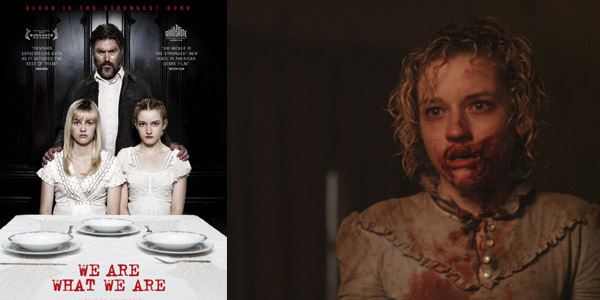 5. We Are What We Are (2013)
We Are What We Are is a 2013 English language remake of Jorge Michel Grau's 2010 Spanish language film Somos lo que hay, but Joe Micke's vision for this film elevates this far above the traditional "Let's do it again but without subtitles this time" films we all grew so accustom to during the J-Horror phase America went through in the early 2000s. With a tense, atmospheric and dreamy look, this cannibal movie is a decidedly different affair than what your horror addled brain probably summons. We're not talking Cannibal Holocaust here, we're talking a moody, beautiful film about loss, family, and grief.
The less you know about this film the better, but if you need more coaxing, the setup is as follows: Set in a remote area of the Catskills, the film opens with an isolated but seemingly normal family of four suffering the loss of their mother to a freak accident during torrential downpour. Even worse, it's almost time to perform a very important religious ceremony that the family has undertaken for generations, and the ritual may only be performed by the woman of the house. The father, played by Bill Sage insists the ritual proceed, whereas Iris (Ambyr Childers) and Rose (Julia Garner) aren't as comfortable with the new responsibilities being laid at their feet. The ritual in question involves the kidnapping of a young woman and cannibalism.
An atmospheric and unique film with a dark and somber tone that could have been derailed into absurdity at any moment by a single poorly executed scene or even an ounce of scenery chewing, this film stands tall as a rich and haunting film about a lot more than just eating folks in the name of God.
Give this one a go if you're looking for something that will stay with you for days without punishing you in the process.
---

That's the first batch! Fire up your preferred Netflix machine and get watching. I decided to keep it pretty tame this month, but who knows where next month will go. Sound off in the comments below with your favorite genre films on Netflix or what you thought of this month's picks!