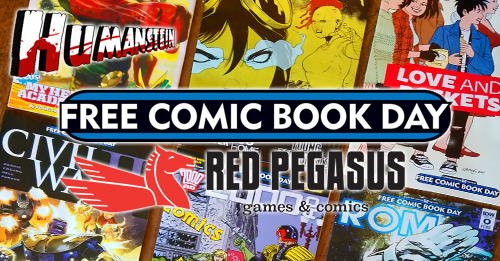 The first Saturday in May is a special time of the year for comics households around the country and it's no different in mine. That's because it's FREE COMIC BOOK DAY!
For those not in the know, Free Comic Book Day is a holiday of sorts where local comic shops around the country team up with publishers of all sizes to give away free (!!!) comic books to anyone who wants one.
Every shop has different policies, different clientele, and in some cases different titles, but in every instance I've ever come across FCBD is a day of fun, joy, and comics for people of all ages.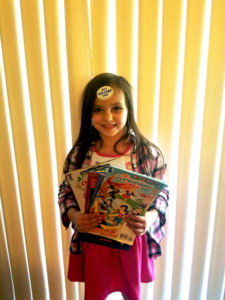 This year was my daughter's first year going with me instead of just getting a handful of carefully selected picks from me after I get back. And I have to say, seeing the look on her face as we walked into my comics shop of choice Red Pegasus Games & Comics in the Bishop Arts District definitely reestablished how important comics and comic shops in general are for kids, especially kids with niche interests (like the one's we're lightly encouraging her to develop).
It was total sensory overload as we walked in, and she was bouncing up and down the entire ride over. That excitement just about exploded when she was greeted by one of Red Pegasus's always helpful and informative staff members who explained how Free Comic Book Day worked to her, and let us know where the kids table was.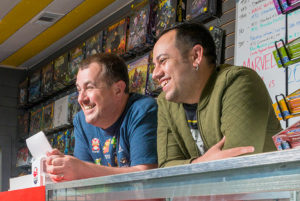 One of the shop owners, a friend of mine named Gabriel, walked over to us and said hello, and gave us some picks from the kids table that he thought she would enjoy. We then made our way over to the kids table, and she was a little overwhelmed by the sheer amount of choices she had. Reg Pegasus definitely pulls out the stops for FCBD and even allowed each of us to get 10 comics, meaning she could pick from that table until her hearts content, basically.
She ended up picking DC Super Hero Girls, Strawberry Shortcake from IDW, and many many more, but those were definitely the stars of the show for her today.
As far as my own choices are concerned, FCBD is almost always stolen by 2000 AD's release. Last year it was a full size magazine, and this year while they've scaled down to a standard comic size it still weighs in at a whopping 48 pages and manages to contain 7 stories. I haven't dug into any of the comics just yet, but this will be my starting point this year, as it was last year.
My other pickups are below: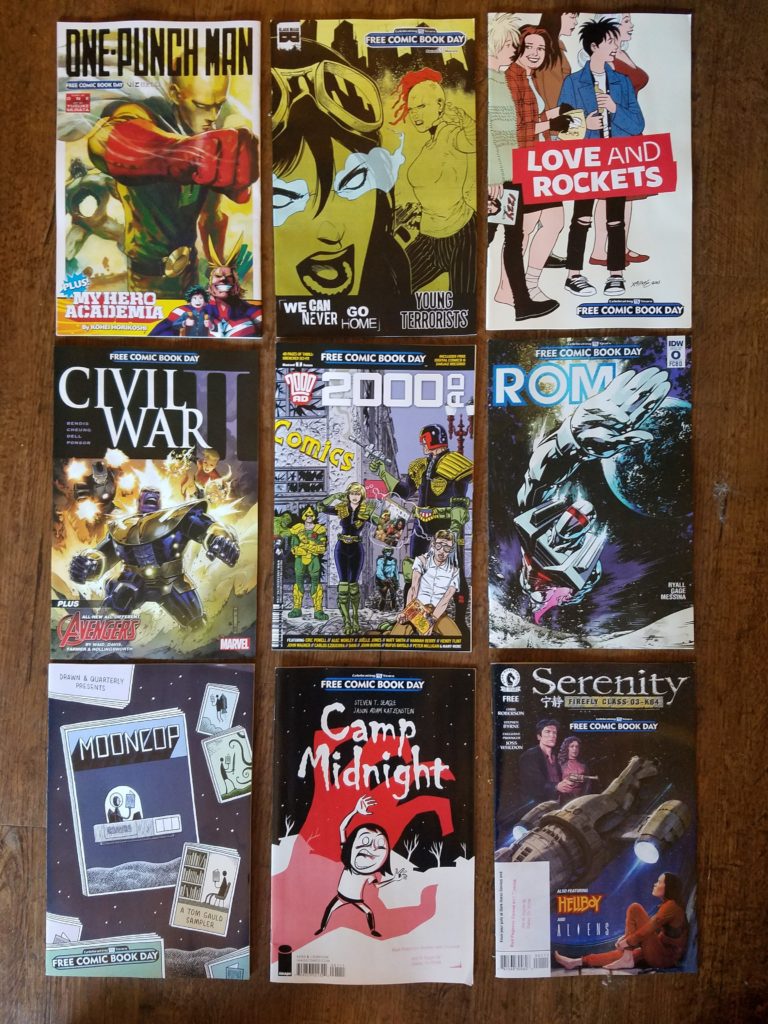 I'm also pretty excited about One Punch Man, We Can Never Go Home, and ROM. I love one punch man. Seriously – love.
In addition to those pickups, we also cruised around Red Pegasus's new library which boasts like, 19 feet of floor to ceiling trades and graphic novels. If you didn't know, the free comics that are given out on FCBD aren't free to the retailers, so I always make sure to pull the trigger on some impulse goodies when I storm the beaches on the first Saturday in May in order to say thank you for this awesome yearly experience, and help them introduce newbies to the wonderful medium we all love so much.
This year I picked up some Marvel Golden Books to read to my kiddo and Brubaker and Phillips' Fatale Volume 1 and Jiro Kuwata's Batmanga Volume 1.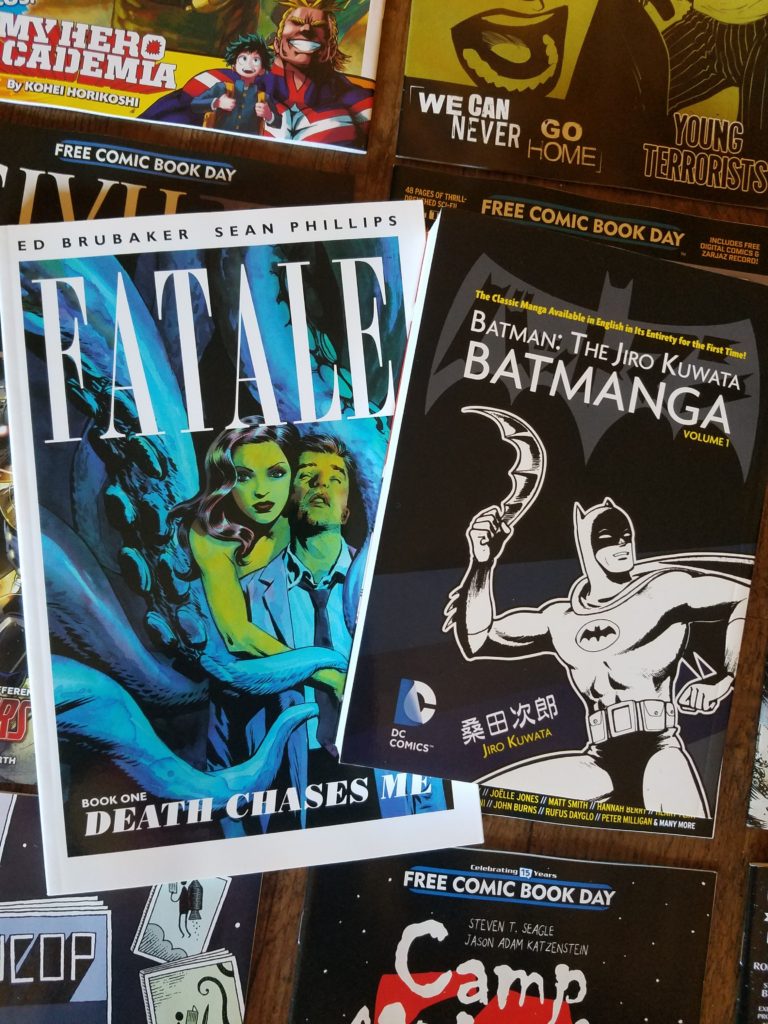 I would definitely call Free Comic Book Day 2016 a success, if for no other reason than the excitement and joy I saw on my daughter's face and the faces of the other kids who were able to geek out and be themselves on a special day made just for people like them and myself.
Hopefully, because of welcoming, knowledgeable, and helpful places like Red Pegasus, and these types of fun, reading encouraging events like Free Comic Book Day, this medium and this hobby we all love so much will continue to thrive for years to come.