Before we dive into The Nick Box, I've got a few thoughts on subscription boxes and in specific the one that had the largest presence on Humanstein, Horror Block. As any longtime Humanstein readers (I assume there are a few, at least) know, I was a big, big fan of Horror Block. It was my first foray into the world of subscription boxes and I was almost always very satisfied with the items I received. Unfortunately, Nerd Block, the parent company of Horror Block died an unfortunate and ugly death last summer and it dealt me a heavy blow. Huge amounts of debt, unfilled orders, chargebacks, and most unfortunately of all, silence from the company while all this was happening.
It kind of soured me on the whole subscription box model and from then on I only signed up for one other subscription service, friend of the site Dinosaur Dracula's Funpack. Knowing who was making it, and knowing I was supporting a big inspiration of mine, made the Funpack an easy sell. Outside of that I searched in vain for a new way to come home to a tiny spooky version of Christmas, and eventually found the Loot Crate Horror Crate, though I missed the signup for that one by a few days in order to receive the Halloween box so I found myself in search of some other method by which to receive a spooky box of surprises and that search yielded: The Nick Box.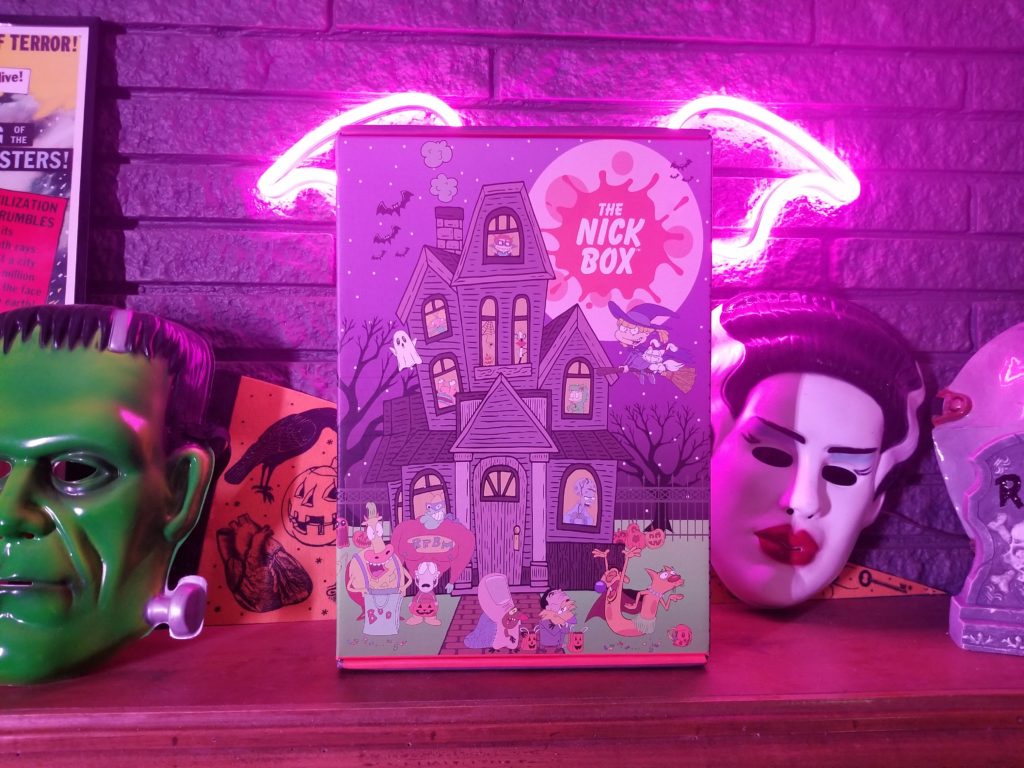 Nickelodeon was a huge part of my childhood and there are an awful lot of Nickelodeon properties that are near and dear to my heart. Appropriately, a good number of Nickelodeon shows' Halloween episodes have found their way into my yearly tradition. The Rugrats' "Candy Bar Creep Show". Hey Arnold's "Arnold's Halloween". Doug's "Doug's Halloween Adventure". Etc, etc. 90's cartoons produced some really great spooky fun and my nostalgia for them runs hot. Logically, I had to sign up for a Nickelodeon Halloween Box.
The Nick Box is a quarterly subscription box, meaning it ships once per season, and each box is at least mildly themed around the season in question. Each box can be ordered as a one-off at $49.99 or you can sign up for a full year and receive each box at a discounted price of $45.99. Each box advertises at least $100.00 worth of "Accessories, Collectible Pins, Decor, Housewares, Vinyl Figurines, Apparel, Stationery, Kitchenwares and more." Shipping is extra, but since you're only paying for in 4 times a year it seems like a pretty solid deal. My first box, this quarter's, is Halloween / Fall 2018 and overall I quite liked it.
The first thing that stands out about The Nick Box is the quality of the packaging. When it landed on my doorstep I heard it, and when I picked it up I was thoroughly impressed. The colors are vibrant and the artwork is full of all sorts of spooky little references to the Nickelodeon Halloween episodes of yesteryear.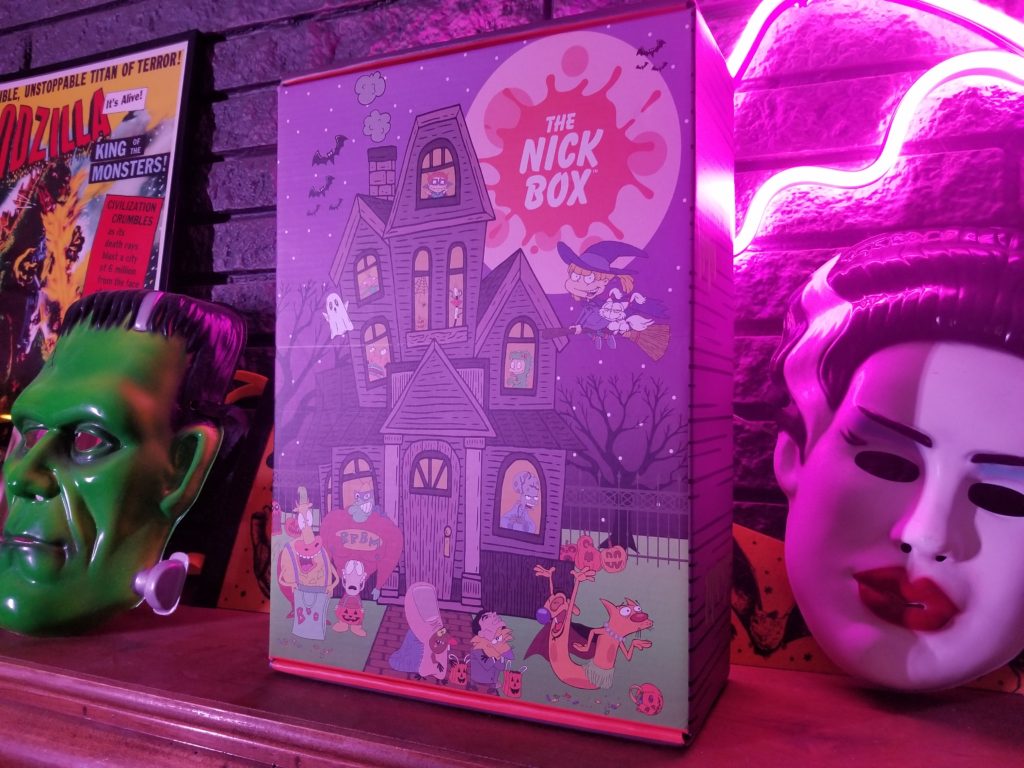 Aaahh!! Real Monsters, Rocko's Modern Life, The Angry Beavers, CatDog, the Rugrats, and Hey Arnold! all make appearances on the outside of the box, and are presented in suitably Halloween themed glory. My favorite detail is probably Helga from Hey Arnold! dressed in her alien invader costume from "Arnold's Halloween". In slightly disappointing news not all of these properties find themselves represented inside the actual box but with a catalogue as deep and wide as Nickelodeon's there's obviously no reasonable way to incorporate everybody each month.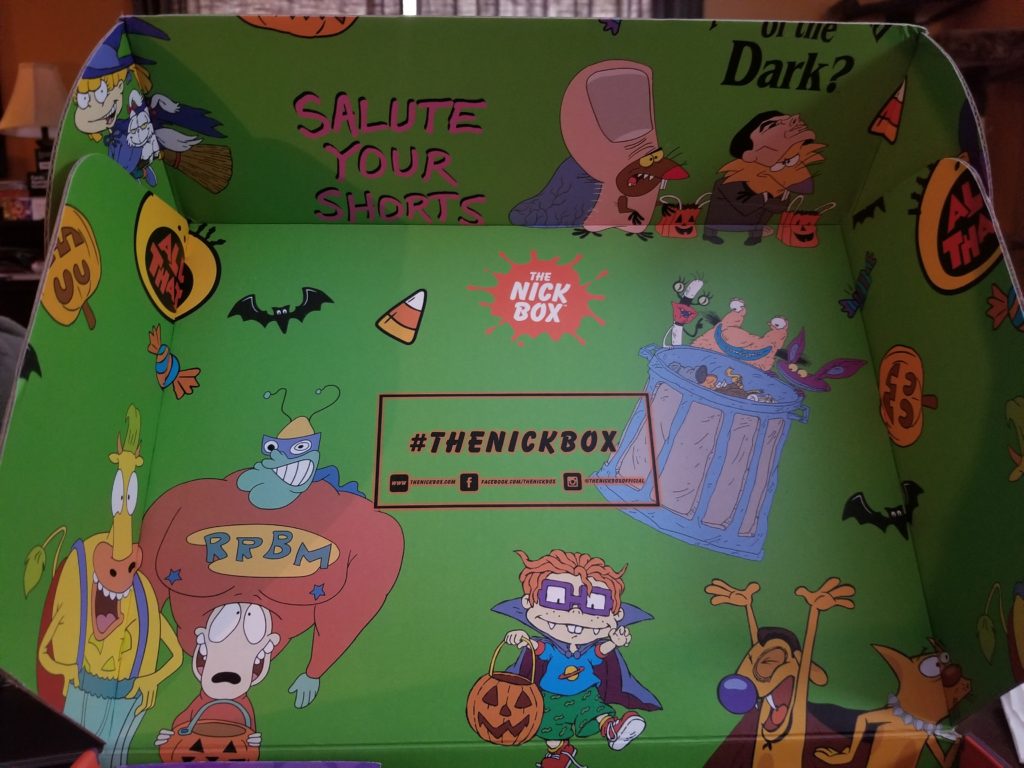 The quality artwork continues inside the box with a large, loud, and proud appearance by an absolutely adorable Chuckie Finster as a vampire. Be still my beating heart. Also represented inside are various live-action Nickelodeon (and SNICK) era shows like Salute Your Shorts, All That, and my personal favorite Are You Afraid Of The Dark? (The answer was yes, by the way, I was afraid of the dark. Especially of that intro. Jesus, that creaky swing still haunts me.)
As far as what's in the actual box this month, the healthy mix of goodies promised in the advertising copy does show up, and the quality of each item is pretty top notch.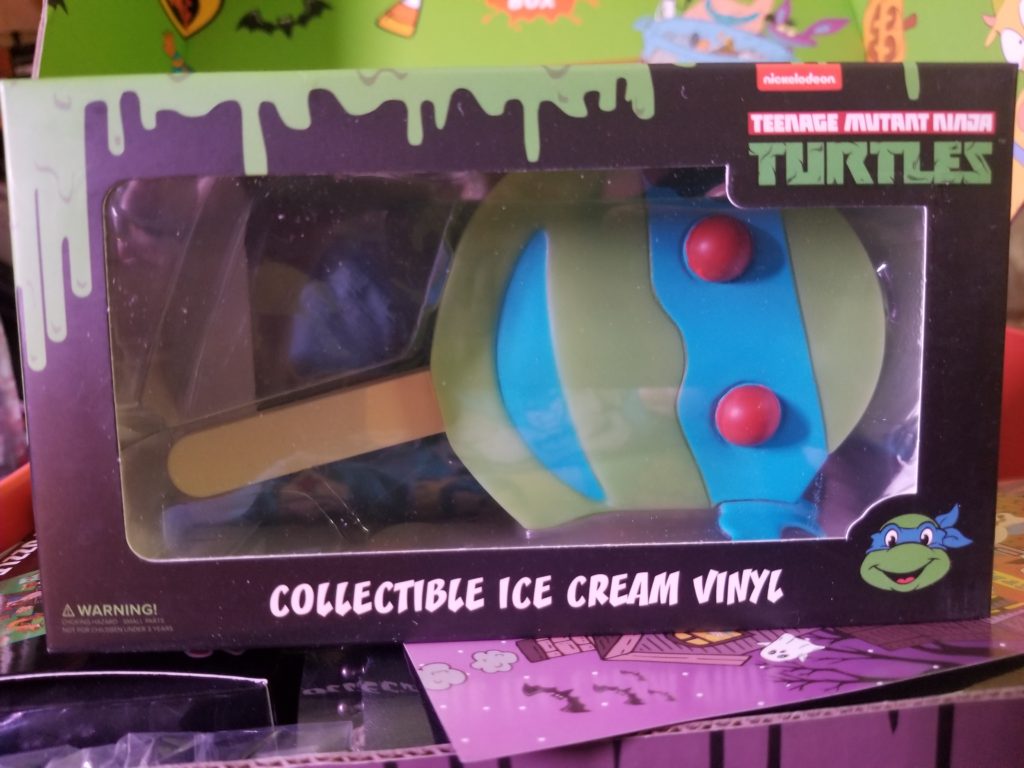 First up is a Teenage Mutant Ninja Turtles Collectible Ice Cream Vinyl from CultureFly. While not super Halloween-y, in my honest opinion because Ice Cream just screams summer to me, I'm not going to complain too much though, because I've been wanting one of these for quite a while.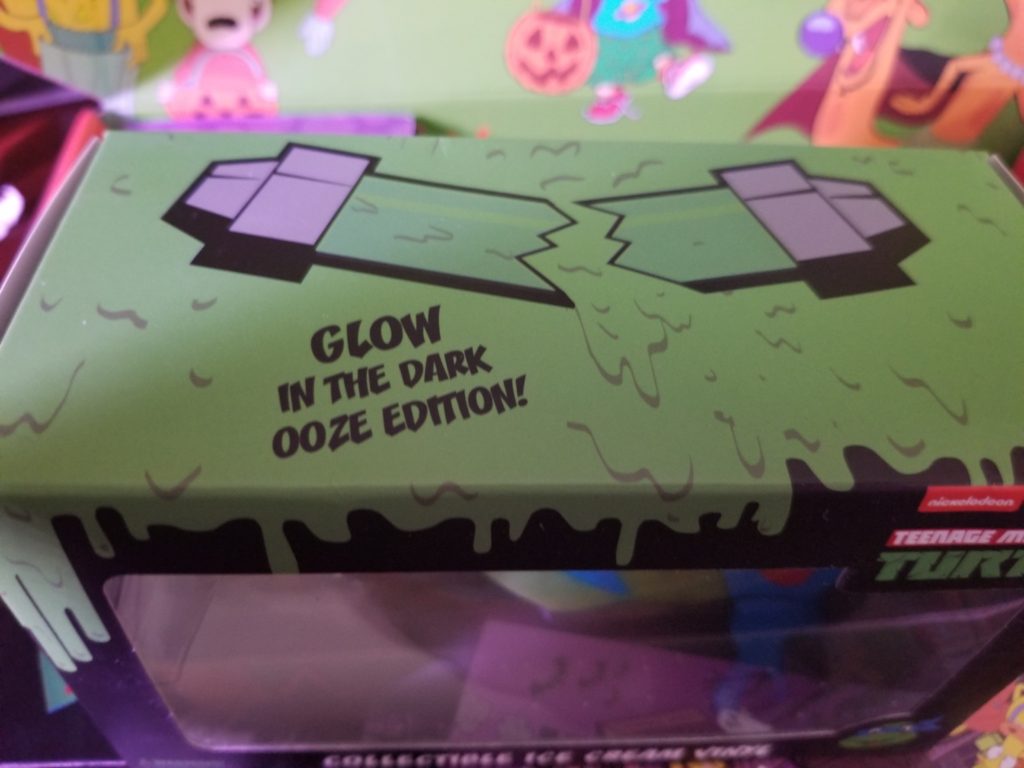 What makes this even neater though is the version in The Nick Box is actually a Glow In The Dark "Ooze Edition". The vinyl figure is 5.75″ wide and 3.2″ tall and is made of a sturdy but soft vinyl plastic. I haven't had a chance to check out its glow in the dark capabilities just yet but am excited to.
It'd be a tragedy for that art that gloriously decorates the October Nick Box to just get thrown away at the end of the season, and thankfully it'll live on for a long time to come in the form of this 11×14 inch 220 piece Halloween puzzle! I've grown to become a big fan of puzzles, especially seasonally thematic ones, in my old age so this will make a fine addition to my slowly growing collection! (I'm still probably gonna keep the box though, to be honest.)
I was hoping that my favorite SNICK show would make a solid showing in this, the spookiest of Nick Boxes, and I am pleased to report that it did. Up next we've got not one but two Are You Afraid Of The Dark? items!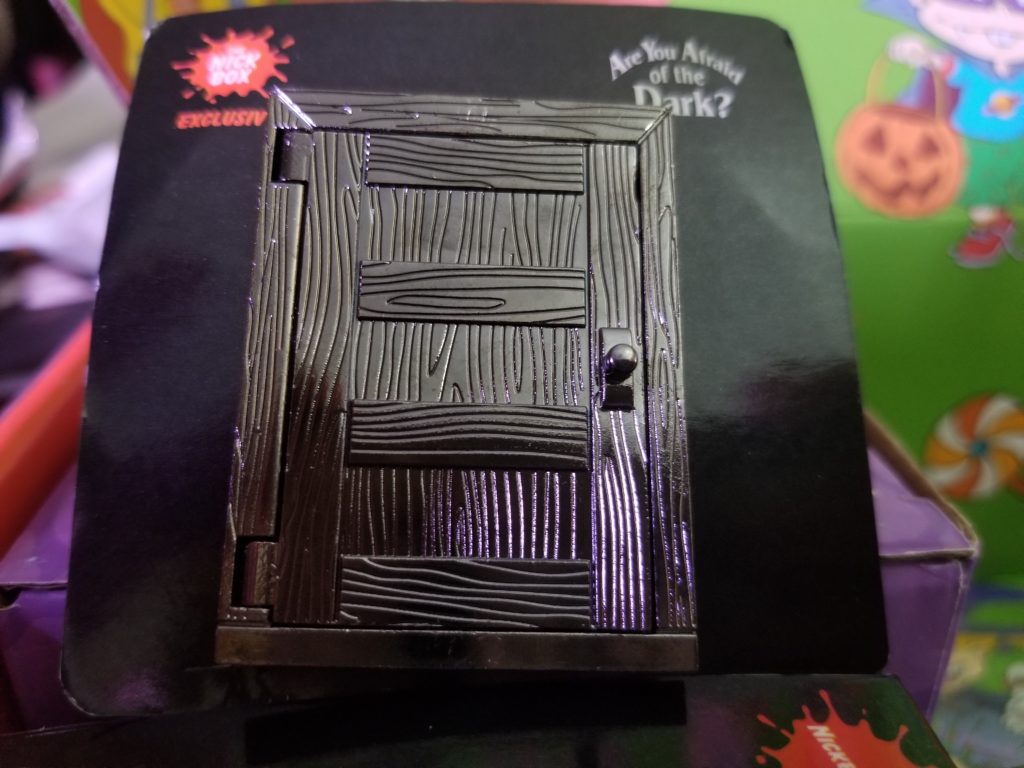 First up is a neat and weighty Are You Afraid Of The Dark? pin. The design evokes the door from the 11th episode of Season 5, "Tale of a Door Unlocked".
Opening the weighty door (which in the episode purports to show you the future), you'll find a glow-in-the-dark version of the show's logo. Pretty neat! This one will definitely be going into the rotation on my bag and will immediately be the heaviest and largest pin I own.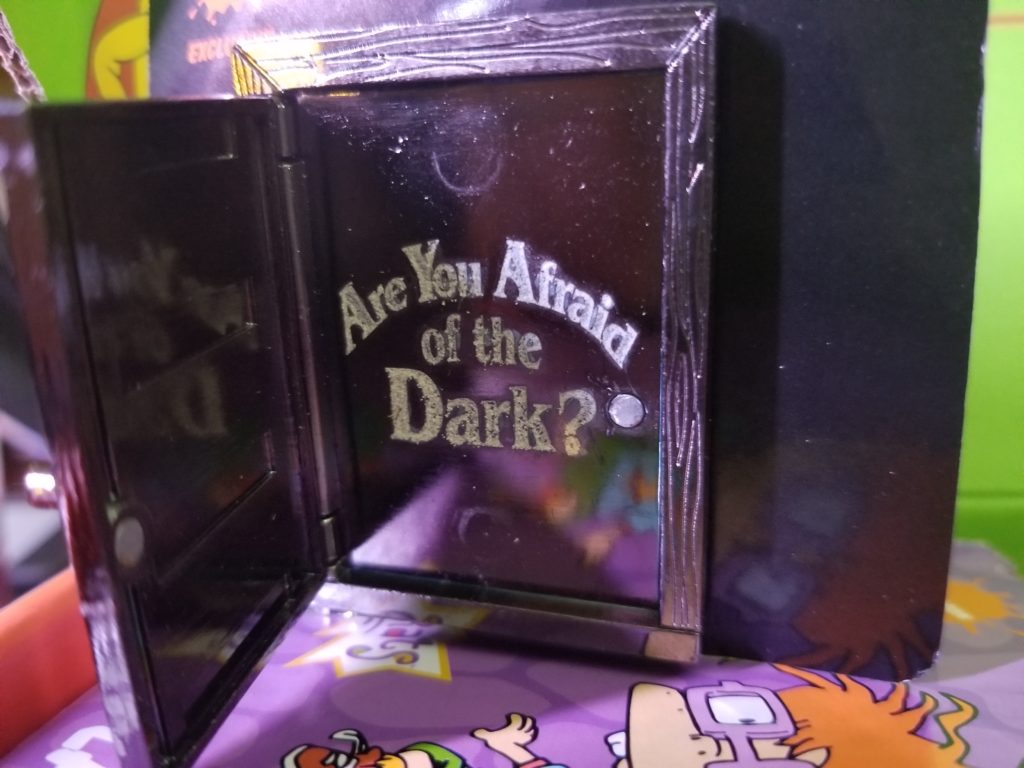 The next item, while not the showiest of the bunch, is easily my favorite. A pair of glow-in-the-dark Are You Afraid of the Dark? socks! I'm an absolute sucker for socks and these ones are quite nice.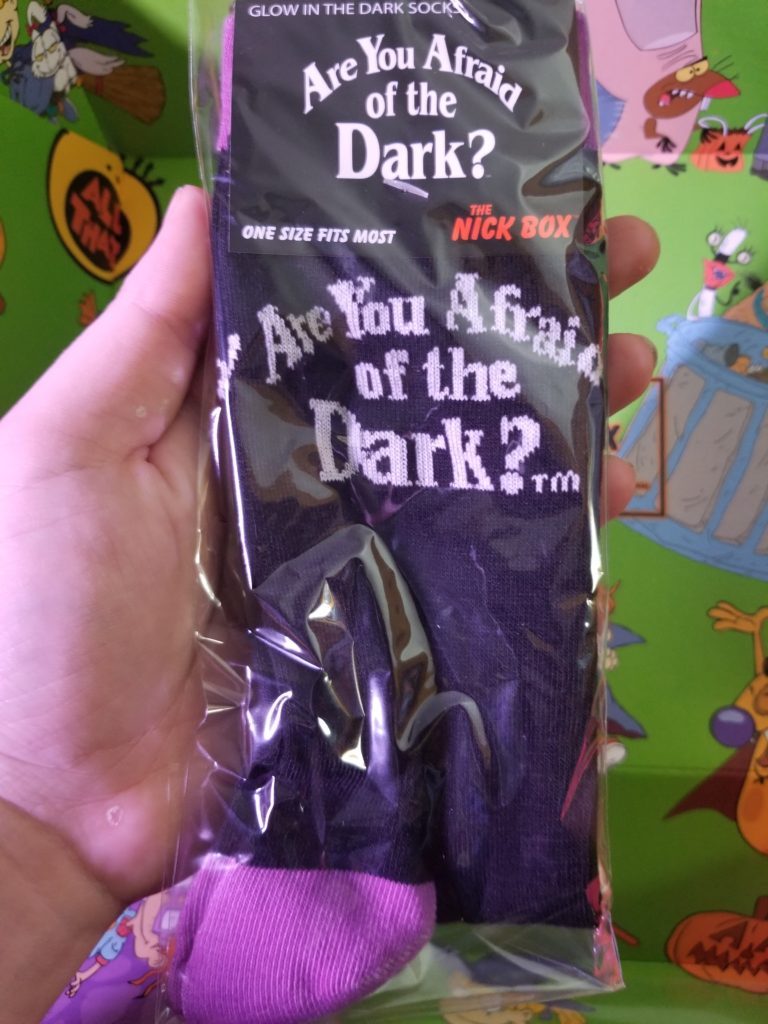 I'm generally leery of any socks being marketed by companies that aren't first and foremost clothing companies, namely because I have giant honkin' feet (Size 13) and I find that more often than not novelty socks either a) don't fit comfortably on my feet, or b) when they're pulled up over my calves the design that looked so nice on the rack doesn't look like much of anything once I've got them on. Luckily, these socks are soft, comfortable, and the design is nicely knite into them in a way that retains the logo's shape once they're pulled up onto my giant legs. These will be an excellent addition to my embarrassingly large collection.
What's Halloween without finding a way to look even more disconcerting and strange than normal? Up next we have an All That themed item! It's a Pizza Face mask!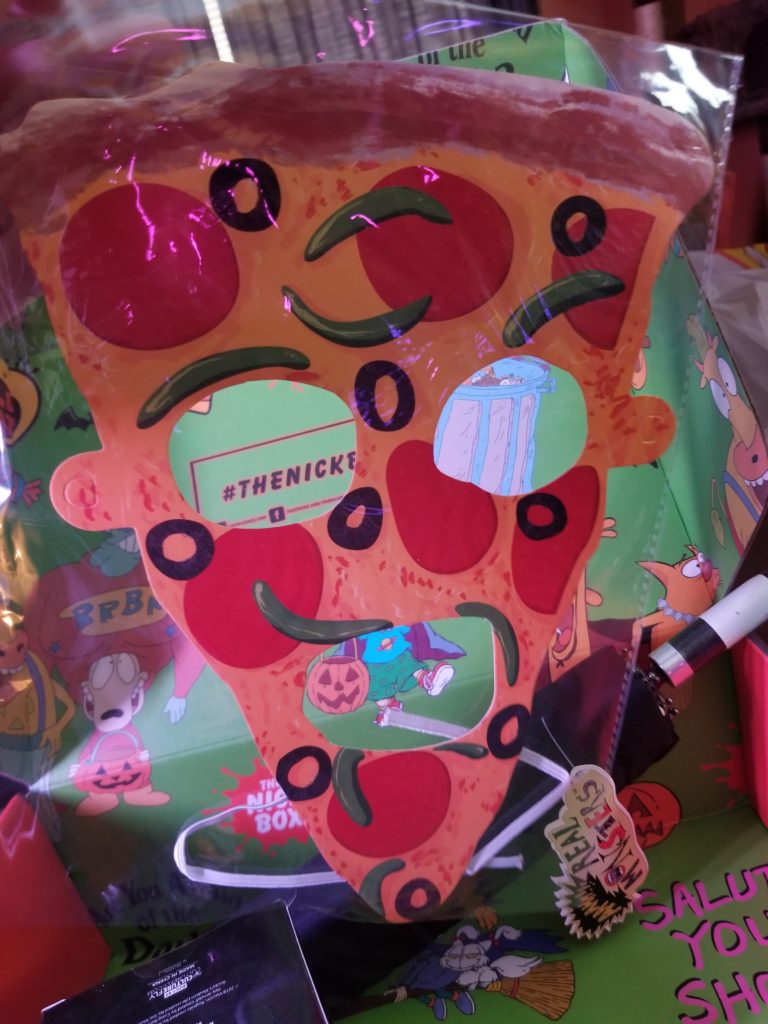 For those who don't fondly remember Pizza Face, the Nickelodeon Wiki explains him as such:
Pizza Face is Earboy's sensitive best friend on All That, played by Kel Mitchell. As his name suggests, he has a slice of pepperoni pizza for a face.
That about does it, really. He's great. Just look at him.
The mask does an excellent job of replicating Pizza Face's iconic… Pizza Face. I look like some sort of nightmarish pizza monster when I wear it though.
Beautiful.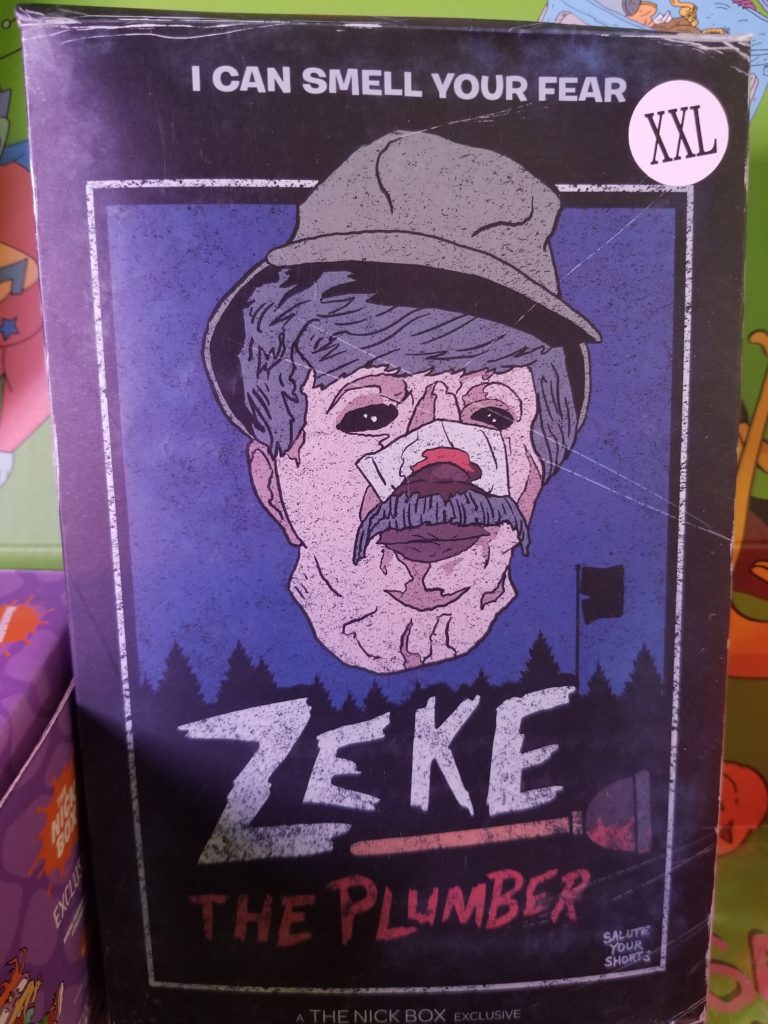 Next up we've got a t-shirt featuring Zeke The Plumber, a ghost plumber with Freddy Kreuger powers who appeared in a 1991 episode of Salute Your Shorts. Salute Your Shorts was a little bit before my time, only airing new episodes from 1991 to 1992, but I do fondly remember the episode in question from reruns. The shirt is soft, with high-quality screen printing and even comes packaged in a faux VHS tape style box. While not being my personal favorite item of the box, for those with fond memories of being scared out of their gourd by Zeke The Plumber I imagine it's a nice treat.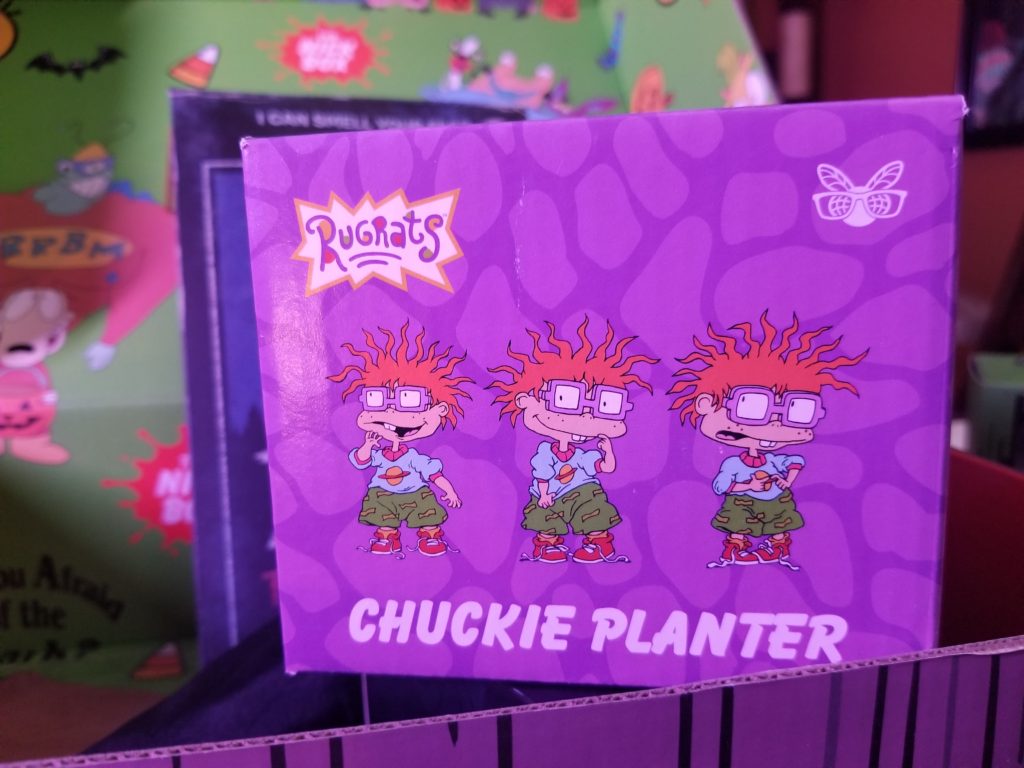 Next up we've got a Rugrats Chuckie desktop planter! While not especially Halloween themed I'll give this one a pass because it features everybody's favorite fraidycat and you can put like, candy or a plant in his head. That's kind of spooky.
The planter itself is charming and well done and it also looks to be hand painted, which is a nice touch. I'll probably use him as a pencil cup though because I don't do a lot of indoor gardening. Maybe I'll find a suitably orange succulent and stick it in his head though, who knows.
Last, but certainly not least, comes the most impressive and useful of all of the Nick Box Halloween offerings this year: An Oblina Umbrella from Aaahh!! Real Monsters.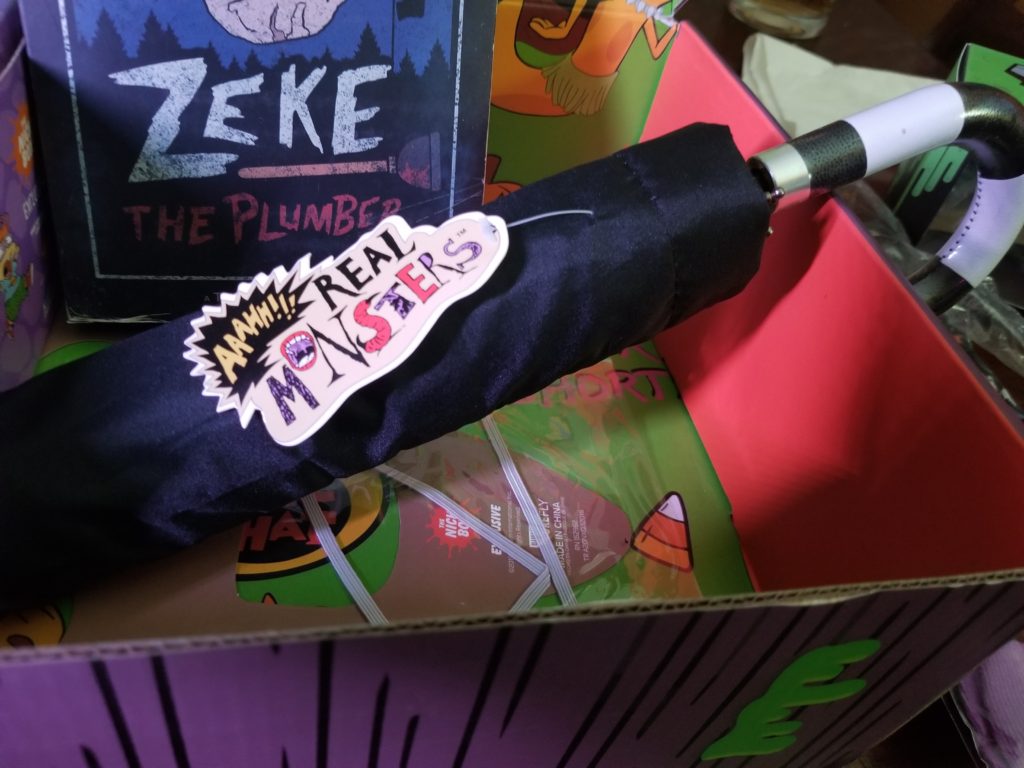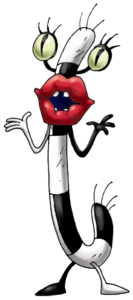 At first blush it appears to just be an umbrella with an Oblina themed handle, but if you remove it from its sleeve (which is always nice for an umbrella to have, frankly, because I stow them in my bag) you're in for a spooky treat.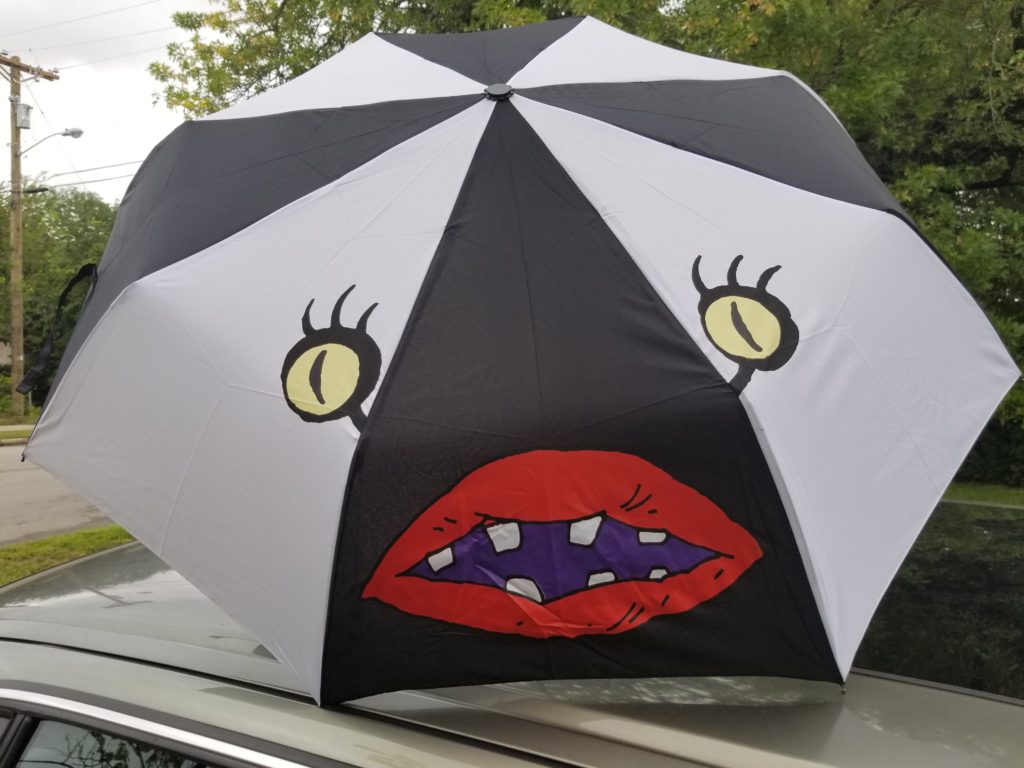 It's a full size (and rather sturdy) umbrella with a giant Oblina face on top. High art, I tell you now. High art.
All told, The October 2018 Nick Box is a winner in my books. I'll probably stay on for the winter box and then who knows, but a concentrated blast of nostalgia and an assortment of (mostly) seasonally appropriate goodies is probably enough to keep me on board and it just might make those inferior seasons (spring and summer) a little more tolerable.
If you're interested in signing up for The Nick Box, you can do so via this link and it'll actually make your first box $10 cheaper. I'm not sure if there's anything in it for me, but hey, that'd be nice too. At the time of publication, you can still sign up and receive the Fall box, so be sure to sign up ASAP if you want the goodies above. I'd say they're certainly worth the money.
I'll probably also end up signing up for the LootCrate horror box in a few weeks here, because if there's one thing I love almost as much as Halloween, it's Christmas…