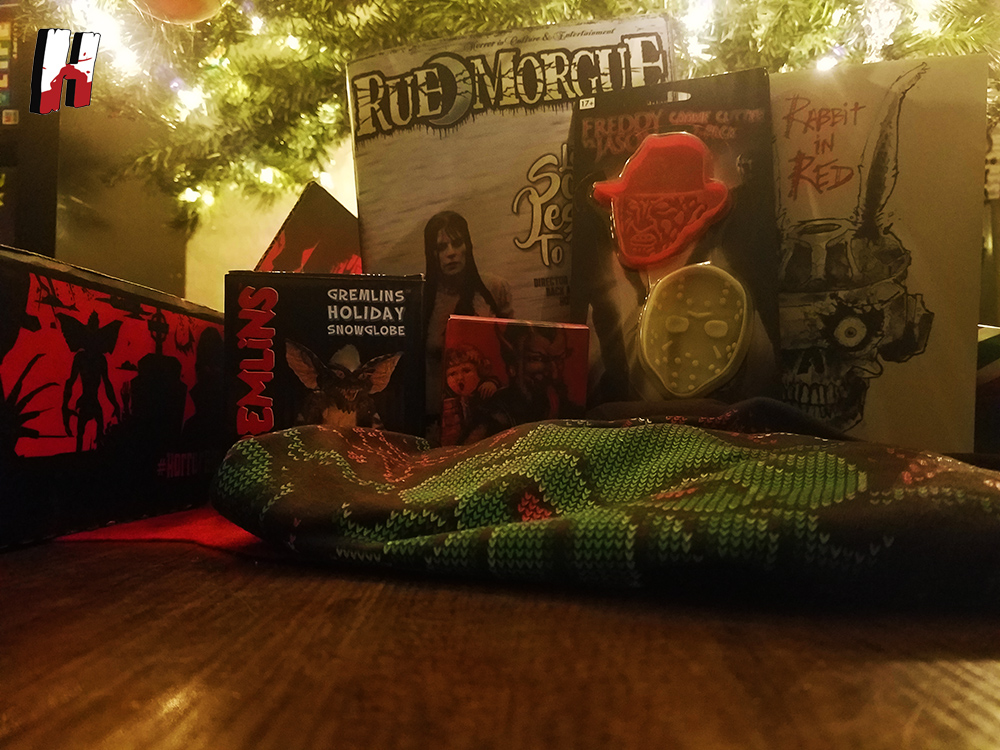 Ho, ho ho, happy Humanstein readers! It's been a little bit since I wrote up my Horror Block but I'm back with a review and unboxing of what very well may be my favorite Block of the year! The December 2016 Horror Block is chock full of fun holiday spookums and I couldn't be happier. Lets dig in with what is definitely my favorite item from ANY subscription box I've ever received.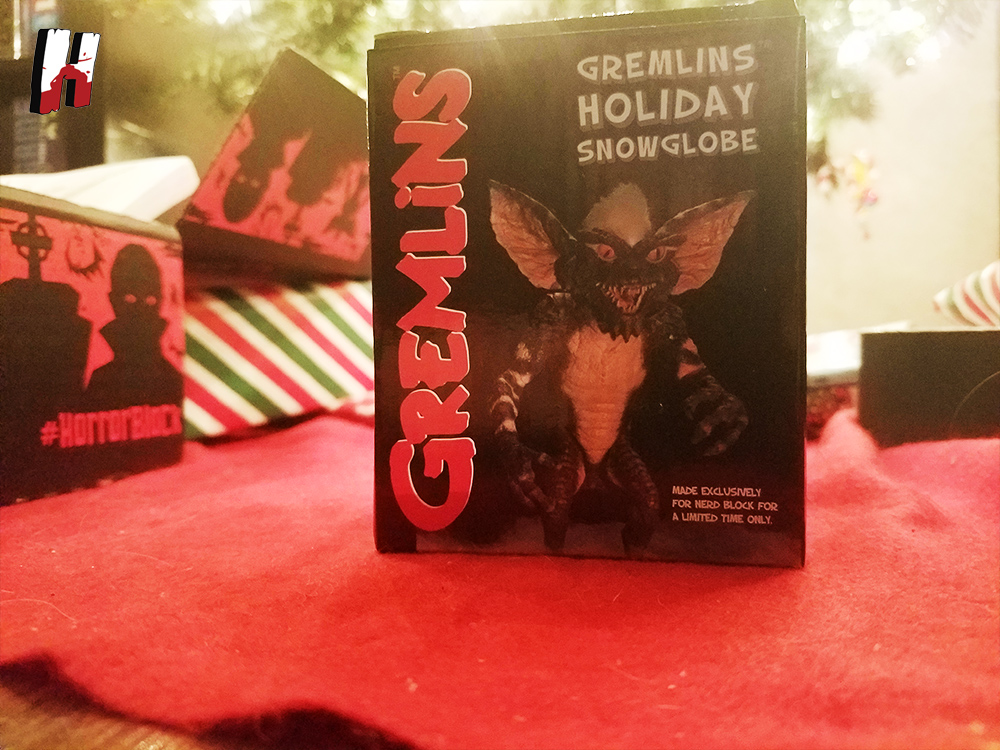 The Gremlins Holiday Snow Globe! This little beauty was produced exclusively for Nerd Block and was included in every Horror Block in this wonderful season of presents and eggnog. The exterior of the box features Stripe in all his glory.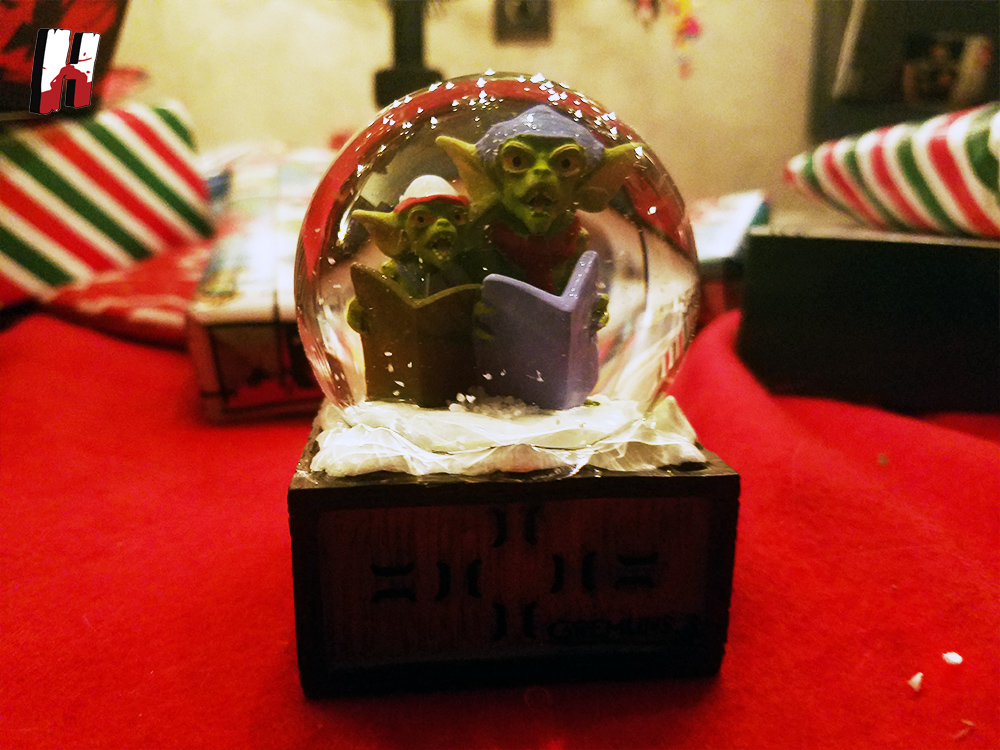 The snowglobe itself is a thing of beauty. Featuring 2 Gremlins singing Christmas carols, the globe stands on top of the box Gizmo came home in. If you're unfamiliar with the fantastic scene this globe is based on, I've included it below. This little wonder has been added to my ever growing collection of holiday nonsense, and the fact that its as cute and well made as it is has made it a true star. I can't overstate how much I love this snowglobe, y'all.
Let's keep the Christmas monster theme rolling, shall we?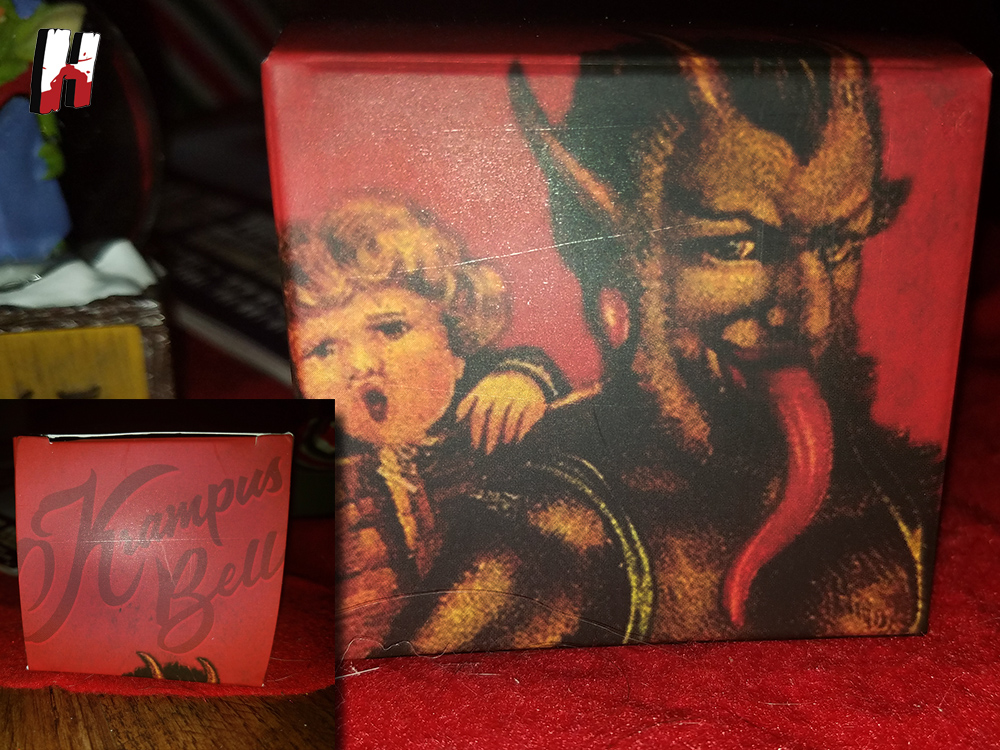 Next up is another Horror Block exclusive, this neat little Krampus bell ornament. The exterior of the box is pretty snazzy, featuring some great Krampuskarten art of Krampus cheerily taking a child to hell for being ungrateful or disobedient. Cheery stuff. If you're unfamiliar with Krampus, he's not quite the "Evil Santa" that folks tend to depict him as for shock value, and more like Santa's enforcer. For a brief introduction I'd recommend checking out this piece NatGeo ran a few years ago.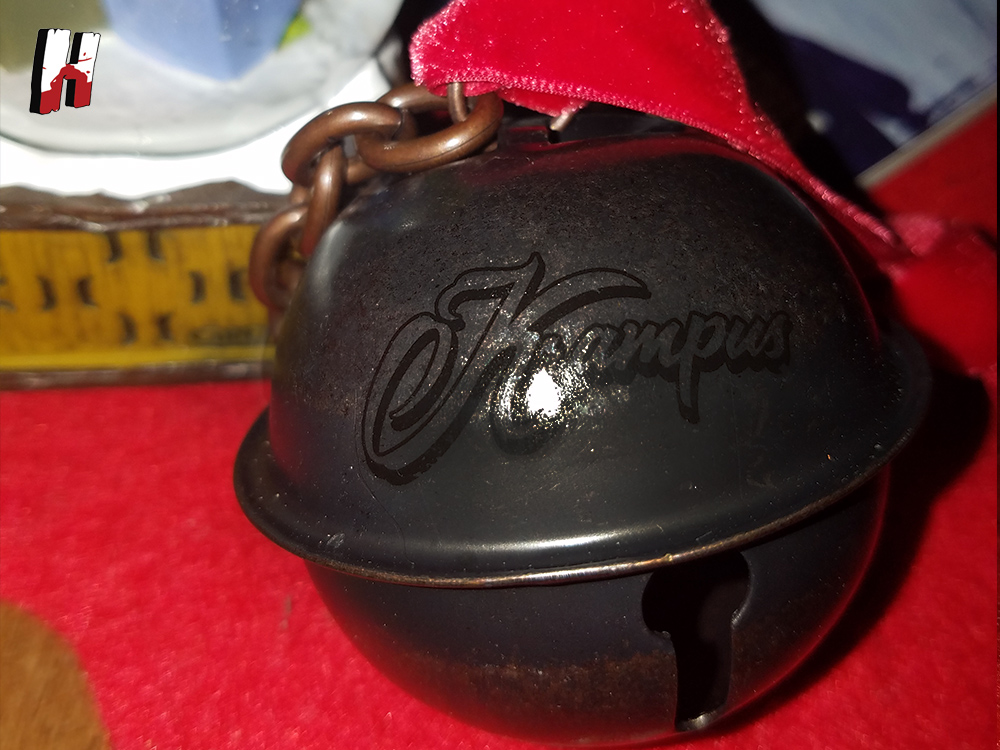 The bell itself is an antique style bell with a Krampus decal on it, a link of Krampus' chains and a red velveteen ribbon. I've gone ahead and placed this lil beauty on my tree, near the top. Always remember the reason for the season and all that. While it's not quite as nice or antiqued as the bell I purchased from WETA Workshop (based on the 2015 film), I will never tire of Krampus goodies. A very nice addition to my holiday decorations.
BONUS: Here's a picture of me with a couple of Krampuses at Alamo Drafthouse during their Krampusnacht showing of the 2015 holiday classic, Krampus. I also happen to be wearing my Middle of Beyond Krampus sweater. Whole lotta Krampus going on.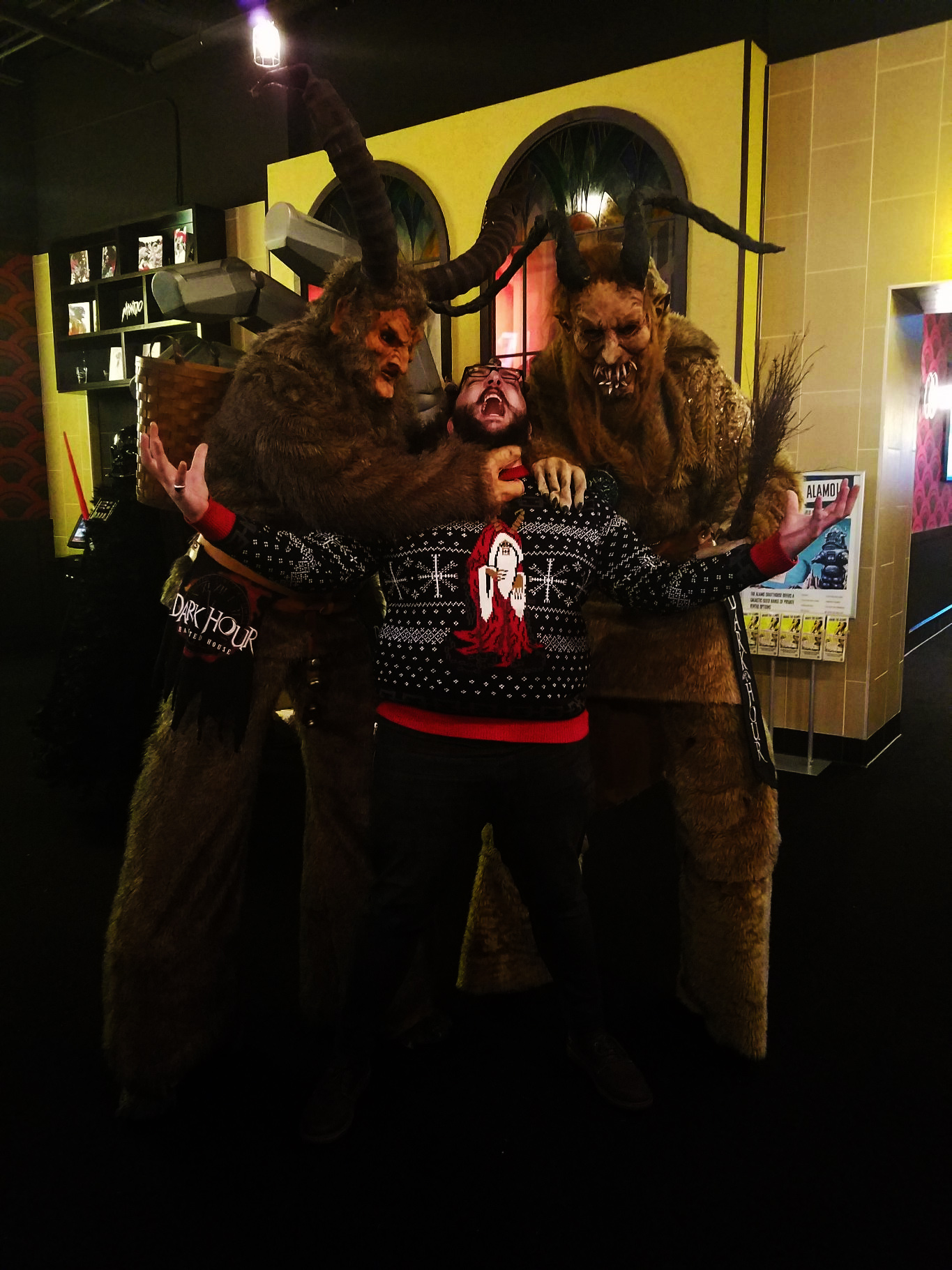 From Christmas demons to cookie cutters, this Horror Block has it all.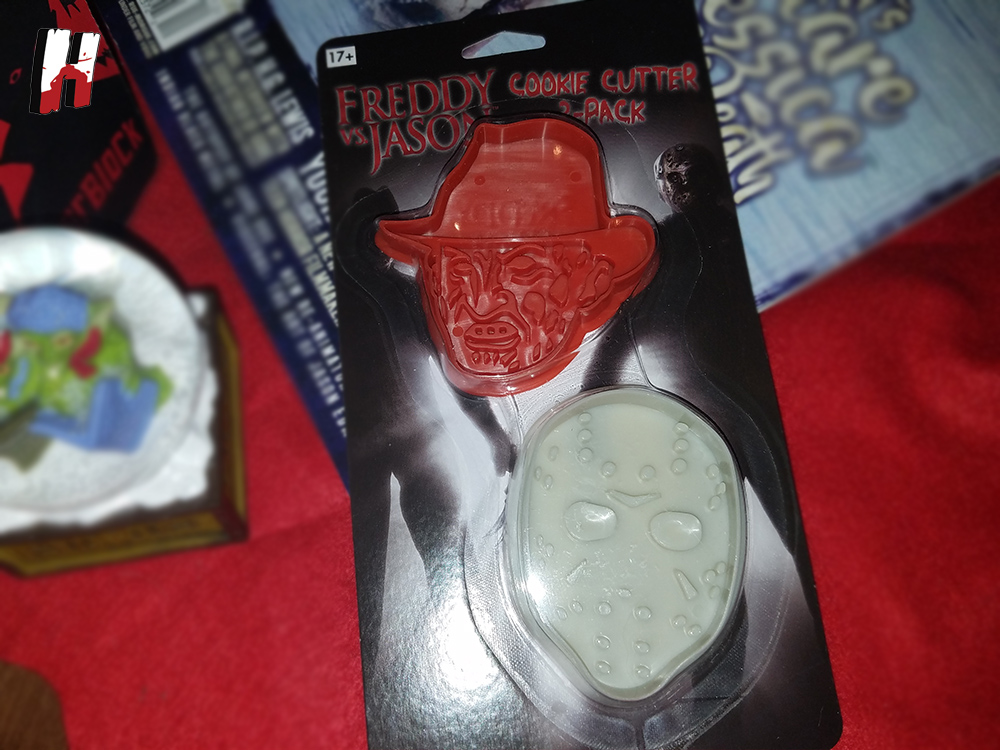 The Freddy vs Jason cookie cutters are to die for. I can't help but think of Kaci, The Homidical Homemaker here, and I hope she got as much of a kick out of them as I did! As you can see the 2-pack features both a Freddy Kreuger cookie cutter and a Jason Voorhees cookie cutter, just in time to add a little slashery goodness to your Christmas cookies. Speaking of cookies, the back of the container actually features a cookie recipe and an icing recipe, which I've included below because I'm a kind and benevolent Humanstein.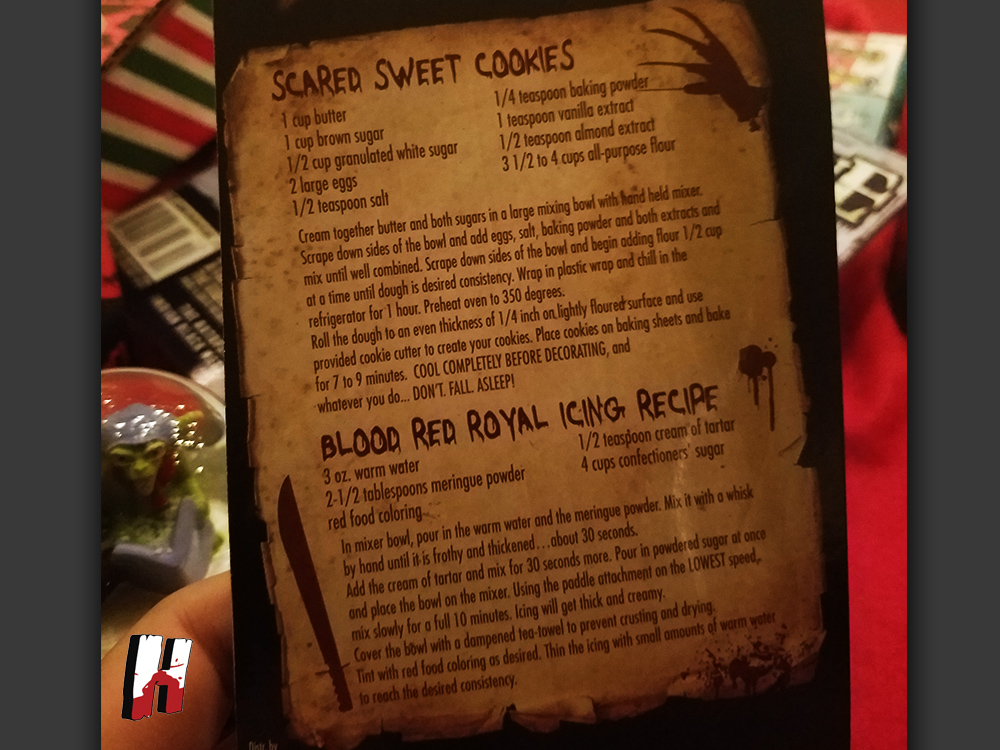 I haven't gotten a chance to break these bad boys out just yet, but I'll be baking some horrifying cookies soon enough I'm sure. Well, if I can resist the collector's urge to keep them inside their packaging forever while letting them get dusty in their disuse. Life's hard, folks. Life is hard.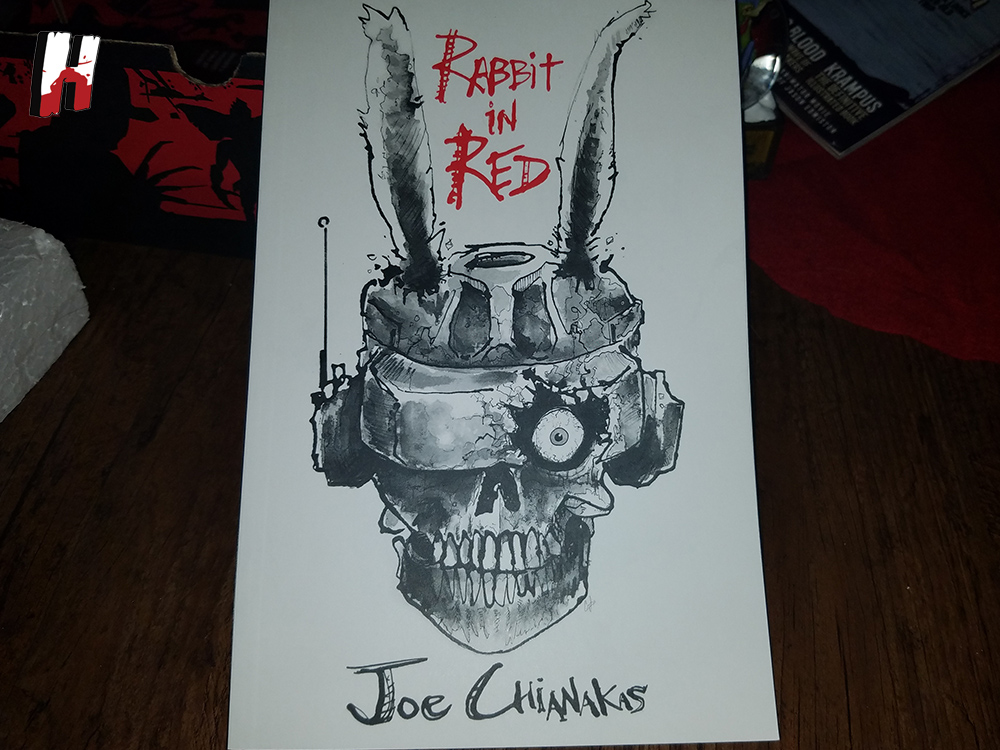 Next up is some reading material. This time a full-fledged novel from Joe Chianakas. The novel (whose name is a reference to the nightclub in John Carpenter's Halloween) seems to be about a horror film producer with nefarious plans. That horror film producer just so happens to have the same initials as Jason Blum. I'm gonna operate under the assumption that this novel is about an evil Jason Blum. The book's description is below.
Bill Wise has blood in his past, so he turns to horror films to wipe it clean. Jaime Stein has felt the betrayal of death, so she too takes refuge in the on-screen deaths of others. Now Bill, Jaime, and seventeen other horror-loving teens have gathered at Rabbit in Red Studios, the brainchild of eccentric horror producer Jay "JB" Bell, for the terror-filled, blood-drenched contest of their lives.

JB has presented this competition as a race between the best of the best that will reward the winners with cash, internships, and a career making the movies they love. But things aren't always as they seem at Rabbit in Red, and soon life starts to imitate art. Will Bill and Jaime be strong enough to confront real horror to save their friends, or will they all fall victim to JB's twisted plans?
I'll definitely be giving this book a read, as I'm always on the lookout for new horror stories. I may even give this bad boy a review once I get around to it. It may be a little bit though, because December always finds me elbow deep in my annual Harry Potter re-read.
Up next is the traditional Horror Block t-shirt, and this month's definitely doesn't dissapoint.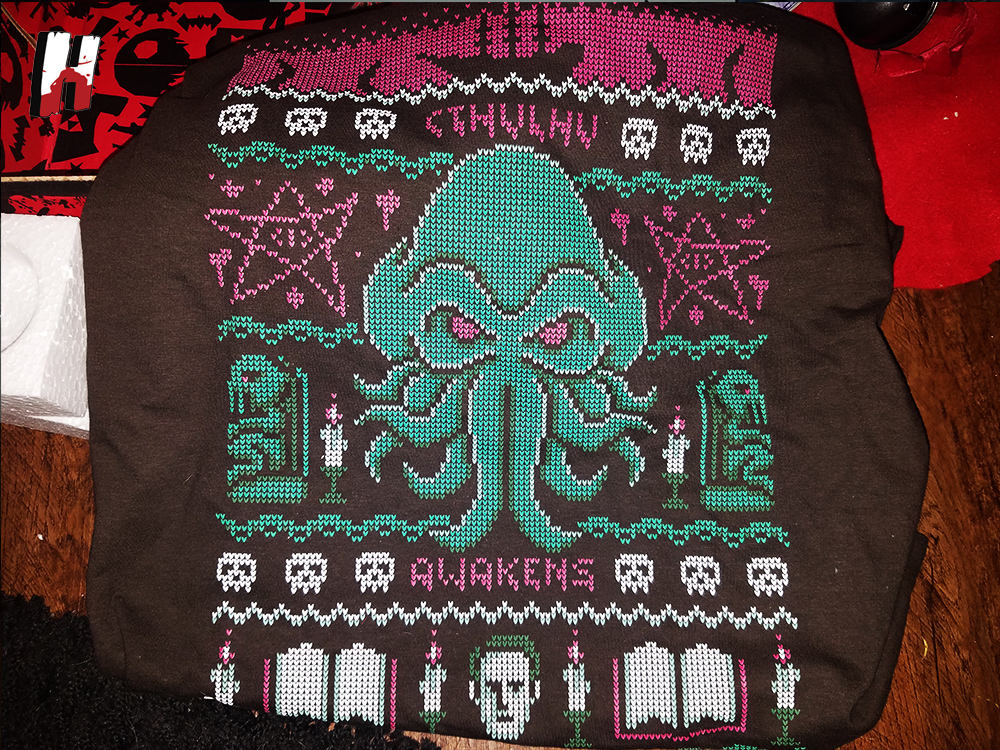 This month's shirt is as seasonally appropriate as one might have hoped. It's a faux-Fair Isles style (read: Ugly Christmas Sweater)  t-shirt featuring the great and terrible Cthulhu. The details are top notch, featuring a ship about to be greeted by the tentacled-one's menace, the symbol of the Necronomicon repeated for stylistic effect, Cthulhu statues, skulls, the ominous message CTHULHU AWAKENS, candles, texts designed to drive their readers mad, and a cute little H.P. Lovecraft himself to round things out. I'm a huge fan of this shirt.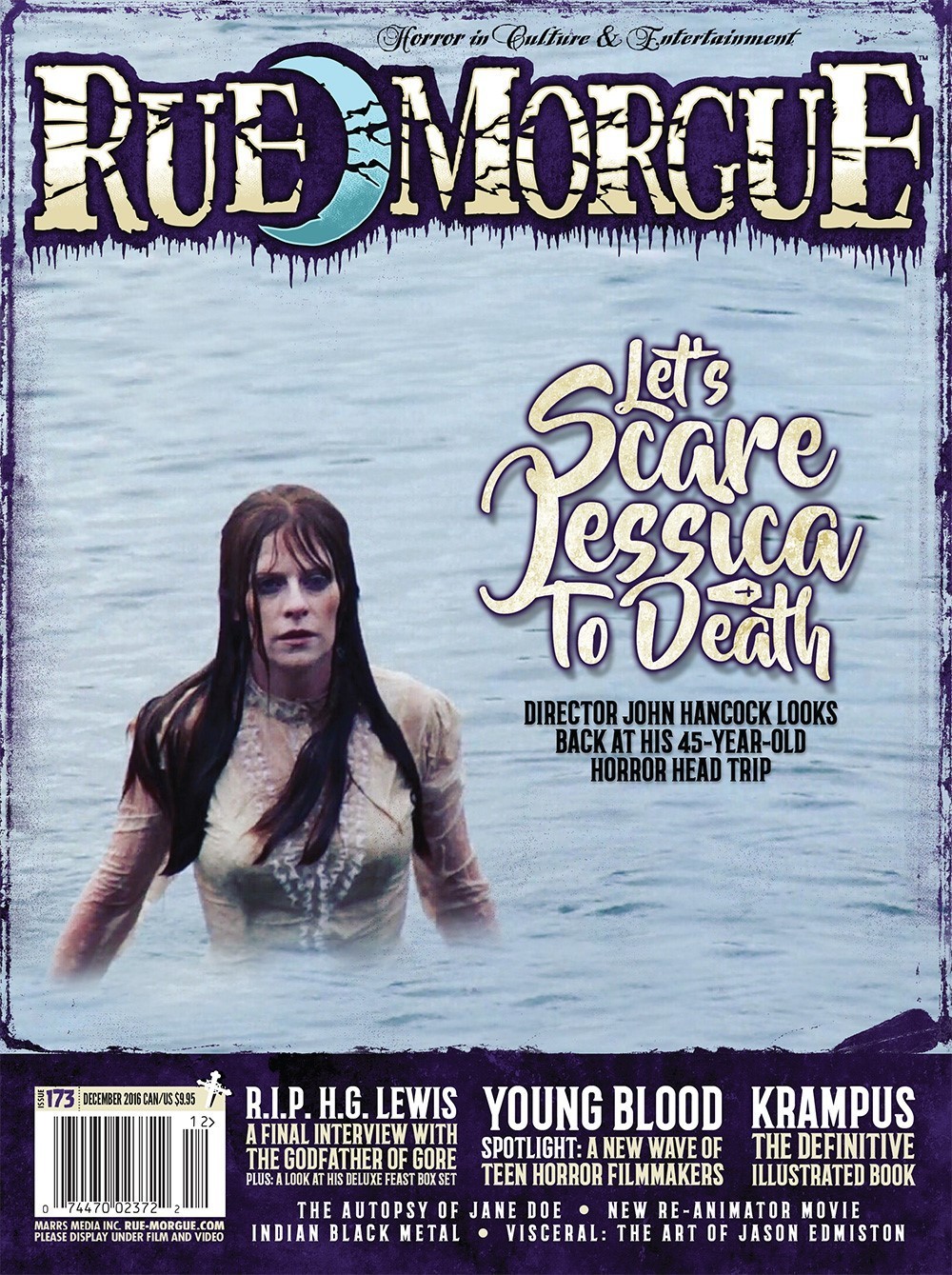 Also included, as always is the most recent issue of Rue Morgue. This month's cover story focuses on Let's Scare Jessica To Death, and also touts stories about Krampus, the late great H.G. Lewis and much more. It recently came to light that Rue Morgue will be scaling back to six issues a month. and while it's a tragedy, I'm thankful that Rue Morgue will be continuing production. I'm wondering if Horror Block will be including an additional item in the months where RM isn't running. If anybody hears anything on this subject, please let me know.
All in all, the December Horror Block was an absolute blast and I loved it start to finish. I'm a sucker for Christmas goodies and this month's block did not disappoint. I can't recommend this subscription box enough. I don't get my blocks for free or at a reduced cost, I just love this service. For $20 dollars a month I get a box full of horror goodies and surprises and it makes that day feel a little bit like Christmas, so I'm grateful that this month's Christmas box felt even more like that.
Thank you for reading and have a great holiday season!