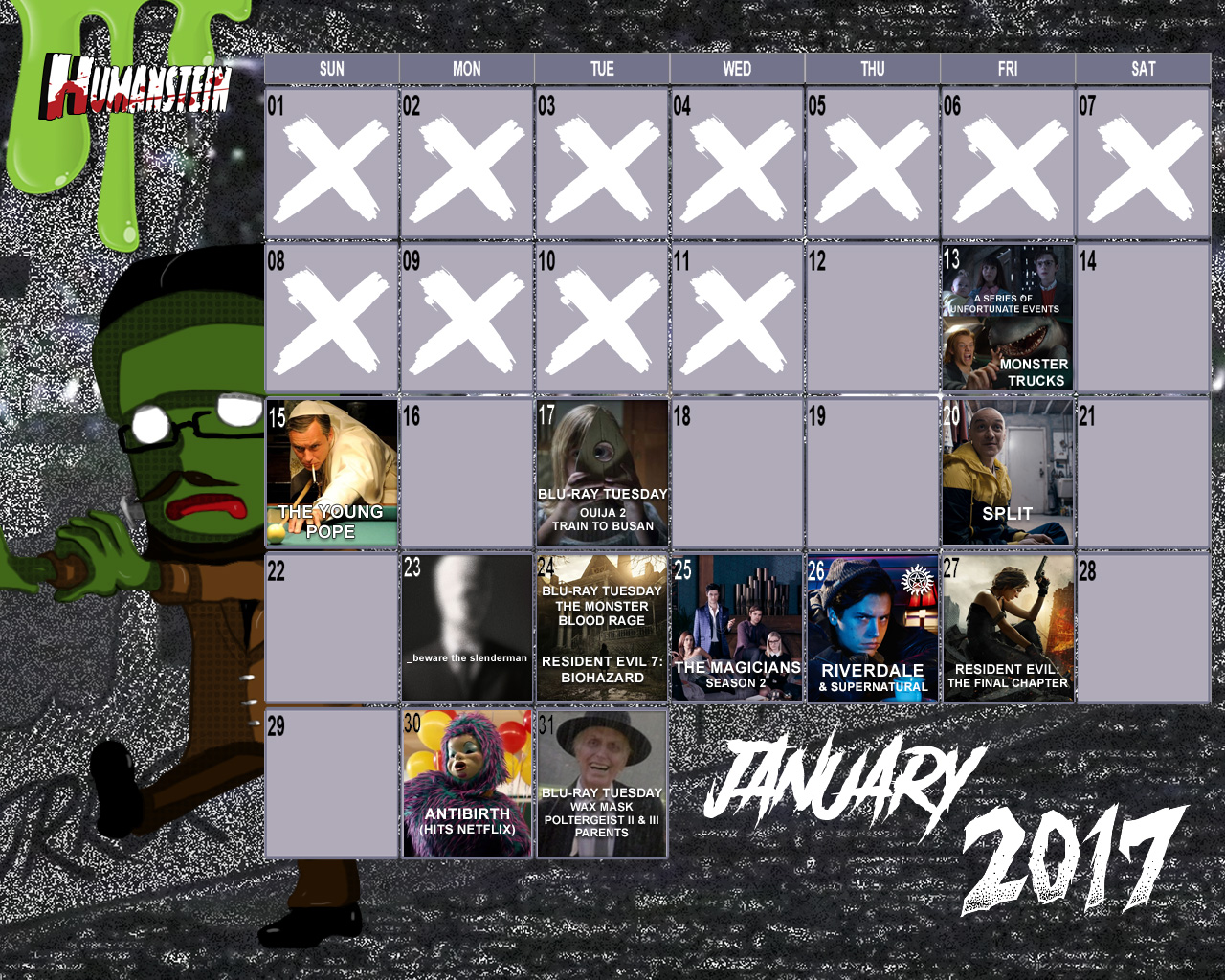 Hello Humanstein readers! I proudly present the first in a series of calendars for 2017! Included you will see interesting stuff happening throughout the month. That will include movie premieres, television series premieres, book releases, comic drop dates, a selection of Blu-ray titles each Tuesday, video games, toys, junk food releases, etc. Basically, if I think it's "on-brand" or may be of use, relevance to my readers, it'll go on the calendar.
This month, January 2017, sees quite a few goodies. A transcription of the calendar above follows:
JANUARY 13TH, 2017 – A Series of Unfortunate Events (Netflix)
JANUARY 13TH, 2017 – Monster Trucks (Theaters)
JANUARY 15TH, 2017 – The Young Pope (HBO)
JANUARY 17TH, 2017 – BLU-RAY TUESDAY – Ouija 2: Origin of Evil, Train to Busan
JANUARY 20TH, 2017 – Split (Theaters)
JANUARY 23RD, 2017 – _beware the slenderman (HBO)
JANUARY 24TH, 2017 – BLU-RAY TUESDAY – The Monster, Blood Rage
JANUARY 24TH, 2017 – RESIDENT EVIL 7: BIOHAZARD (Playstation 4, Xbox One, PC)
JANUARY 25TH, 2017 – The Magicians, Season 2 premiere (SyFy) [A caveat: I haven't seen this but plan on binging it on Netflix]
JANUARY 26TH, 2017 – Riverdale Series Premiere, Supernatural Season 12 Mid-Season Premiere (CW, both)
JANUARY 27TH, 2017 – Resident Evil: The Final Chapter (Theaters)
JANUARY 30TH, 2017 – Antibirth (Hits Netflix)
JANUARY 31ST, 2017 – BLU-RAY TUESDAY – Wax Mask, Poltergeist II & III, Parents
There you have it folks!
Did I miss anything you're super excited about this month? Feel free to leave 'em in the comments down there.